Our Social Mission:
Crowdsourcing Week is all about fostering innovation, engagement and solutions for the future. Crowdsourcing and open innovation is all about being inclusive and co-creating solutions and we firmly believe that doing well and doing good does not have to be exclusive.
1% for a Better World
As a company we have committed 1% of our total profits to social campaigns with a profound impact. We look to support sustainable economic development in developing communities around the world. As we head up to the conference in Singapore this year, we are working on a number of different programs to further our social responsibility and creating shared value and are proud to announce our "Crowd Design for Good" campaign that will combine art, fun and a great cause.
About "Crowd Design for Good"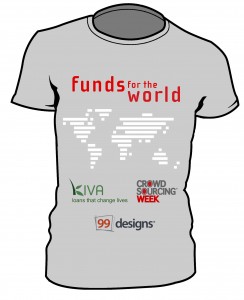 Crowdsourcing Week is working with 99Designs & KIVA to empower developing communities around the world with a sustainable approach. We are crowdsourcing the designs of 5 conference-themed t-shirts through 99Designs. All proceeds from the sales of these t-shirts will provide micro-loans to social entrepreneurs on KIVA.org. As these micro-loans are paid back, we hope to create a rotating fund to support more entrepreneurs, trying to create social impact.
About 99Designs:
99designs is the #1 marketplace for crowdsourced graphic design. 99designs connects passionate designers from around the globe with customers seeking quality, affordable design services.
About KIVA:
KIVA is a non-profit organization with a mission to connect people through lending to alleviate poverty. Leveraging the internet and a worldwide network of microfinance institutions, Kiva lets individuals lend microloans to help create opportunity around the world.