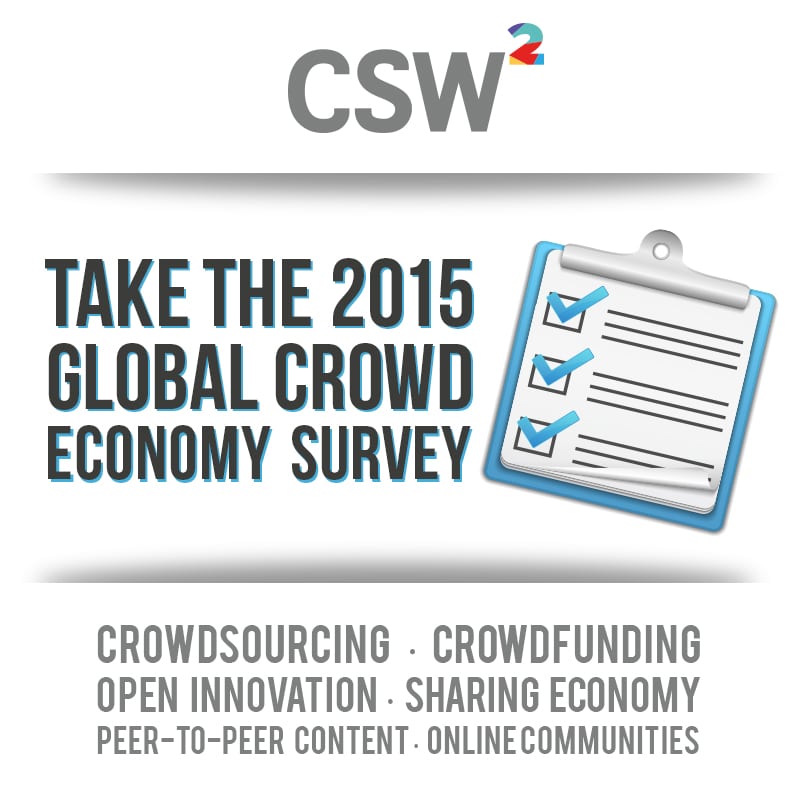 We're back again fielding our seminal research about the crowd economy and all its various component parts – crowdsourcing, crowdfunding and crowd equity, open innovation and collective intelligence, the sharing economy and the peer-to-peer marketplace, online communities and customer co-creation. And we need your wisdom!
CSW2, Wikibrands and Crowdsourcing Week are teaming up to glean valuable feedback from the world's leading practitioners, thought leaders, researchers, funders, service providers and platform builders in the crowd space.
We believe, as one of the leading players in building and expanding the global expansion of the crowd economy, we have a role to play in establishing an annual pulse check on what is really going on and changing in this fast moving world. Join us.
If you can spare 10-15 minutes to answer our 21 questions , please answer the survey below. Not only will we benefit from your feedback but we are offering five "carrots" in return:
– The chance for two free tickets for Crowdsourcing Global Week in Singapore (April 20-24) or Crowdsourcing Europe Week In Brussels (Oct 19-23) (randomly chosen)
– An across-the-board 15% discount to our Global Crowdsourcing Week in Singapore and our regional summits (special VIP code for all completed surveys)
– One of three $150 pledges to one of the most popular Kickstarter or Indiegogo projects (as chosen by us for the best survey answers)
– One of six books: Crowdfunding: the Next Big Thing, It's a Shareable Life: A Practical Guide on Sharing, or Building Open Source Hardware: DIY Manufacturing for Hackers and Makers (randomly drawn)
– A preview copy of the survey's topline results before anyone else and an opportunity to contribute to our crowd thought leadership (to all respondents)