KPMG's global crowdsourcing tool, Crowd Connection®, powered by the Chaordix Crowd Intelligence™ offers organisations insights from a customisable online community to provide employee engagement, market intelligence, brand feedback and product co-creation and innovation.
Crowdsourcing can tap into key customer and employee segments to help organisations understand what they want them to do and, most importantly, why , before implementing change within their business. It can also be utilised to gain feedback on changes organisations have already made.
Matt Sevenoaks leads the KPMG global crowdsourcing service line "Crowd Connection" and manages KPMG's alliance with the crowd intelligence company, Chaordix. On the eve of Crowdsourcing Week's Summit in London (at which KPMG is a premier partner) aimed at crowd business solutions, Matt talks to us about how crowdsourcing is being harnessed to deliver business value at the enterprise level.
1) Please tell us about the big enterprise challenges your clients in the UK face.
Generational change, technology change, regulatory change and the increasing global reach of organisations, means our clients are acting in a much more complex, diverse and fast-paced environment than ever before.
This means that most large organisations not only need to innovate and change faster and more fundamentally than ever before, they also need to do so with a multi-generational, multi-demographic workforce and customer base.
We can see that more and more organisations are coming to the realisation that the "traditional" means of change and innovation just don't deliver the results in this environment anymore. And they start to look at new ways to achieve this through participation of stakeholders, i.e. employees, customers and the public.
I have been a management consultant for quite some time now, and I have never seen so much change happening on such fundamental level, not even in the early 2000s when the first "New Economy" emerged.
2) Crowdfunding is huge everywhere now. Are other aspects of crowd powered solutions – like open innovation, crowd labor or crowd creativity catching on in the UK, at the enterprise level?
Crowd powered solutions are happening across the spectrum of collective intelligence. Different from crowd labour and crowd funding, "Crowd Intelligence"™ (as coined by our strategic partner, Charodix Inc) involves accessing the wisdom of a stakeholder collective whether internal or external to conduct Market Insights, Brand development and Innovation.
We are seeing a major uptake in engagements across this spectrum in all industries. Banks and Financial institutions have reached out looking to embed deep cultural change across their large employee base using change management embedded with confident and deep data from the employee base. Business-to-business communities in this sector are engaging in market insights and co/creation with key participants in their value chain.
Major consumer package goods manufacturers have turned to the crowd to provide deeper qualitative and quantitative insight that is interactive, dynamic and significantly more cost effective than traditional methods.
Perhaps the greatest trend is that potential customers are no longer seeking just "one off" programs to satisfy a single objective for a limited period, butseeing the opportunity to position a crowdsourcing community as an "asset" of the business that is persistent, managed and utilized over an extended period of time.
3) What are some of the crowd solutions offered by KPMG and what results have you seen so far?
With Chaordix, we are embedding their Crowd Intelligence™ platform and managed service methodology within new and existing services from KPMG – both in the People and Change area as well as Customer and Growth. Branded by KPMG as Crowd Connection, these comprehensive services are being delivered within several Financial Institutions as we speak and being proposed in a dozen more within the UK. It is still early days but clients are welcoming the approach as an extremely simple and cost effective way to create a two-way dialogue with their most valued stakeholders.
4) Is there a typical company profile that adapts well to crowd platforms and what are the first steps you take with prospective clients?
Most companies embracing the Crowd Connection offering are keen to innovate and be more open, but are mostly driven by a desire to connect with their customers and employees on a deeper level around strategy and how to improve their business. These companies recognise that connecting with customers and employees in this way will become common place within the next few years, and want to ensure that they learn how to draw value from it as soon as possible to gain advantage over their competitors.
In terms of first steps, there are some key questions that we explore with clients.. Some common ones are listed below:
• What strategic challenges do you have where tapping into a pre-determined stakeholder crowd?
• What are your ultimate goals in terms of what you want from this crowd?
• Why will your goals resonate with that crowd too?
• What crowd segments would be best qualified to address your challenges?
• Which stakeholder(s) within your organisation would need and use the outputs?
• What intrinsic and extrinsic motivations will drive the crowd to participate? (shared knowledge, doing social good, recognition amongst peers or rewards?)
5) Are there any road blocks that companies face when they want to adopt crowd solutions? What are they and how can they be overcome?
Some organisations ask the question "is this just another social media tool?" But Crowdsourcing is not just a conversational tool or discussion board like Twitter or Facebook, but a structured, dynamic, ongoing conversation with an end goal, and a solution in mind. In an employee crowd context, crowdsourcing enables participants co-create the future of their organisation and identify the future leaders and change agents who want to take the insights and ideas of the collective workforce and make it a reality.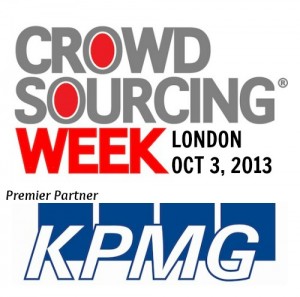 We are looking forward to host the CSW London Summit on Oct 3 with our premier partner KPMG. The Summit will focus on crowd-powered tools that will help businesses grow the longterm viability of their organizations, spur innovation, create a community of loyal brand followers and generate investment. Learn more about our informative program designed for executives and entrepreneurs. Register here.