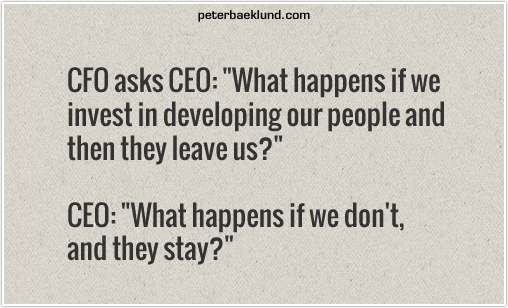 The Internet is a wonderful thing. The above gem appeared on my LinkedIn feed and I couldn't help myself but think about how accurate this is on so many levels.
Successful CEOs know the importance of  effective staff development, but are always torn by the fact that employees will leave with the thousands of dollars (training value) that the company has spent on them. The above gem presents a counterpoint that can spell the downfall of the organization if the firm chooses not to aid the professional development of its staff.
In the same vein, this truism applies to organizations that turn to their networks for crowdsourced solutions – whether it is   P&G that wants to crowdsource the next best and natural cleaning product or NASA that is on the lookout for amateur space enthusiasts. Effective crowd participation requires constant nurturing and curation. Investing in your crowds is not always about monetary benefits but also creative and psychological benefits.
Here are some ways to incorporate effective crowd engagement strategies-
Find the sweet spot that is called 'shared value' – this area, in a venn diagram, is the intersection of what your organization wants and what your crowd wants. These shared values and goals continuously changes and effective crowdsourcing strategies always have this under top consideration.
Drive a continuous feedback loop – that can help your organization hear from your community in real time. With social media penetration, this can be achieved by monitoring channels most relevant to your organization and mission.
Share successes with your crowd – this aspect is easily overlooked but can be the biggest factor that promotes continued crowd loyalty and promotes a likable brand or organization. When done right, this strategy can help recruit extended network (friends, family, co-workers of existing community members) into your inner circle.
Networked crowds is a valuable resource and like employees need continuous feedback and development. How do you engage your crowd community?