Surcle.io is a global crowd-engineering platform enabling corporations, SMEs, and start-ups to scale resources and tackle engineering and hardware challenges within their organizations and product life cycle. It was launched by the online electrical hardware components supply chain provider Sourceability in 2018. It gives their existing clients, plus other new users, opportunities to source not only components but to also crowdsource engineering-related ideas and solutions from either an open or a curated network of sector specialists.
The democratic basis of crowdsourcing through open innovation means that as well as


established professionals and businesses, freelance engineers and newcomer engineering students or recent engineering graduates who are looking for projects that will help them hone their skills can enter a range of incentivized challenges. This could definitely give their career a boost if they can contribute to an appropriate breakthrough.
Surcle has a short video that shows both sides of the benefits for anyone either setting a challenge or working to resolve one.
If you're majoring in engineering or have recently graduated, and you're looking for a novel way to launch a career in engineering, then you can sign up here as a Solution Provider in Surcle's crowd-engineering network and start entering incentivized engineering-based competitions. If you're an existing business, think of this as an addititon to your new business pipeline.
If you want to launch a challenge, which can also put you in touch with some manufacturers to speed up bringing your product to market as well as with solution providers, you can register here.
What sort of competitions? Here's two that are currently open for entries.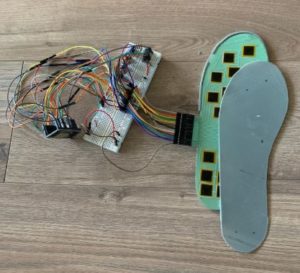 Ukaton seeks help to shrink a PCB layout to fit inside a shoe to help millions of people improve their posture. SmartShoe Insoles will have three primary functions: a) provide posture analysis and input for VR/AR/XR, b) function as a real-time gait analyzer, and c) serve as a passive and continuous body-weight scale. Submissions need to be field tested by the deadline for entries of 15 August 2019, though as yet a prize amount has not been set as the startup Ukaton is seeking support from a more-established partner.
Zollner Elektronik AG has launched The Protocol Converter Challenge. It seeks an IoT software solution for a messaging server to deliver seamless communication between any industrial machine and software interface. The goal is to create a middleware IoT device that enables interoperability of various industrial machines, equipment, and workstations on a manufacturing shop floor to support industry's move towards a "smart factory."
After assessing initial written submissions, the top five entries each received $5,000. The challenge is now in Stage Two and working prototypes must be completed by 1 August. The winning prototype will be declared on 15 August and earn a further $20,000.
In the meantime, Surcle continues to innovate with further developments. One is the launch of its Engineer Matchmaking Feature. This matchmaking service matches Design and Engineering projects with a curated network of firms and professionals possessing appropriate levels of expertise, financial backup, and other key resources required to deliver the envisioned solution within a specified time frame.
Larger projects may be broken down and compartmentalized in an effort to maintain efficiency, while simultaneously decreasing the risk of complications that may prolong delivery time.
Milestones within this service include at least engineering specifications, product wireframes, functional and engineering prototypes, and firmware. Firms and professionals matched to these projects include the expected engineering firms, original design manufacturers, design firms and electronic manufacturing services, though operators in other sectors could also be considered.
Crowd-related breakthroughs and the market disruption they can cause will be the subject of sector-leading speaker sessions and panel discussions at our next international conference, CSW Global 2019, running September 12-13 in San Francisco. Registration is open, you can reserve your place now.