Projections show that feeding an estimated world population of 9.1 billion people in 2050 will require raising overall food production by some 70% from 2005/07 levels, reported the High Level Expert Forum – How to Feed the World in 2050.
This prompts an imminent need to maximize the food supply through both traditional field production and new farming techniques, and to make better use of the food that is produced. Many farmers use a high degree of hard-earned individual experience on which to make judgement calls on how to grow adequate amounts of crops in a financially viable manner. New technology is improving this by collecting the sum total of farmers' decisions; matching them to a database of their unique climate, soil, crop and topography circumstances; and making the end results generally available to other farmers, government agencies and commercial suppliers.
Here are insights into different ways in which crowdsourcing data is being used for the benefit of food production and recycling, and thus for the benefit of all of us.
A government-led initiative
In South America, Colombian farmers in the mainly maize-growing region of Cordoba increasingly found their livelihoods at risk due to the growing unpredictability of weather patterns. The government collaborated with the National Cereals and Legumes Federation (FENALCE) and big data scientists at the International Center for Tropical Agriculture (CIAT) to use data crowdsourced from many farmers. Across a four year period those farmers became more efficient and productive.
The farmers who had immediately started to follow new guidelines found their maize yields increased from 3.5 tons to 6.0 tons per hectare. They were also able to reduce their fertilizer costs and the negative impact of heavy rainfall, including valuable topsoil being washed away.
The livelihoods of farmers' families, and food security for the wider population,  were improved without major infrastructure expenditures. Wider data collection through apps used by the farmers, ground-level sensors and drone and satellite technology can continue to support further improvements.
Now that the government has led the way, Daniel Jiménez, a data scientist at CIAT at the time, looks forward to when the private sector gets more involved to develop sustainable systems to capture, analyse and distribute information to help farmers manage their crops and resources better. A full case study is here.
An expanding commercial venture
An example where commercial enterprise is involved is the Greek agritech startup Augmenta, which earlier this month received €2.5m backing from two VC funds. It has developed smart robotic hardware that can provide the information to ultimately deliver significant cost savings and performance improvements for farmers.
Augmenta's hardware can be mounted to a tractor, spreader or sprayer and collects vital data as each farmer goes about their normal work. There's little extra for them to do other than plug it in and switch it on.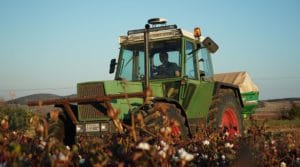 After two years of testing prototypes, Augmenta's co-founders George Varvarelis and Dimitri Evangelopoulos received seed funding in July 2018 from Athens-based Marathon Venture Capital. With it, they built their first 20 units with a camera to collect visual information and sensors that detect fungus in the crops and monitor fertilizer levels. All the data for each individual field is stored on a web platform to which participating farmers have unlimited access.
They have shown that access to their data can increase crop yields by up to 12%, reduce fertilizer costs up to 15%, and improve product quality by up to 20%. The latest investment in October 2019 from a San Francisco-based VC fund will fund expansion in North and South America beyond the eight countries where Augmenta is already being used.
Alternative farming technology is developing globally
Vertical farming involves food production in indoor facilities where crops are grown in a controlled environment on a series of levels. It is at an exciting stage of development that is attracting entrepreneur startups and investment from major corporates.
Bloomberg estimates the sector will be globally worth $5.8bn by 2022, with Asia-Pacific (APAC) expected to have the largest share of the vertical farming market by then owing to population growth and limited fertile agriculture land. There are numerous farms in Japan, Singapore, Taiwan, and other such technologically-advanced countries which is driving the market in the region. Japan is one of the key countries in which over 150 plant factories are equipped in operational form with artificial lights.
Ocado is a market-leading online grocer and food home-delivery company in the UK. It has invested £17m in a joint Venture called Infinite Acres with a Dutch industrial systems provider and US vertical farming firm 80 Acres. It also has a 58% stake in Europe's largest vertical farming operation, Jones Food Company based in Scunthorpe, UK.
Still at a startup stage, Shockingly Fresh in Scotland, UK, is currently seeking funding to develop five vertical farming centres using special hydroponic towers to grow multiple crop cycles. A key point of difference is that they will grow their produce in semi-climate-controlled polytunnels rather than inside buildings under expensive lighting. Ultimately they plan to have dozens of sites, capable of growing up to five times the volume of vegetables as a traditional farm. Their aim is to compete for business at regular wholesale prices, director Garth Bryans told us, rather than target the premium grocery sector.
Addressing food waste through recycling 
In Hong Kong, Daisy Tam, an Assistant Professor at the Hong Kong Baptist University, has become a bit of an entrepreneur and developed a crowdsourcing app called Breadline to help combat the territory's alarming level of food waste. With the world's food requirement projected to increase by 70% from its 2005 output to 2050's projected level of demand, it is as vital to reduce waste as it is to pioneer new agricultural technology.
Food is Hong Kong's largest waste category, constituting almost 40% of its total. That's approximately 3,600 tonnes of food thrown away every day, and a staggering amount for a city that produces only 3% of its own food requirements.
In essence, Breadline is an app that connects bakers who are left with an oversupply at the end of the day with volunteers who will go and collect it and deliver the goods to charities. It is good marketing for any store to be able to claim it is in a zero-waste programme.
The 2030 Sustainable Development Agenda signed by the UN Secretary General Ban Ki-Moon in New York lists 17 Sustainable Development goals. It also calls to end hunger and prevent all forms of malnutrition by 2030.
Having met with Daisy recently in London, we understand she is considering ways to monetize Breadline to expand its operations.
Please share with us your own examples of crowdsourcing or crowd-related technology to improve food production or facilitate recycling to reduce waste.