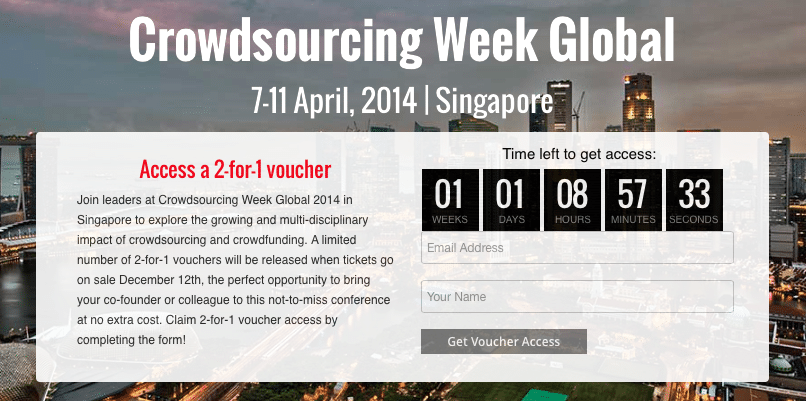 We at Crowdsourcing Week are thrilled to announce the 2nd edition of our flagship global conference in Singapore from April 7-11, 2014. The second annual conference will deepen the conversation from the inaugural event with an overarching theme that highlights transformation in business, government and finance through crowd interactions.
The theme of the conference, "Crowd Impact: Empowering Transformation" will provide organizations with crowd-centered approaches and solutions to help them thrive in a hyper-connected society. Attendees will discover approaches and tools they need to transform their business through crowd interactions, the sharing economy and collaborative consumption.
The 5-day event will feature an opening night event with opportunities for networking followed by three days of programming on crowd innovation, new business models and citizen participation. The fifth and final day will focus on startups and crowd finance.
"Crowdsourcing is accelerating a new kind of social productivity – one that is transforming our social DNA in a highly networked world. We are more open to sharing, crowdfunding and creating collaborative futures today than ever before. The opportunity to apply this phenomenon is huge for organizations trying to do more with less. The conference will create empowered leaders to lead this transformation from within their organizations," says Epi Ludvik Nekaj, Founder and CEO of Crowdsourcing Week.
The first round of speakers have been revealed and we are excited to announce some of the most well-known thinkers and doers in crowdsourcing will join the conversation in Singapore.
Excited yet? There's more! Our team is offering a sweet discount for prospective attendees. A limited number of 2-for-1 vouchers will be released when tickets go on sale December 12th, the perfect opportunity to bring your co-founder or colleague to this not-to-miss conference at no extra cost.