Crowdsourcing Week partnered with Tam Development to hold the first crowdsourcing event staged in Saudi Arabia.
Why it is important
The sharing economy is projected to be a $335bn market by 2025. The interactive event introduced the invited audience to several elements of crowdsourcing and open innovation, and looked at how Saudi Arabia is going to engage with and be part of this fast growing market.
Event format
Three keynote speakers, two discussion panels and three local success stories aimed to provide government, enterprise and non-profit leaders in the region with creative frameworks to come up with future strategies and inspire new business models that will reshape various industries.
Also, the invited audience of a hundred experts in their fields was warned they could at any time be asked to go on-stage and become part of the event, rather than just a delegate. This immediately brought home the concept of "Power of the crowd," and the delegates were the crowd.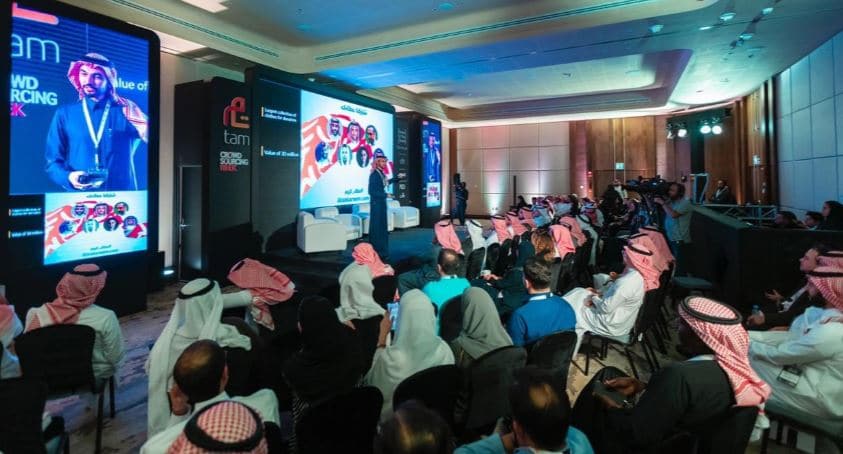 Tam Development
Our event partner Tam Development is a local centre of expertise. TAM's platform enables clients to first co-define their challenges with a crowd, and then co-create solutions. They have successfully designed and implemented over 50 local and regional programs in partnership with 20 government and private entities in Saudi Arabia and the wider Arab region. These programs engaged more than 50 million users through various platforms and impacted half a million participants.
During his keynote address, Abdullah Alyousef, CEO and Co-founder of TAM Development, highlighted the fact that no one should ever underestimate the power of the crowd because as well as a business enhancing solution, it is also a performance enhancing solution in the fields of education, healthcare, transportation and many other public and private sectors.
Explaining the reason behind hosting CSW Riyadh 2019, Abdullah Alyousef said: "TAM is dedicated to creating initiatives using the energy of positive thinkers and pioneers in our community, as well as educating the public about crowdsourcing and what one can achieve by leveraging the power of the crowd." He added: "CSW Riyadh is the first event that brings together both local and global experts to share their experiences, success stories and best practices in crowdsourcing."
Global Expertise to Tap Crowd Power
The global experts included Christian Cotichini, co-founder and CEO of the HeroX innovation challenge platform that has worked with NASA, Boeing, and many other clients. He quickly captured the audience as he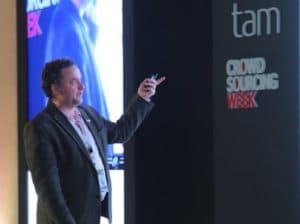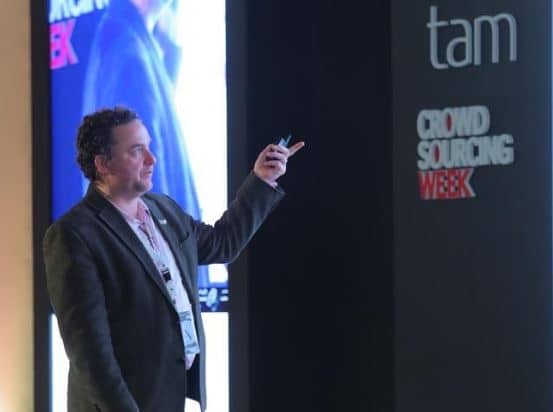 conveyed the new reality that today's rate of market innovation is faster than ever before. "We live in scary times. Imagine you're a CEO and wake up to find Dell or Google have entered your market." And it's a rate of innovation that's moving 360 degrees in all directions, impacting on staff, customers, suppliers, operations, finance, marketing, and everyone must keep up. If an organisation falls too far back it's done for. 
So, paradoxically, many organisations are struggling even though 90% of all the scientists that have ever lived are alive now due to explosions in both population and education. Crowdsourcing beyond an organisation's in-house expertise is the way to tap in to this mass of knowledge and expertise, to leverage crowd power, as many global corporations as well as startups are doing.
Our own CEO, Epi Ludvik was the second international speaker. His presentation covered three key items: how challenges inspire a positive response; challenges provoke an audience's imagination; and latest global insights and trends in the crowd economy and marketplaces.
Local success
The event highlighted three local businesses that have succeeded in the field of sharing economy including Wateen, Manafa, and the Space who each shared their great stories with the audience.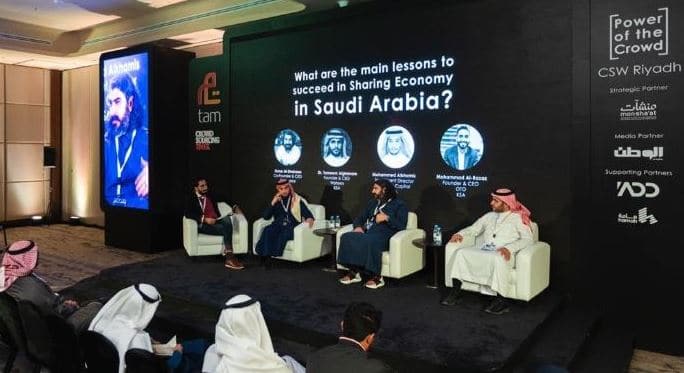 Going forward
The audience was asked to leave the event and think about new questions to ask in order to reach new answers that would help achieve Saudi Vision 2030. This initiative is about building a vibrant society and a thriving economy; and crowdsourcing together with the sharing economy play a major role in achieving these two key pillars through providing unprecedented and accelerated approaches that realize some of its objectives, Alyousef explained. 
He stressed the importance of the audience spreading awareness about crowdsourcing further, and how the sharing economy will create opportunities for a thriving economy, which falls under the Kingdom's Vision 2030.