CSW Summit Washington DC on June 15 brought together a famously distinguished group of crowdsourcing thought leaders and innovators to share insights and trends on how the second wave of the crowd economy is reshaping industries and transforming organizations.
Between them they represented a cross-section of how disruption due to mass, personal digital connectivity is being embraced by a variety of organizations, including NASA, the US Army, media, government and major corporations in various industry sectors. Apologies to the numerous speakers we're unable to include in this snapshot of the day. As a reminder, a full Agenda and speaker bios are here, and you can check what was posted on Twitter at #CSWDC.
This snapshot covers a variety of ways that organizations are managing the transformation of their operations to the digital world and exploiting mass connectivity. We heard from agencies that help corporate clients achieve an innovation culture. We were shown how some major corporations are handling it themselves through internal resources. Operators in the gig-economy told us how they are breaking new ground to create new norms, and we heard from an organization that would not have been able to function prior to mass personal digital connectivity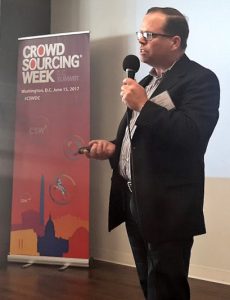 Kurt Scherer is a director of Booz Allen Hamilton Innovation, whose goal is to help clients develop and gain benefits from an innovation culture, whether that innovation is from internal or external sources, or both. He quoted figures that in 2016 crowdsourcing was a £15bn market, and that the sector has hit the hockey stick and in 8-10 years will be worth an estimated $300bn.
An enduring aspiration for their big businesses clients is to rediscover a startup culture to achieve heavyweight innovation. In pursuit of this aim organizations have shifted power from the 'crowd owners' – the bosses – and opened themselves up to a more innovative culture in which employees are inspired to participate and unleash their 'intrapreneurial' capabilities. Participation gets them noticed, it can lead to more rewarding roles and earn peer-group respect. Such was the case when an employee of just seven months who was working in a company basement came up with some streamlined processes that would save 300 working hours each month.
What is vitally important, Kurt told us, is that the employees know and trust each other enough to freely contribute ideas within a positive environment.
Trevor Madigan, CEO of The Vision Lab, advises companies only on securing innovation from their existing employees. He told us that digital technology and the mass data it creates and allows us to manage is changing everything about the nature of work. Millennials who have grown up with online technology and direct contact through social media have different expectations. They want – and expect – a flattening of organisational structures to be more collaborative than hierarchical, and they want immediacy of action from leadership teams in response to their ideas and input.
Across many industry sectors, The Vision Lab finds all organizations are largely the same: they face similar challenges and have the same business discipline silos with poor inter-communications. It's exacerbated when employees are geographically dispersed, and then there are the inevitable egos and change resistance to deal with.
Previous solutions are all broken, they were developed before the Millennial Generation and the digital tools that are available today. One factor The Vision Lab finds works is a management/control system that operates more like social media, based on frequent, lightweight actions that engage employees within 30 seconds. The main drivers are speed and simplicity. Here is a link to Trevor's presentation.
Insights like these are why businesses large and small will require companies such as Booz Allen Hamilton Innovation and The Vision Lab, and why the crowdsourcing market is tipped for 2,000% growth in 8-10 years to facilitate open innovation and effective big data management.
However, GE is a great example where the transition process is being handled internally. Dyan Finkhousen, Director of Innovation at GE, leads GE's GENIUSLINK group that was set up five years ago to provide crowdsourcing services to GE's internal teams, its clients and operating partners. They have 300,000 direct employees to which they want to add "the world."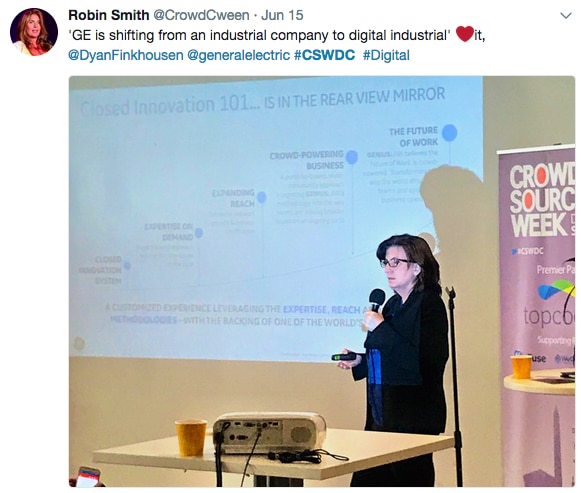 116,000 of the direct employees actively check to see if they have a contribution to offer to crowdsourcing projects, or missions as GE prefers to call them. In addition, they now also have access to an amazing pool of 7 million external experts made up of individuals, startups, large corporations and universities.
Not everyone, whether an internal team or an external client or partner, is as comfortable or familiar with the crowdsourcing tools to harness this potential input and understands how to best utilize their benefits. So GE provides a flexible service that ranges from a full start-to-finish planning and execution function to providing some coaching on relevant tools and letting individual mission teams execute their plans themselves.
One notable success was a mission to reduce an aviation engine's fuel consumption. In three months GE received 700 new product designs. The winner was from outside GE and even outside the aviation sector. He was a 22 year old Indonesian entrepreneur whose design reduced fuel consumption by an incredible 84.6%.
GE recently launched Fuse, the first crowd-powered, pre-packaged open innovation business model at scale for GE teams and clients. It enables users to access the crowd's help for research, ideation, design, prototyping, small batch manufacturing and market validation. It can reduce the time to bring a product to market by up to 50% as well as reduce costs along the way.
Topcoder is a prize-based gig-economy platform that enables companies to crowdsource apps written to order from over 1 million design and technology experts. Or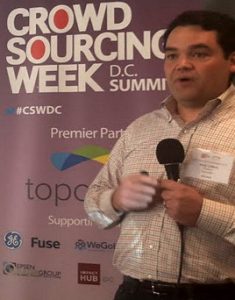 from the opposite perspective, Topcoder provides exciting flexible work/reward challenges for design and technology experts to win financial prizes. It is the world's largest, competitive, technology community in the world. Andy LaMora is one of the most experienced leaders in their data science practice, and his topic was "Incremental Prizes for Exponential Outcomes."
Topcoder separates and outsources specific parts of clients' technology innovation requirements as smaller challenges. Rules and goals for each challenge are presented to their community and each individual challenge is picked up by experts in that specific area to deliver a hyper-specialised response. Each stage can be independently managed, and thus when Andy was questioned about how prizes can drive innovation his response was that designing the prizes in a way that you can adjust the process is the key to drive participation. Adjustment may be required at any stage of the process if the response to one smaller challenge changes the requirements on others. And to close the process Topcoder reassembles the individual parts into a variety of cohesive whole solutions for clients to consider.
Currently, with a total prize purse of $55,000 on offer, NASA and Topcoder are seeking programmers and computer specialists to help NASA upgrade the Pleiades supercomputer. Entries close 29 June 2017.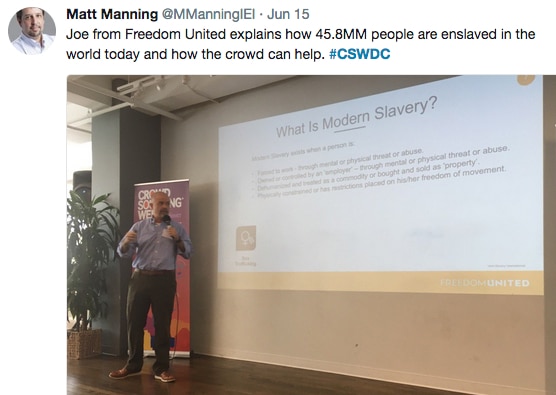 The organization that would not be able to exist without today's mass digital connectivity is Freedom United. Its founder and CEO Joe Schmidt is on a mission to inspire millions of people to become lifelong abolitionists, then mobilize them to influence governments, business and society to make the changes necessary to end modern slavery. Prior to mass digital connectivity Joe would have had to rely on expensive global advertising or PR, which would have made his mission unachievable. He walked us through some products of slavery and how we need to look at the business model of slavery in order for crowds to be activated and make an impact.
With hardly a moment to draw breath after closing CSW Summit DC we can announce that the next CSW Summit is scheduled for Seattle on 5th October 2017. It will pick up from where CSW Summit DC left off and focus on trending topics such as collective intelligence (AI + HI), crowdsourcing in the gaming industry, the latest developments in crowdsourced innovation, crowdfunding and blockchain enabled economy. Tickets are already available at Super Early Bird prices.