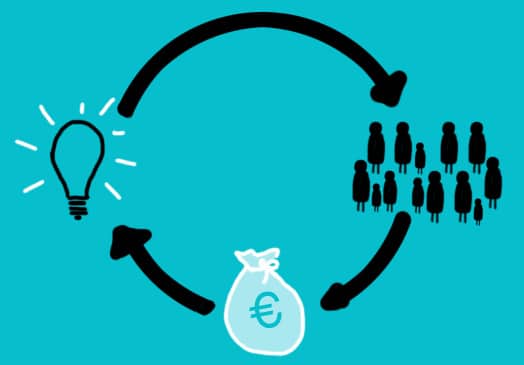 Crowdfunding for a startup has multiple benefits for startups and founders. One key advantage is that the top campaigns go viral on social media, building great momentum for the startup before launch and creating a positive feedback loop of interest among users, investors and innovators.
Here is a list of the top crowdfunding campaigns that sparked our interest in 2013 that are on their way to launching great products in 2014.
Dine In is a meal delivery platform that brings the fine dining experience closer to home by using their own fleet of food delivery drivers to deliver great quality food on behalf of London's best restaurants and chefs. Their 'Delivery Tracker Platform' fully integrates all the stages of the food ordering process and keeps the customers alerted along the way. For companies they offer cost savings tools for them to process the expenses related to food. As of this writing Dine In was already 86% funded on Crowdcube.
thingCHARGER is a revolutionary charger for all your devices without ugly wires. Plus you can plug 2 or 3 thingCHARGERs together and charge all your things at once. The charger comes with interchangeable connections so you can charge any type of device. See why we and all the 5585 contributors are excited about this product. The campaign has raised nearly $500,000, well over its $25,000 goal with nearly 2 weeks left to go.
Mytro is a young adult novel about a secret subway system, the kids who discover it, and the strange and dangerous group bent on taking control of it. It promises a fun and intriguing read. It is the first book in a planned trilogy and has raised nearly $14,000 beating its goal of $8000.

Circuit Scribe is a dream come true for geeks like me. Imagine drawing circuits with a pen! Circuit Scribe is a rollerball pen that writes with conductive silver ink. It makes creating circuits as easy as doodling. The pen wants STEM educators, artists, kids, & life hackers to go crazy with their imagination. With this pen the path from idea to prototype could be just a few pen strokes away. This campaign is widely successful having raised nearly $650,000, 8 times their goal. Excuse me while I go contribute to this campaign!
PowerUp 3.0 powers your paper airplane into a smartphone-controlled flying machine. The slim module can be attached to any handmade paper airplane, synced to an iPhone app and you are good to go. You can even tilt your smartphone to the left or to the right to steer your plane, increase or reduce throttle to go up or down. Now your paper plane can even fly outdoors. More than 15,000 supporters have propelled this campaign to beat a goal of $50,000 and raise nearly $840,000 with 25 days to go! A startup has taken flight.
Have you supported a cool campaign in 2013 that is on its way to grand success in 2014? Share it via a comment.