Finding the right talent to solve your problem can be difficult. Crowdsourcing helps you access a global pool of on-demand talent, helping to make innovation efforts less expensive, easier to manage and of better quality through leveraging the ever-expanding 'Power of the Crowd'. Here's how one leading platform in particular is doing this.
XPRIZE founder Peter Diamandis also co-founded and is now CEO of HeroX. The other co-founders are challenge designer Emily Fowler and entrepreneur Christian Cotichini. Their vision of HeroX is for it to democratize the XPRIZE innovation model through creating a ready-to-use platform. Since its launch in 2013 they have hosted over 100 challenges.
'Democratization' means anyone, anywhere can create a challenge that targets any problem or opportunity, and HeroX will use its ecosystem of problem solvers to bring together an appropriate global online community of innovative thinkers to deliver relevant and applicable solutions.
Users bring their challenges to HeroX which has teams of experienced challenge designers who advise on each aspect of it. They can be an open innovation challenge open to the full knowledge base relevant to a particular topic, or a challenge for a curated crowd selected on various criteria decided by a challenge sponsor, who may also want to build their own crowd that they can repeatedly go back to. Whichever way, HeroX can provide detailed best practices, templates, and tools to guide a challenge sponsor every step of the way. Though if a challenge sponsor believes they can work alone and would prefer to do so then that's fine too.
A cross-section of four current challenges clearly demonstrate the wide range of topics, clients, and amounts of prize money that are generating results from open innovation prize challenges on the HeroX platform, and the types of online communities providing the solutions . The cash prize purses available among these four challenges range from $6,000 to $2.5M.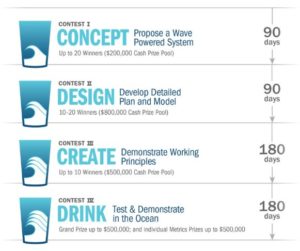 "Waves To Water" is a prize challenge sponsored by the U.S. Department of Energy Water Power Technologies. It has two aims. The first is to generate power from wave action. The second is to use that power to run a desalination system to convert seawater to potable drinking water for use in remote areas and disaster relief scenarios. 
This is a 4-stage challenge with a total prize available of $2.5M. It is also the first of five water-based challenges with themes of renewable energy and energy efficiency. The deadline for submissions at the initial Concept Stage is 11 September 2019.
In the Oil & Gas Sector, the "Tank Inspection Challenge" is open now for members of the public to register with a submission deadline of July 13. Oil and gas is commonly stored in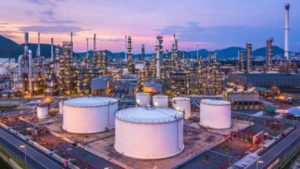 Aboveground Storage Tanks (ASTs) of a size from 40 feet to 300 feet diameter. Inspections for signs of corrosion are lengthy, dangerous and expensive. What's the solution?
The challenge's two sponsors, Chrysalix Venture Capital founded in Vancouver, Canada, and the Malaysian oil and gas multinational Petronas, hope their combined total of $250,000 prize money will generate viable solutions. The final award will be announced on August 9. 
Let's move from the energy industry to consumer snacks. HeroX has partnered up with another crowd solutions'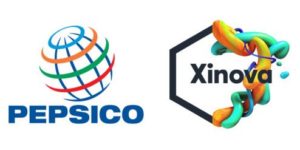 platform Xinova to create a challenge on behalf of Xinova's client PepsiCo. PepsiCo are looking for solutions to meet the growing consumer demand for healthier baked snacks that include the flavour and nutritional benefits of vegetables.
Here's the issue: while 'regular' dough is 50% water, vegetable purees contain up to 85% water which makes them too sloppy for mass scale baking. This water is trapped in vegetable oils and bound to the natural fibre components. How can the bound-in water be unbound and maintain the taste and nutrition benefits?
The deadline for submissions to this "Free The Water" Challenge is July 10. So far 47 innovators have signed up for the challenge, and each innovator can earn from $500 to $35,000 depending on the quality of their idea and how far it's developed.
The fourth challenge relates to the voice product market which is heavily dominated by a few giant tech companies. This is unhealthy as it stifles competition and prevents the entry of smaller companies with new and innovative products. The "Mozilla Voice Technology Challenge!" aims to open up the voice product development process, to make it transparent and accessible to everyone.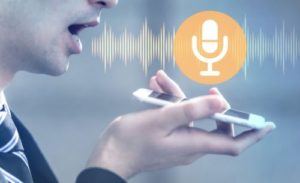 Mozilla, the web browser firm, defines voice-enabled technologies as "technologies that use voice as an interface, allowing people to interact with various connected devices through verbal means – both when speaking and listening."A total prize pool of up to $6,000 is available, comprising up to two main prizes of $1,500 each, one or two runner-up prizes of $750 each, and up to three "Honorable mentions" of $500 each. Registration closes August 20, though don't wait until then because judging the entries starts August 21 with winners announced September 24.
Across each of these challenges, and the others HeroX will host in the future, the lessons they have already learned in the past will continue to apply.
What works
A solution is not obvious but the outcome is measurable

A clear goal is outlined

A promotional plan that is implemented

Engaging your crowdsourcing community throughout the challenge

An interesting or sympathetic subject area (not always required though if all other requirements are met)
What doesn't work
Unclear rules or finish line

Trying to solve an unsolvable problem

The solution is too easy or already available

A challenge that someone can cheat or game the system to win

No promotional plan or engagement with your crowdsourcing community
Crowd-related breakthroughs and the market disruption they can cause will be the subject of sector-leading speaker sessions and panel discussions at our next international conference, CSW Global 2019, running September 12-13 in San Francisco. Registration is open, you can reserve your place now.