CSW Summit Johannesburg on 24 June 2016 was Crowdsourcing Week's first event in Africa. It was held on Day Two of the InnoLive 2016 conference presented by Innocentrix.
The day's presentations can be accessed here, and here is a brief recap on some of the event's outstanding highlights.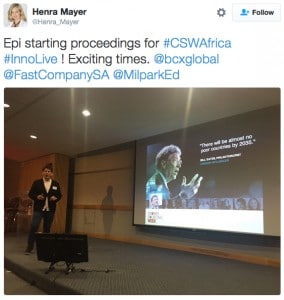 Crowdsourcing Week's Founder and CEO, Epi Ludvik, began the day with a scene-setting opening address that took the audience through the journey of crowdsourcing and the global impact it is currently making.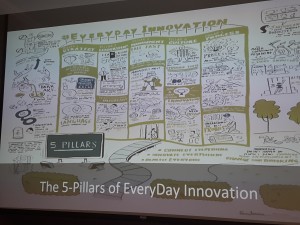 Simon Hill, CEO of idea management software company Wozaku and Entrepreneur in Residence at INSEAD, talked on "The art of becoming an everyday innovator." The business model of the Five Pillars of Innovation highlights the disciplines of Strategy, Leadership, Management, Culture and Process. To this we can add what we know about people so we can make them part of the innovation process through crowdsourcing.
Taryn Morris of Uber explained it is growing exponentially in Africa. Today's power of the crowd comes from technology enabling two billion people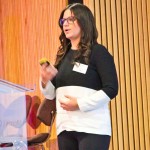 to be globally interconnected. However, a recurring issue is one of Trust: can we trust those we reach out to us, and how can we impress our own trustworthiness on other people who don't know us? Well, an involvement in the crowd economy can demonstrate trustworthiness. In South Africa, Uber has moved beyond being simply a car ride system. WesBank is using drivers' Uber data on earnings and quality record to allow some of them who have no credit history to acquire a brand new car and start their own business. To meet the terms of a leasing agreement Uber drivers have to have been registered on the service for at least three months, have completed at least 1,000 trips and have an Uber rating of 4.7 or more.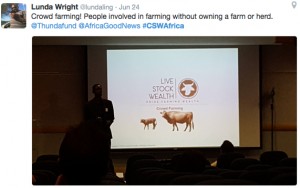 Donald Ngundu, COO of Livestock Wealth, explained how his method of crowdfarming allows investors to fund a cow with an upfront cost to purchase it and an on-going fee per month for a farmer to feed and look after it. When the cattle are sold at market the investors receive their return. Investors make a profit, the size of the food chain has increased, and the farmers have less of a cash flow issue and debts to service due to the regular monthly payments. Sounds like a win-win-win. Our CEO Epi Ludvik suggested that cows could be made available to multiple investors as this would enable a lower entry cost.
During the two days of InnoLive and the CSW Summit, Geekulcha hosted an "Internet of Things Hackathon" for 25 young innovators. They were a mixture of hardware and software developers and their aim was to resolve real challenges put to them with IoT solutions using open source tools to visualise data generated by physical sensors through human and machine interaction.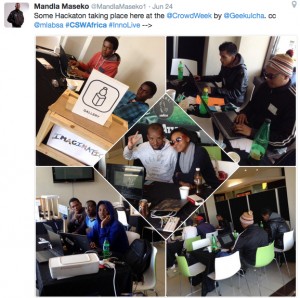 The top three solutions developed during the Hackathon were:
Micro sensors attached to artwork with real time data visualisation would enable art galleries to record the number of people viewing each display at any time. A real time display on a public monitor system would allow crowds to manage themselves to ease congestion at busy times, and ultimately enable optimum distribution of popular displays within a gallery.
School children provided with smart wrist monitors would enable an automatic record of their attendance rates, help with implementation of safety measures and improve resource allocation. The most frequent attendees could also earn extra credit.
An Internet-enabled system was devised for a Moringa tree farmer to save on water and better maintain the quality of his soil.
All three were put forward to the Geekulcha Annual Hackathon held immediately after CSW Summit Johannesburg and the tree farming solution won first prize.
Going back to some of the presentations, Mandla Maseko, who easily admits he had previously been a rather aimless young man in a township, won a competition in 2013 that received over half a million entries to be selected as an astronaut. This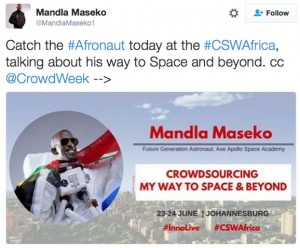 spurred him to gain first his private pilot's licence and then in 2015 his wings as a helicopter pilot in the South African Air Force. He spoke about how he crowdsourced his way to astronaut selection and brought his dreams alive. He hopes to inspire many African children to raise and achieve their ambitions, and encouraged everyone that if they have a dream and don't know how to make it happen, "speak it to the Universe and the Universe will make it happen for you."
Willie Ackerman of the IT outsourcing company Business Connexion explained using crowdsourcing as a sales tool under "Using crowdsourcing and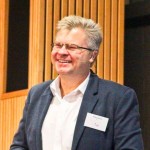 social selling to extend your sales force and create transformational growth." Business Connexion mobilised their entire workforce to support their Sales operation under the theme of Power of X. They provided product education with hard copy material and online support, 'brand ambassadors' were appointed as go-to-people in each of their local communities, and each person was able to specify their own preferred incentives (money, acknowledgement, or a blend of both).
After 8 weeks Business Connexion had gained R12.5m of business. The Power of X programme also improved their employee's knowledge of their own products, improved their overall business knowledge, and supported the long-term development of a customer-centric culture within the company. After 18 months it had generated over 500 leads representing a potential business growth of R330m.
In her presentation, Kanchana Moodlier, Business Humanizer and Partner at Innate Motion, talked about the power of branding and how to make it work hard. Becoming a brand raises a company above commoditised competitors, and telling a story about a brand enables stakeholders to engage with higher intensity at a human level rather than a strategic one. To make this process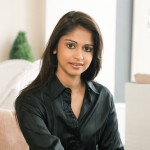 accessible, Innate Motion has created a series of games to help entrepreneurs turn business ideas in to great stories, and this humanization captures people's attention and achieves standout.
For some conspicuous examples, think of how Ben & Jerry's ice cream champions the cause of social justice and Coca Cola positions itself as an icon for happiness.
To do the same for their own brands, entrepreneurs need to make a journey, a journey to move from talking about what they do to who they are. Move from explaining functional benefits to values and purposes, move from "customers and clients" to the "people they serve". It's about being able to be recognised by people who share the same values and concerns, who are then happy to engage and build a relationship. After all, that's how we make friends isn't it?
The crowd economy is a dynamic, global force that continues to evolve. We look forward to our future collaboration for CSW Summit Africa 2017.