In a time not so long ago, in a galaxy not so far away, a little phenomenon was born that united the people of cyberspace through geographic services and social networking.
In August 2010, JESS3 took one giant step for geosocial networking with the introduction of The Geosocial Universe infographic, mapping this new world for the first time. And now, with changes to the social landscape occurring at lightspeed, JESS3 presents its third iteration of The Geosocial Universe, charting the latest monthly active user data for various social networks, along with the percentage of users who access each network via mobile devices.
Take a look below to discover more about the ever-expanding geosocial universe and the course of its objects: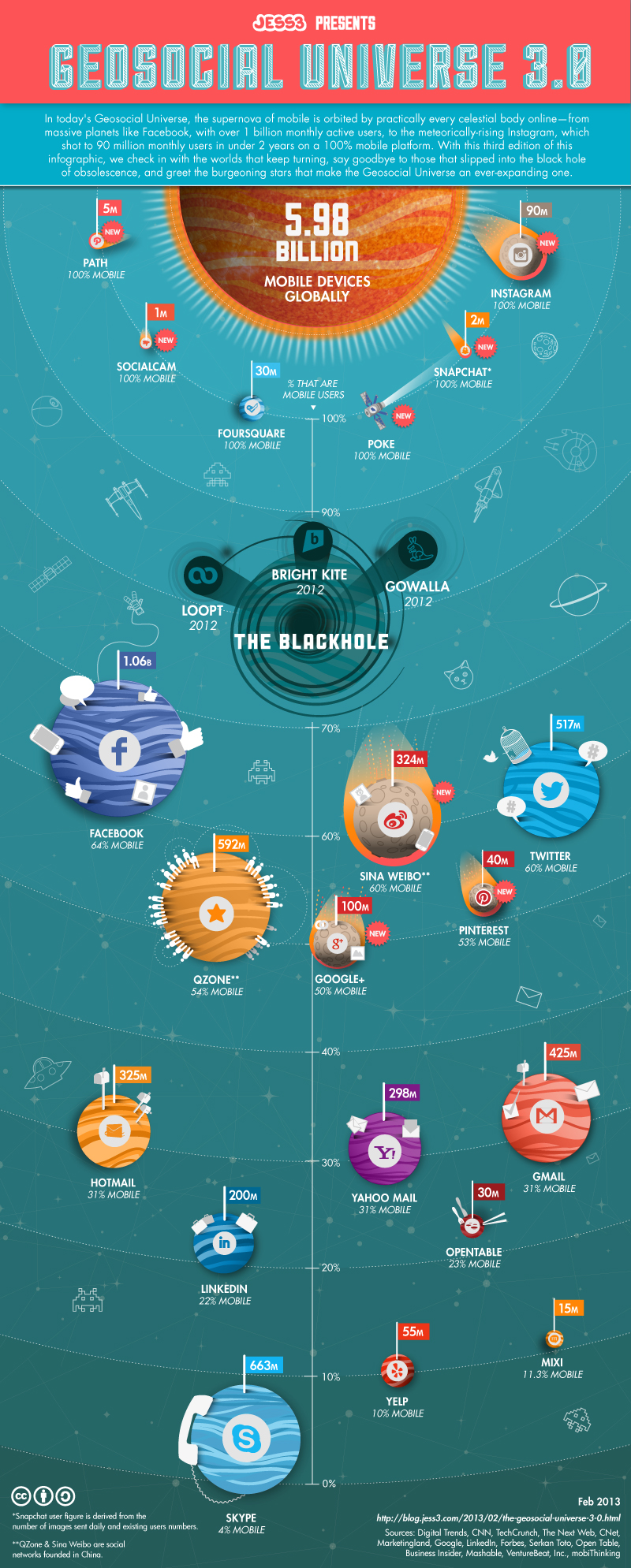 According to designer Lane Kinkade, "The latest version puts a stronger emphasis on mobile user activation in the geosocial universe. The lighthearted, fun style makes the data more digestible, and the space-themed illustrations are a nice bonus."
So, what are the major changes in data? An influx of completely mobile apps, to start. There are the rising stars: Snapchat and Facebook's Poke (pictured as a sneaky spy satellite, to illustrate its mysterious origins); Socialcam, with 1 million monthly active users; and Path, which is chugging along at 5 million. Then there's shooting star Instagram, which still claims 90 million monthly active users, even after reportedly losing half after a TOS change in early 2013. Generation M, indeed.
In another corner of the Universe, we have the giants: Facebook nearly doubled in size since the last time around, now boasting over a billion users; Skype, which has neither grown nor shrank; Twitter, up 158.5% from last year; and China's Qzone and newcomer Sina Weibo (which released its English-language interface in January).
However, the real successes of the year were sales-driving Pinterest and 100-million-strong Google+. While neither is a new entity, they found their place in the geosocial stratosphere, gaining momentum and users. Pinterest in particular cemented itself in popular culture, influencing visual design and giving young women everywhere weddings to aspire to (or so the joke goes).
Finally, going gently into that good night were location-based networks Loopt, Brightkite, and Gowalla. All three shut down their services in 2012.
Note from Editor:
The phenomenal growth in crowdsourcing in recent years is not isolated from the exploding use of mobile and social networking. Social media is helping to transform and push the boundaries of crowdsourcing as it allows organizations, government, non-profits and others to engage with stakeholders and vice-versa. Organizations are becoming more social-media savvy to harness the power of the clouds.
Sit back, the show has just begun!