---
Here at Crowdsourcing Week we are delighted to hold our second USA Summit in Seattle, a global hub of software skills and expertise and, as some say, "the spiritual home of artificial intelligence."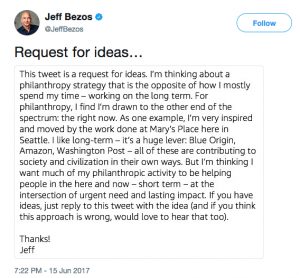 It also gives us the opportunity to flag up a major crowdsourcing project initiated by Amazon's CEO Jeff Bezos that you can be part of. He tweeted in mid-June to ask for ideas to steer major charity initiatives. Usually he is looking at the long-term for Amazon, and for the Washington Post that he owns. Right now though, he wants to develop a philanthropic strategy that helps people in the short-term, "at the intersection of urgent need and lasting impact." So if you have any ideas send them to him at @JeffBezos.
Our first US CSW Summit was in DC this June 2017. The seat of federal government was the natural choice for an international summit focusing on innovation and disruption triggered by mass digital connectivity, and how government agencies, NGOs and global corporations are benefiting from using it.
With so much constantly happening in crowdsourcing and all the other 14 parts of the crowd economy landscape it has been difficult, though also vital, to focus on some major themes for CSW Summit Seattle. The focus will be on trending topics such as collective intelligence (AI + HI), crowdsourcing in the gaming industry, the latest developments in crowdsourced innovation, crowdfunding and blockchain enabled economy. And as such we believe it's very appropriate to stage the event out to the West Coast, in Seattle.
In the 21st century the northwest US coast has established itself as a centre of high skilled software expertise that underpins modern corporations in numerous industry sectors. As such the region continues to attract businesses that may also get to rub shoulders with some iconic disruptors. After all, the Seattle/Bellevue area in Washington state is home to Amazon and Microsoft.
The Boeing Everett Factory 25 miles north of Seattle is the world's largest building as measured by volume, producing the 747, 767, 777 and 787 aircraft that so many of us fly on. Also, in many cases, those travel plans are booked through the online travel booking platform Expedia, which has its headquarters in Bellevue.
And on the mobile communications front smartphone maker HTC – currently developing virtual reality technology – and network provider T-Mobile US are also based in the Seattle and Bellevue area. It certainly is a hub of expertise!
Finally, who doesn't think of Starbucks when they hear "Seattle"? It began here in 1971, and the brand remains a leader in customer service through crowdsourcing constant feedback and ideas from its customers via the My Starbucks Idea initiative it began in 2008.
CSW Summit Seattle will be an intensive day for C-suite level executives from large corporations and SMEs, engineers and techies, entrepreneurs and startups who wants to seek out and harness open and collaborative solutions. It will bring together an unparalleled group of national and international thought leaders and innovators in the crowdsourcing sector. Presentations will be quickfire 15-20 minute sessions to maintain a high energy level, and networking sessions will bring together speakers and delegates to foster new connections.
Early registration is already possible here for CSW Summit Seattle with Super Early Bird ticket prices, and agenda details will be posted as we confirm them. We hope to see you there.