Our theme for 2023 is the Creator Economy, and how it sits in the context of Crowds, Collaboration, Communities and Connectors. The start point for this is that millions of ordinary people take advantage of opportunities to create the content that we consume online. We are no longer reliant on massive media companies to provide us with news and entertainment, and we're happy to consume content made by everyday people like ourselves.
A number of factors have converged to grow the size of the creator economy sector, though estimates of the actual market size vary widely due to its undefined nature and such fast growth that it quickly leaves market size estimates behind.
What is undeniable is that Covid lockdowns gave many people time to consume more social media and online content, explore their own creativity, and become familiar with an expanding list of affordable tools and technology to help them. That includes tools to both create and monetize their output, which encourages a personal aim to not just return to their previous work routines and responsibilities.
Monetization can come through distributing creative work on crowdfunding platforms; finding freelance assignments through gig-economy platforms; working with brand owners as micro-influencers; innovating with prize challenge platforms; and building their own business.
Creator economy market size
The creator economy has developed to be a major force. According to Influencer Marketing Hub, the creator economy had a 2022 global value of $16.4 billion, a 19% increase from 2021.
Looking ahead, 1 in 4 Gen Z-ers aspire to become social media influencers, which is a prominent sub-sector of the creator economy. However, this alone does not lead us to a more productive and innovative society. HubSpot's 2022 State of Consumer Trends report found that 30% of surveyed 18 to 24-year-olds and 40% of 25 to 34-year-olds consider themselves content creators. It's estimated that one billion individuals will ultimately self-identify as content creators.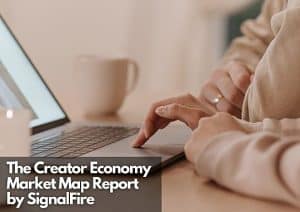 How many creators make a living from it? Research by the recruitment platform SignalFire assessed the work of around 50 million content creators around the world as a way to discover how they gained revenue. The findings split creators into amateurs (46.7 million) and professionals (2 million plus).  Almost two-thirds of the amateur creators (30 million) connect with communities to share their creativity on Instagram, followed by 12 million on YouTube, 2.7 million on Twitch, and 2 million on other social platforms. In contrast, professional creators use YouTube (1 million), then Instagram (500,000), and Twitch (300,000).
Largely based on the creators that are making money, another international research survey in 2022 was based on a sample of 2,704 creators. 57% were in the US and they dominate the overall results. In round terms, one in ten of these creators described themselves as hobbyists, around 40% were part-time (using their creative talents as a side hustle, and just under 50% claimed to be fulltime creators. The most likely age group was 31 to 40. There was a gender bias 2-to-1 in favor of women; perhaps that's because it's work that can be fitted around family responsibilities and caring for dependents. The largest category of creators in the research sample is Educators, followed by Bloggers, Coaches, and Writers.
Advances in generative AI are undoubtedly going to attract new users and cause the sector to grow further.
Innovation in content creation
The increasing popularity of short video formats on platforms like TikTok, Facebook, and YouTube is already making it easier for users to become content creators. These platforms are easy to use, widely accessible, and have features that essentially simplify the process of content production. Much can be done with ubiquitous smartphones, with no need for expensive cameras or audio recording devices.
In India, influencers posted over 22 million videos in 2022 on YouTube, more than any other country in Southeast Asia, according to affable.ai data. Micro-influencers, ranging between 10k-50k subscribers, are a large segment of these influencers, followed by nano-influencers who connect with communities of 5k-10k subscribers. YouTube is a source of income for many of them.
The biggest breakthrough, however, is the harnessing of artificial intelligence to the creative process. Inherent human creativity was supposed to make the sector resistant to AI inroads, yet collaborative generative AI tools are causing a massive revolution in creative sectors. Users are able to generate content at the tap of a button, with no need for coding knowledge or artistic expertise. Tools including ChatGPT, Midjourney, Stable Diffusion, Dall-E and Copilot allow users to generate text, imagery, computer code and other content based solely on natural language prompts. YepicAI is another, pioneering text-to-video algorithms and machine learning models that allow businesses to transform text scripts into professional videos.
Freelance and part-time content creators could find their income opportunities swept away by machine generated content, or they could use generative AI themselves to scale their activities to a greater commercial level. Perhaps collaborating with other creators will help, as a way to develop a mutually supportive "creative community." Instagram, for example, now allows users to co-author posts and even add images to another user's Stories.
Not without issues
AI can generate creative content because it has been taught to do so through machine learning based on scraping millions of examples of existing content. If content that is protected by copyright is used as part of the learning process without permission, has copyright been infringed even if individual items of protected material are not reproduced?
In the UK, photo library Getty Images has filed a case against Stable Diffusion for scraping its images without permission.  What are the implications for the use of written content in books, articles and scholarly texts? Did the generative AI platforms all seek permission from all the publishers, writers and universities?
Monetization through working with brand marketing
A current trend in marketing to emphasize authenticity moves brand messages away from high production value polished and stylised content, and enabled the rise of micro- and nano-influencers. As well as explaining their "Why" the brand owners are shifting their money between channels they use to deliver their messages.
Conveying an impression of "It's not just us talking about ourselves" requires less focus on paid-for advertising. This might also help better use of budgets, given the global average ad-blocking rate was estimated at 42.7% during 2022. When celebrities and mega-influencers deliver a brand message, we all know they have been well paid and it might not be their true opinion. Using micro- and nano-influencers means brand messages come from people like us, people at our level.  And if they have been paid a small amount for doing it, then good for them. 
This development means brand owners will have to collaborate with a crowd of smaller influencers to attain wide audience coverage. The key benefit is that members of the audience will receive more impactful exposure to brand messages coming from influencers they perceive to be "like them," and identify with their particular online community. These influencers charge less than their more famous counterparts, though someone with 1,000 to 10,000 followers can charge up to $100 per post. Whereas mega-influencers with over a million followers are likely to charge upwards of $10,000 per Instagram post.
If crowds of micro-influencers are going to remain authentic they will create their own "democratized content." This will give brand owners a myriad of crowdsourced creative ideas. TikTok's Branded Mission initiative enables advertisers to crowdsource "authentic" content from creators on the platform, and turn top-performing videos into creative executions to use elsewhere, improving brand affinity on the basis of knowing what already works. 
A fairer share from search engines
A further means for content creators to earn more would be for a fairer share of income from search engines. Search engines make money, vast amounts of money, through selling advertising that appears in online content. In 2020, Google's parent company Alphabet generated almost $183 billion in revenue. More than 80% of it, $147 billion, came from Google's advertising business, according to the company's 2020 annual report.
This is where a new search engine, Yep.com, will be different. Back in 2019, parent company Ahrefs announced plans to build an alternative search engine that will share 90% of advertising profits with content publishers. On this basis, billions of dollars could be paid to publishers. New kinds of businesses will appear, creating new forms of content that previously didn't exist, claims their website. The incentive is clearly there for content creators to prefer Yep.com as their go-to search engine.
What's next?
Innovation in the creator economy is happening extremely fast.  A few years ago, AI-generated works were strictly the domain of professional cutting-edge artists, academics, and copyright scholars. In the last few months, AI tools have become ubiquitous—not just for experimentation and media hype, but for commercial use, education, and beyond.  
The next generation of content creators will publish and monetize their media in exciting new ways not seen before now, providing increased revenue and exercising more control over their intellectual property.