With less than six weeks to go until the start of Crowdsourcing Week Global 2016, here is a quick snapshot of five things you should definitely know about our five-day event. Whether you are a speaker, partner, attendee or thinking about joining us, here are a few points that should get you thinking…and talking.
THEME
With a great theme, comes great spark. We've finely tuned this year's Global Week theme to reflect both a realistic understanding and positive ambition connected to all things crowdsourcing.
With "Great Challenges, Massive Opportunities" the main theme, Crowdsourcing Week Global 2016 participants will learn the value of crowdsourcing, discover the great challenges across sectors and the crowd-driven approaches that leverage them into opportunities that will be mutually beneficial for organizations, consumers, and communities.
As a springboard to our theme, participants will learn:
Why sharing is much more valuable than shares.
Challenges in using collective intelligence tools and how organizations should deal with them.
How the mobile Internet and Blockchain are changing everything about how we operate across commerce, finance, cities and society
How we can generate new avenues of participatory revenue, tap into participatory business models, and engage and empower participation in communities.
How human social patterns have changed when trust is leveraged as a new social currency.
And much more…
AGENDA
The CSW Global 2016 agenda covers actionable topics in crowdsourcing, collaborative innovation and crowdfunding that are increasingly required to thrive in the new economy. Whether crowdsourcing is a term that's sparked your curiosity or a practice you use every day, the sessions will inspire you with new ideas, insights, and skills to understand and embrace the crowd economy into your organization.
The agenda will emphasize cross-disciplinary learning, presenting perspectives from a wide range of public and private sectors together on a single stage. There will be no long and drawn-out presentations; by contrast, expect rapid-fire sessions, panels, and interactive breakouts designed for maximum enjoyment, impact, and learning.
Four signature session series will appear across all days, look for these indications on the agenda:
#Colab: Warning, highly collaborative. These interactive sessions involve hands-on learning.
#Breakthrough: Case studies of corporate breakthroughs achieved by tapping the crowd.
#HotTopic: Top experts explain the biggest trends just around the corner.
#Accelerate: Ways to rapidly grow, scale and accelerate by harnessing the crowd.
SPEAKERS
To date we have announced a growing listing of 32 speakers across each of our five days. The expertise is as diverse as the knowledge is vast within the variety of respective fields. From advisors to CEOs, from authors to researchers, from initiators to company presidents, you'll hear a broad range of topics set within the world of crowdsourcing.
In the coming weeks we'll be publishing more articles from our Speaker Spotlight Series, the first of which can be read here. The series is a compilation of answers we've posed to our speakers, acting as a little taster of what's come when they take the stage at Global Week 2016.
VENUE
The rich heritage of our venue for Global Week 2016 dates back to 1848. Located in the heart of Central London, Regent Street Cinema is a landmark building and institution for anyone with a soft spot for the history of London cinema and theatre. During its history the cinema has played host to the plays of Charles Dickens, musicals and in modern times a lecture theatre. Following the closure of the cinema facilities in 1980, celluloid made a comeback under the roof of the venue in 2015, following a three-year fundraising campaign to restore the space to its former glory.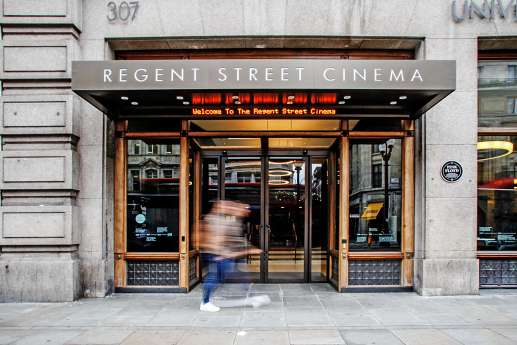 Fully refurbished to the grandeur of the "birthplace of British cinema," everyone who walks through its doors during Global Week 2016, will marvel at the art deco features restored from the cinema's first renovation in the 1920s. Interestingly, the cinema puts a great deal of focus into community engagement with the goal of creating "an inclusive atmosphere and forum for learning, discussion and creativity, open to all walks of life," making it the perfect venue to host Global Week 2016.
ATTENDEE LOVE
Sometimes there's just nothing better than a recommendation or thumbs up from the very people who have spoken at or attended one of our previous conferences. Going into our fourth global event, we feel like we are doing something right when we receive feedback such as the comments below…
"CSW illuminated crowdsourcing in a special way and the possibilities of it's use in business, NGOs and society."
Piotr Wieczorek | Ernst & Young Business Advisory
"The leading conference that brought together the leaders from around the globe to discuss the rise of the empowered crowd… a collective of the innovators who want to inspire, get connected, and make world changes."
Jeremiah Owyang | Founder, Crowd Companies
"This source of knowledge and best practices in the field of crowdsourcing inspired the project Open Warsaw."
Michal Olszewski | Vice President, City of Warsaw
"Crowdsourcing Week features the pioneers of crowdsourcing. Bringing together cutting edge crowdsourcing examples across industries makes it obvious that we've only begun to tap the surface when it comes to the potential of the crowd."
Stephanie Grosser | Senior Advisor, USAID
"One of the rare conferences in which I wanted to sit through each session, learn from each speaker, and meet each attendee."
Gaurav Mishra | Digital Director, Condé Nast
Image credit | Regent Street Cinema
Leave a comment below letting us know what else you think you should know more about at Global Week 2016