Crowdsourcing Week interviewed Arun Mehra, the Chief Executive Officer with Talenthouse India, an online platform pioneering in creative collaboration. He is an entertainment industry veteran with over 18 years of experience spanning O&M, MTV, BCCL and Reliance Entertainment.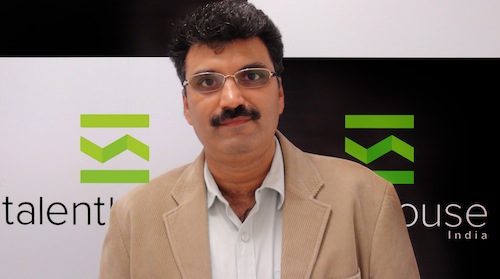 In a previous stint with Zapak, Arun drove revenues as COO by working closely  with over 100 brands across country in unique business properties. He co-founded the award winning Zapak.com (India's Largest Causal Gaming Portal) in November 2005 as its CMO. His contributions and dedication to the company had helped make Zapak a rage amongst the youth and garner 8 million registered users.
Arun has worked with some of the best global media houses in sales and marketing roles and has taken on the challenge of driving this completely new business, in a virgin territory of creative crowd sourcing.  A veteran in the field of digital space he understands that if era one was information, era two was networking then now is the era of collaboration.
Tell us more about Talenthouse India.
Talenthouse India, a joint venture between Reliance Entertainment Pvt. Ltd. a ADA Group and California based Talenthouse Inc. will oversee growth and business in India & SEA. It focuses on nurturing fresh and creative talent in the region and provides opportunities for collaboration at an international level as well. Talenthouse connects with artists across film, fashion, music, photography & art on collaborative projects and embrace artists at entry level.
Since our launch in October 2011, we have worked with some of the best brands here in India like Pepsi, Samsung, Nokia, Axe, Bacardi, Tropicana, Clean&Clear, Airtel, Micromax, Kurkure, Prime BIG CBS, BIG FM, SAREGAMA's Icon Next on UTV Bindass, Big Synergy and many more.
What are some of the current projects you are working on?
Talenthouse India proudly launched its biggest initiative 'My Nation, My Anthem' to commemorate India's Republic Day by Crowdsourcing the first ever National Anthem.
Supporting the initiative, we have Soojit Sircar (director Vicky Donor), Ronnie Lahiri of Rising Sun Films along with Ram Mirchandani (co-producer of Vicky Donor, David etc.) of Rampage Motion Pictures to create a final film of The National Anthem to be showcased at PVR Cinemas before a movie screening and Hindustan Times a leading newspaper as media partner.
Besides we are working with exchange4media a leading advertising and marketing website in India to re-design their logo which they established 12 years ago. Ambi Pur, a P&G air care product is sourcing videos depicting whacky reactions when "smelly" moments transform into "smiley" moments. BIG CBS Love is hunting for a fashion designer for their soon to launch reality based show Bridelicious.
We are also crowdsourcing the official theme song for Crowdsourcing Week in Singapore! Our entire team is very excited about that.
What is the current state of crowdsourcing and open-innovation in India?
International Crowdsourcing scenario: Internationally crowdsourcing, open innovation and co-creation have been around as part of marketing and innovative strategies which are only getting bigger and bigger. With brands like P&G's Connect & Develop which over the years have claimed that more than 50 percent of product initiatives involve significant collaboration with outside innovators. Similarly Pepsi has converted people's ideas from wishful thinking to reality through the Pepsi Refresh Project.
India opening up to crowdsourcing: In India, besides Crowdsourcing the Rupee Symbol by the Indian Government, large scale consumer involvement has not yet been undertaken. Brands have now opened up to consumer generated content on smaller scale through social media & this trend will only gain momentum in the coming years.
Latest trend in Crowdsourcing: Today there exists creative crowdsourcing platforms such as Talenthouse, to build relationships and not just a fan base. This has led brands to reach out to consumers in innovative ways and this trend can be noticed in social media reports wherein the top brands with growing fan bases have adopted high levels of engagement with their consumers. Crowdsourcing UGCs is the latest trend for building the same. Engagement through Crowdsourcing platforms irrespective of the strength of a community seems to be an economic, viable and most sought out option among brands.
What are some of the supporting factors as well as hurdles to crowdsourcing that you face?
Some of the supporting factors definitely include:
Engagement: Brands today need to build relationships and not just a fan base. This has led them to reach out to consumers in innovative ways such as Crowdsourcing.
Creative pool: In every aspect, the world today cannot ignore a nation like India. We believe, every single person of our 1.25 billion people has a creative streak waiting to be discovered. We are sitting on a goldmine of untapped talent who are searching for a platform to showcase their talent and gain recognition.
Quality Content: Talenthouse is committed to giving an equal chance to every creative artist looking for a platform to showcase their work. We are a company created by artists, for artists. We understand the amount of dedication that goes into every submission. Our dedicated team therefore reviews all entries (no matter how many are there) to shortlist exceptional submissions from the rest to make it easier for brands. Talenthouse of course is designed to create a winner, to give this one individual a potential break, but since we're adding the social layer to it or a third dimension to the process, we leave everyone behind in a win-win situation.
The hurdles to crowdsourcing include:
Nascence of the concept: Creative crowdsourcing is a revolutionary breakthrough the world over but is currently in its nascent stage in India. It is what e-commerce was 5 years back. We have a first-mover advantage in India. There are no holistic models existing here that cater to the creative genres of film, music, fashion, photography and art
Internet & social media penetration in rural India: India has been the fastest growing Internet market and growing at an annual rate of 41 per cent which is a healthy progress for a platform like Talenthouse but to be completely successful we would have to witness a large rural population on Internet & savvy social media users.
What is your 5-year view for this practice in the Indian market – in the creative space as well as for other applications?
Anyone and everyone would want to Crowdsource: Crowdsourcing will be used by almost all industries, from FMCG giants to SME's, every brand wants to constantly converse with their audiences. In the case of brands, any brand who wants to engage with its audiences or who requires relevant content for its audiences to consume (maybe on social media) or who are genuinely searching for creative talent will all take the Crowdsourcing route.