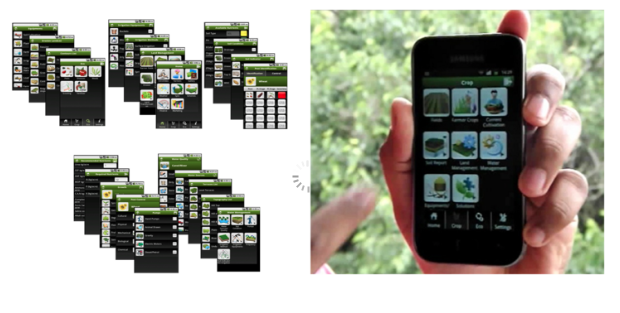 We see advances in technology almost everyday. But the rate at which these percolate to poor farmers in developing countries is slow enough to throw them into a vicious poverty cycle.
The team at Barefoot Lightning is trying to change that via their Talisman Mobile Project that brings together multiple disciplines from agriculture, business, development and psychology to provide farmers with content and tools that enable them to be more productive.
The team is crowdfunding to finalize the last few decision platform components and begin the job of adding large amounts of content across crops, different practices types and functional areas. Their project is LIVE on Rockethub.
"For the last 3 years we've been working to understand what matters and why so that we can provide simple self assessment tools which let farmers understand the quality of their soil and how this combined with their local climatic conditions influences the crops and varieties they can grow. Then we help them to explore different practices which suit their own preferences and concerns around cost and effort, chemical fertilisers vs organic, soil erosion and fertility etc.

We use rich content in the form of images, audio and video to ensure that farmers not only understand the topics at hand, but also help them to learn step by step how to improve the long term sustainability of their farms."
Simon Holland, one of the co-founders of Barefoot Lightning has worked in strategy and operations consulting for telecom and media companies before getting the calling of the wild ten years ago.  Since then he spent time in Costa Rica, Nicaragua and India working with farmers groups, NGOs, government and agribusinesses to to help them prosper.
He soon became the only foreign co-opted committee member for the 11th 5 year plan for IT in Agriculture for the government of India and led a project to design and deliver a pest and disease surveillance system for the UN FAO and government of India which used agro-ecosystem analysis to assess the balance of pest and beneficial insects in the ecosystem.
More recently he has been working with the team at Barefoot Lightning to design knowledge and content rich solutions for farmers with low literacy and numeracy levels. They use mobile technology to bring this information to farmers through their Talisman Mobile Solution.
The Talisman project has been designed to address all the issues of localization and personalization by allowing farmers to capture first the information on their farm resources, then their personal preferences and concerns, eg:
–   Climate risk (extremes of temp, drought, wind, etc)
–   Pest and disease risk
–   Yield requirements
–   Inputs types
–   Investment potential, etc
Listen to the story behind Barefoot Lightning.