Crowdsourcing can reduce costs, speed up project timelines, tap in to crowd intelligence and creativity, and engage citizens at all levels of corporate and government processes. It's not just for new startups, iconic organisations including NASA and GE have specialist teams managing mass engagement with external stakeholders. Some projects can even just start by themselves.
Even President Trump is currently using crowdsourcing to ask the American people for ideas and suggestions by June 12 on how the government can be better organized to work for them. Though on the strength of this video we'd like to suggest "be careful what you ask for."
We have compiled a shortlist of 10 US crowdsourcing projects across different industry and interest sectors to demonstrate its versatility, relevance and increasing use.
1.Citizen Engagement
Mural Arts Philadelphia is hosting an event in the fall of 2017 called Monument Lab. This is a city-wide project asking residents for their vision of a monument that best represents the city. Over 20 temporary artworks will be staged in Center City's main squares and at neighborhood parks throughout Philadelphia, and each site will host its own weekend event, featuring programming created with the artists and neighborhood partners.
Mural Arts Philadelphia also crowdfunded over $50,000 this year on Kickstarter towards this project.
2.Smart Cities and IoT
The Smart America Challenge is a White House Presidential Innovation Fellow project dating back to 2013. It brings together companies, government agencies and academic institutions to deliver socio-economic benefits through harnessing IoT technology.
In 2014 the chip maker Intel and city officials of San Jose, California, began an initial six-month pilot program that addressed traffic, air pollution and water quality through installing sensors to collect mass data. Tangible benefits include on days when air pollution is particularly bad, its citizens can be advised to bike or take public transportation to work and reduce emissions into the atmosphere.
3.Entertainment
Netflix has bought the rights to a soon-to-be-made 'buddy comedy' film starring Rihanna and Lupita Nyong'o. The film's concept began with a Tumblr post featuring a 2014 photo of Rihanna and Nyong'o at a fashion show. Twitter users began pitching in various movie script suggestions and the two stars used social media themselves to say they'd be interested if it went further. The project has also secured the talents of scriptwriter Issa Rae (Insecure) and director Ava DuVernay (Selma).
4.CPG (Consumer Packaged Goods)
In 2008 Starbucks launched a crowdsourcing initiative to raise customer satisfaction levels and innovation within its outlets, called My Starbucks Ideas.
A team of Idea Partners has so far read over 312,000 customer submissions. Taking in to account public votes and their level of innovation, a selection of ideas are regularly presented to Starbucks' key decision makers to figure out how to implement them.
5.Mobile communications
T-Mobile launched a crowdsourcing initiative in November 2015. Though instead of crowdsourcing network or customer information, T-Mobile is crowdsourcing the network itself to expand its 4G reach.
They launched the 4G LTE CellSpot, a very small cell tower any T-Mobile customer can install in their home or business to get better voice reception and stronger data connections. Though rather than providing only personal access, any other T-Mobile customer within range (3,000 sq ft footprint) can connect to a CellSpot just as they would to any of T-Mobile's outdoor towers. As individual customers install these units they'll be expanding the coverage and capacity of T-Mobile's overall voice and 4G networks for the benefit of their fellow subscribers.
Broadband connectivity
With limited competition in the US broadband market there hasn't been a rush to reach the more remote or less-well-off communities. As at November 2016, an overall 73% of US homes had broadband access. Yet the figure was only 34% of households of Americans who haven't graduated high school. This reduces educational and job search opportunities, and blocks a significant proportion of citizens from involvement in online crowdsourcing activities.
Virginia's Governor announced May 24 2016 a statewide initiative to better understand where the state has the largest gaps in broadband coverage. The initiative, RUOnlineVA, provided a platform for Virginia residents and businesses to notify whether or not they had access to broadband Internet connections. RUOnlineVA ran through early August 2016 using an online demand capture tool created by the Center for Innovative Technology (CIT) and Virginia Tech's Center for Geospatial Information Technology (CGIT). There was a toll free phone line for offline residents to call.

Space exploration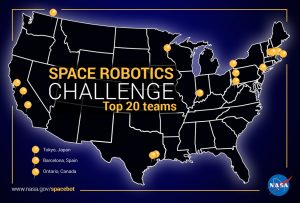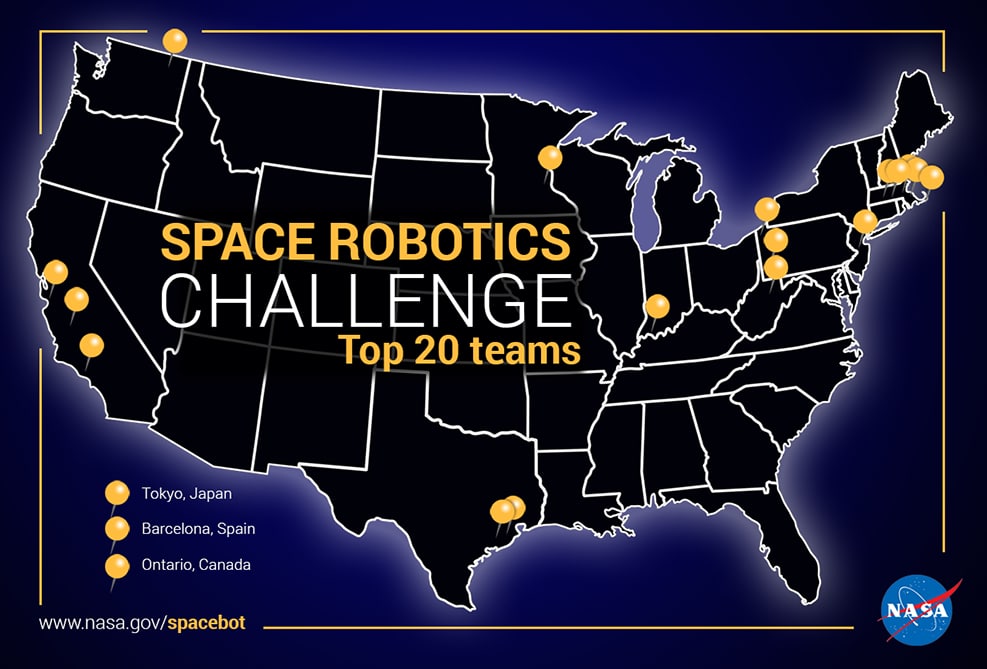 The Space Robotics Challenge is part of NASA's Centennial Challenges programme. It is a $1 million prize competition to develop the capabilities of humanoid robot dexterity to better enable them to work alongside though independent of astronauts in preparation for future space exploration. 20 finalists were selected in February 2017 from a pool of 92 teams from 13 countries, and non-US finalists include entries from Canada, Spain and Japan. In the final round the teams must programme a virtual robot to complete a series of tasks in a simulation that represents the communications delay from Earth to Mars.
Armed forces
The US Air Force is currently short more than 1,500 pilots, largely due to pilots choosing to go to private airlines rather than re-enlist. A major part of on-going efforts to improve re-enlistment of all personnel is through involvement with the Airmen Powered by Innovation initiative. It was launched in November 2014 to crowdsource ideas and contributions from serving airmen to improve procedures, remove pointless activities and reduce costs.
18 months later API had received 6,791 ideas, of which 192 were approved by Air Force leadership and they represent $121.3 million in projected savings. A year on to the end of May 2017 and the Air Force has now received about 12,000 ideas, and also currently receives about 5,000 visits per day from airmen interested in commenting, sharing and voting on ideas that will improve squadron units.
Preserving community history
In the summer of 1967 President Johnson sent in troops to help quell violent civil conflict in Detroit. 50 years later the Detroit Institute of Arts has created a crowdsourced film archive of the regular everyday life that still went on during and around that tumultuous year.
By 18 May 2017 the project had collected more than 600 reels of 8mm home movies, ranging in time from the late 1940s through the early 1970s, which have been transferred in their entirety to digital formats. When any person's original material is scheduled for screening they are invited to attend and, if they wish, give a commentary to accompany their film. A marathon screening of all submissions will take place July 29.
Health
"In the hope of winning up to $15,000 in prize money and bragging rights in data science circles, hundreds of algorithm developers, most with little or no experience with epilepsy or EEG, worked countless hours to build, test and rebuild algorithms for seizure forecasting."
Said Dr. Ben Brinkmann, Ph.D., a data scientist and lead author of a study into epileptic seizure forecasting by Mayo Clinic, University of Pennsylvania and University of Minnesota.
What other crowdsourcing projects have really impressed you? We'd like to hear. We are also looking forward to hear from Amy Kaminski, Program Executive for Prizes and Challenges at NASA, who is speaking at at CSW Summit DC on June 15. Only a few tickets remain available at this point.