It is widely accepted that crowdfunding can deliver a startup business with much more than just money to invest. Successful projects demonstrate customer traction, deliver product validation, show a willingness to work hard – because crowdfunding is hard work – and can attract both brand ambassadors and angel investors, with unparalleled access to market opportunities and contacts. 
Similarly, a shrewd investor knows there is more to look for than a SMART business plan and a spreadsheet of financial projections. A startup isn't going to go anywhere without the right leadership, a leader with vision who can inspire loyalty from a core management team that will deliver the mission. 
Here's a look at three CEOs of sustainable startups that have used crowdfunding to help them develop their ground-breaking businesses, and who we believe spread positivity as a core brand element.
Jenny Costa, Rubies in the Rubble
Jenny Costa's rubies are the upmarket sustainable condiments her business makes from the rubble of discarded fruit and vegetables that they recycle. Since starting out with her sustainable products on a market stall in 2011, Rubies in the Rubble's core business became the B2B restaurant market. Though Jenny always retained ambitions to build a brand that a critical mass of consumers would serve at home. 
The hospitality sector shutdown which came as a result of the Covid-19 pandemic hit them hard, though they pivoted and repackaged to focus more on the B2C market, to startling effect. 
Rubies in the Rubble' s hero brand is its tomato ketchup, which has twice the fruit and 50% less refined sugar than leading brands. It is now stocked across the country in 287 branches of the UK's most upmarket supermarket chain, Waitrose. This follows gaining second place in the retailer's 2019 Sustainability Awards.
Jenny is an inspiring leader, keen to communicate her vision and enthuse people to join her on her mission. Her upbeat message at the start of the pandemic lockdown, delivered through the UK's leading grocery trade news channel, The Grocer, was a shining example.
Julie Chen, The Cheeky Panda
In 2016, Julie and her partner Chris Forbes took a trip to Asia to meet with her family. When they returned the two entrepreneurs developed a business plan for The Cheeky Panda to use the piles of unwanted bamboo they had seen lying around. Their sustainable business idea was to make tissues from the bamboo. It is naturally more hygienic, softer and stronger than paper tissues, and can be made with 65% less carbon footprint. And it grows fast, with three crop cycles a year.
They did a test launch through rewards crowdfunding with a target to generate £10,000 of orders. This project was executed so professionally they not only exceeded their target but also came to the attention of an angel investor, who backed them and accelerated the growth of the company.
The product range grew from toilet rolls to include facial tissues, and when Chris and Julie started a family it inspired them to add baby wipes. They have won numerous international awards for their innovation and sustainability, and in 2019 beat global brand owners Kimberley Clark and Procter & Gamble for the best baby wipe product. Neither of these global market leaders had thought to develop products from bamboo.
After three rounds of equity crowdfunding The Cheeky Panda's annual turnover currently stands at £10 million. They plan an IPO when turnover reaches £25m, with maybe further rounds of crowdfunding along the way. Their regular charity donations are fundamental to the business, not an add-on gimmick.
Beyond the cash injections the crowdfunding gave the business, they remain  overwhelmed at how useful it is to have 1,800 investors who act as free brand ambassadors to help the business continue to grow.
Laurence Kemball-Cook, Pavegen
Laurence Kemball-Cook is a graduate in Industrial Technology and Design from Loughborough University, UK. He got the idea of Pavegen and started working on it while studying, and founded Pavegen Systems in 2009 at the age of 23.
It is based on a kinetic floor tile that generates energy when people step on it. The Pavegen surface consists of a series of interlocking triangles. When people walk across them, the top surface moves vertically by between 5mm and 10mm. This downward force creates a rotation in electro-magnetic generators below, producing around 5 watts of continuous off-grid power for the duration of the footstep. The collective power of a crowd's footfall in high traffic areas such as in shopping centres can thus create sustainable energy, reducing requirements from the regular grid supply and thus contributing to better air quality and climate control. 
The system also incorporates Low Power Bluetooth beacons which can reward users for their steps via apps. Data can be harvested from users' interactions with the apps to create powerful behavioural insights, contributing to the tech infrastructure of smart cities.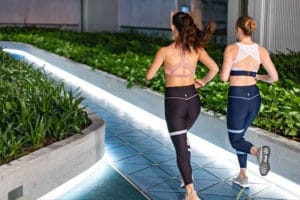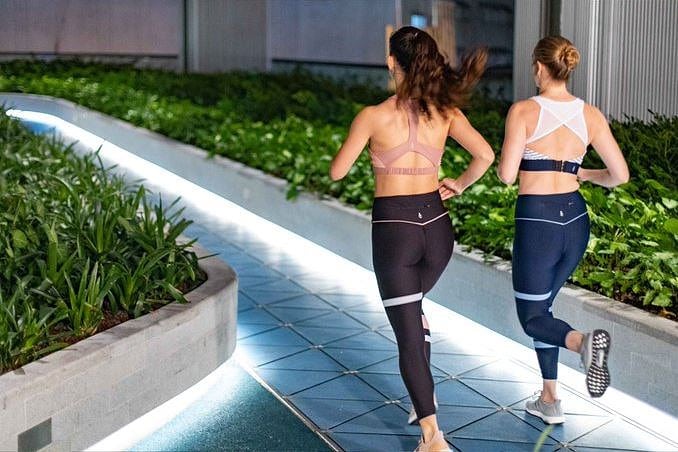 Of the 200 plus installations that have taken place, notable ones have been in select locations to generate a high level of media coverage, such as in London's Canary Wharf financial district, and  in partnership with Google at the Berlin Festival of Lights in 2017. 
The largest installation anywhere is an indoor running track in a Hong Kong office block, completed in 2020.
Pavegen is doing well in the Middle East, where they are getting orders and investments from countries keen to develop a post-oil future.  Though the company's biggest investors are in India. An equity crowdfunding campaign ended in June 2019 with over 1400 investors, including partnership and anchor investment from major global engineering conglomerate Hinduja Group and family investment firm Tamar Capital. 
10 years ago, Laurence prophetically said: ""I can imagine Pavegen in more remote areas of India, for instance. There's huge footfall there, but where there is power it's polluting, fossil-fuel energy. This could be transformative."
The use of humour is a positive sign of confidence. On April 1, 2020, Laurence tweeted that Pavegen had been installed in an aircraft. Even though Pavegen is taking off, I wonder how many people fell for that one?
Due to popular demand, we're bringing you a Virtual Crowdfunding Summit on 27 August, 2020. The all-day event will include keynote speakers, a live crowdfunding pitch, a workshop and online networking opportunities. You can register for tickets now.