Influencer marketing is a hot topic. How big do you think the creator economy is? In 2023, an estimated $1.25 trillion will change hands through Social Commerce, and social media influencers will help sell products worth billions of dollars online. Influencer marketing is the fastest growing area of eCommerce, and 4 in 10 brands currently use influencer marketing. Financial services and consumer packaged goods are leading the way. The stats come from Because I Love It – BILI – which is a social commerce platform that simplifies the process of connecting influencers with brands that are a good authentic fit. 
BILI helps social media influencers and brand-owners find each other to create profitable relationships. It is run by co-founder and CEO Adrian Capobianco, and headquartered in Toronto, Canada.  
Brand-owners can access BILI's database of 10,000 social media influencers and content creators in North America, who between them reach over 230 million followers, and connect with the ones who give them access to their selected target audiences. From the other side, influencers take advantage of BILI's eco-system to access brand partners that are ready to share profits, and they can build new revenue streams through commissions and bonuses payable for influencer marketing. 
We were very pleased to recently catch up with Wendy Bairos, Head of Communications at BILI, and she shared her insights into the business of connecting influencers with the right brands.
Wendy, in a crowded market, what sets "BILI – Because I Love It" apart from other similar platforms?
Adrian Capobianco's background is in leading a number of advertising agencies, and my own is in public relations, including 12 years at Google. We've all seen a lot of stories about the growing number of social media creators who are really making a lot of money, notably on the celebrity side. However, like many of our friends, we realized that we weren't necessarily following these large creators. We were finding greater value through engaging with smaller, mid-sized and also really niche creators. We ran a survey, and found that this seemed to be the case across the board. 
Many of these smaller creators didn't have agents, and didn't know where or how to start monetizing what they were doing. At the same time, as media is becoming increasingly fragmented, a lot of brand-owners are trying to identify the creators that like their brands in order to use them as sales channels. So we thought if we could create a network where they can connect with each other, the social media creators could get a percentage of every sale. The brands can afford to pay for their influencer marketing because they achieve added sales without dealing with standard retailers, where they pay out large percentages of markups. 
"Our vision is a world where every influencer and creator can become a retailer."
We first tested the pet category, and have since grown to 10 categories. We have a network of over 10,000 creators, and the list of brands participating continues to grow weekly. It's really about connecting this mid-market where there is tremendous value and where there are a lot of customers, to deliver a win-win commerce opportunity for brands and also for the social media creators. 
How does BILI curate and select the products and brands featured in your platform?
We produce a catalog of products and the creators themselves are the ones that curate the products that they love, that they think make sense for their audience and align with the content that they're sharing. Our platform is a place where they can find those products more easily. 
As new brands or new products come on board we share some of the sales stats in our creator or influencer newsletter to see if anyone's interested in getting behind them. But the beauty of BILI is the influencers curate their own store themselves, putting together a unique collection of products that they love.
Where are you going in terms of the vision and the future of BILI, and the online shopping experience?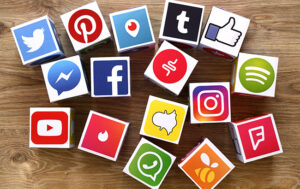 Well, we're keeping a close eye on how social media itself is evolving. Different countries are reviewing how TikTok is performing. Google and Instagram are always under review for different reasons. And there are always new platforms emerging. 
One of the things we do want to be consistent with is that BILI is platform agnostic. If an influencer finds that they're getting more traction on TikTok, rather than Instagram, and they want to double down on that, it's not a problem. 
I've implemented generative AI for some of our influencers after talking to them about what takes their time, and what they want to do more of, so they can work more on their strategy and content. We've tested that social posts created by generative AI have performed almost 30 times better in some cases than content the influencers themselves have come up with. If the posts are performing better, there's greater chance of them making more money, a greater chance of growing their audience. 
I think there is also an opportunity moving forward to really keep an eye on how AI can support video content. There is a level of creator authenticity that makes influencer marketing valuable, but a lot of times it's down to showing a product or engaging with a product. Influencers don't necessarily have access to the products they sell and we do have sample programming. With AI, we can introduce tools for them to make tailored content efficiently so they can continue build their audience, their revenue and bottom line, and then ultimately maybe get to the next level. We can be their stepping stone into bigger and better things.
Another thing we're keeping an eye on is how social media itself, from an audience perspective, is becoming very fragmented. People's interests are becoming more and more niche, and we're trying to understand what that means for influencers. How does discoverability work? So I think the future is still evolving. 
We're also continuously talking to influencers and brands to see where the gaps are. Where are their pain points, and what can we do to solve them? A lot of attention is given to bigger brands and bigger influencers, though our goal is to support the more numerous mid-size and smaller players in the space, and connect influencers with brands that are a good fit.  
Who are your direct competitors?
Being a smaller player in the social media world, it would be irresponsible of us to not pay attention to what the bigger players are doing. I spent 12 years of my career at Google, and it's good to keep an eye on what people are doing. 
This includes a lot of the programs that Shopify is doing. I know Amazon has introduced a few new things. Instagram has introduced different shopping opportunities within their platform. But we don't monitor to directly copy them. More often than not, there needs to be an element of focus, and forward movement to gain traction as much as we can. 
You're in marketing, and it's changing every day. What's your biggest challenge? 
The challenge is the constant change, the pace of that change, and evolution. It can make things a little tough for our engineers and our creators at the same time. Working with so many marketing teams in different countries, we see that as much as things are changing, they're changing differently in different markets. Understanding the nuances is a big challenge. 
Right now, we're focused on North America, and even here there's the nuance of different geographies, the nuances of different audiences, and how things impact them differently. We need to make sure we're taking that into account to support and connect influencers with brands within those markets.
Is there a typical buyer that buys in to your advice on collaboration, is it the people on the marketing side or people from a product team?
They're often a DTC brand, so they tend to work on the marketing side. But they also wear multiple hats, because they're usually a medium size company looking for new sales channels. They want to go into different markets, they want a different sales channel, and they really like the idea that it takes care of itself. They can put forward their brands, and if it sells they don't have to engage with the influencer in any meaningful way, because we manage that relationship for them. 
Whether it's requesting samples, or helping them identify the sweet spot of what commission to give, they can treat an influencer as another salesperson within their sales channels. So people that we work with are typically part of the sales team and part of the marketing team.
Though when you work with medium sized companies you have to be respectful of the fact that people have multiple roles, sometimes almost working as a startup.
Wendy Bairos, thank you.
BOLD Awards V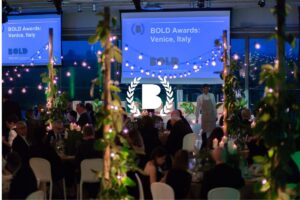 Fintech and Consumer Package Goods, the business sectors leading the way in influencer marketing, are two of the 33 digital industry award categories in the 2024 fifth edition of BOLD Awards. Perhaps innovative use of influencer marketing will be part of a winning entry in any category. Entries can be submitted right up to December 31, 2023, though you can enter now and revisit your submission as often as you want to update it.
After a round of public voting in January, and then assessment by an international panel of judges, finalists in each category will gather in Venice, Italy, on March 22, 2024, for a stunning gala dinner award ceremony.