Among the hundreds of exhibitors at the 2017 London Boat Show are several operating with crowd economy business models. This article features three of them, the oldest being twelve years old and the youngest is a brand new company that launched at the show.
Beds on Board is a simple concept to grasp. It's like Airbnb except all the accommodation is on boats that don't leave their mooring. Since 2015 it has operated as an online as a peer to peer platform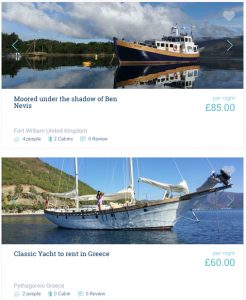 connecting boat owners and accommodation seekers. The average amount of time an owner uses their boat is the equivalent of just six weeks a year, so they are very often vacant though still with on-going costs of a mooring place (usually in a marina) and maintenance. Yachts and motor cruisers not only depreciate, but also cost approximately 10% of their capital value per year to keep and maintain. Beds on Board enables owners to have an income from renting their boats at minimal risk to overnight guests who aren't going to do any sailing or cruising.
Boat owners with safe, comfortable boats with shore-side access that comply with all local laws and regulations can list their boats for accommodation-only rentals by guests. Guests looking for alternative accommodation and who respect boats and marinas can search for boats to stay aboard and enjoy a novel way to relax at their chosen destination in over 40 countries. Once accommodation seekers sign up on the website, they are able to make bookings after identifying their required date, number of people and a verified payment option. The owner then has 48 hours in which they can veto a booking if they have any reason to.
There are some ground rules to follow (e.g. no parties and anyone not on the booking form not allowed on board), and all guests have to be able to swim. At the end of the booking the owner and guests rate each other.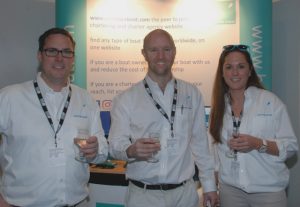 A company that does rent out privately owned boats for sailing is the brand new Borrow a Boat. At the same time as most boats remain unused for the majority of time, the cost of boat ownership remains prohibitively expensive for the majority of people. Borrow a Boat connects people wanting to enjoy boating with boat owners who welcome a contribution to the cost of ownership. Through working with partners they have standardised requirements for qualifications, experience, insurance, boat safety, and charter contracting. This has made the whole process simpler and more accessible for people wishing to enjoy recreational boating.
The three founding partners all share a passion for boating and have spent much of their lives on the water. They definitely know their bowsprit from a bow thruster and can talk with comforting authority to owners and renters alike.
I'll talk in greater length about the third exhibitor using a crowd economy business model. Twelve years ago, before any of us had heard of or even imagined sharing car rides, parking spaces or spare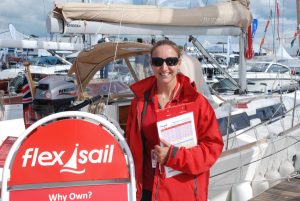 bedrooms, FlexiSail launched itself as a closed-user group boat sharing business based on the English south coast. I caught up with their Business Development Manager, Susannah Hart, to hear more.
As with all boat charter companies, FlexiSail's aim is to make yachting more affordable and is designed to give a greater number of people an opportunity to get out sailing regularly in the UK without actually buying a yacht or motor cruiser. Their key difference is achieved through a boat share membership scheme. As opposed to a traditional boat charter business that offers access to an interchangeable pool of vessels, each boat user commits themselves to just one particular boat from FlexiSail's fleet. They pay a fixed monthly membership fee determined by the size and how often they wish to use the boat of their choice, and when they have that boat booked out it is exclusively theirs.
Through this method of exclusive access the boat users share some of the 'pride of ownership', though without the long-term costs, commitment or worry as FlexiSail completely look after, maintain and manage every boat in the scheme. It is this sense of 'ownership' which really sets the FlexiSail model apart from other boat charter initiatives as it helps boat owners trust the boat users to keep them in immaculate condition. What also reassures the boat owners is that FlexiSail ensures all members have appropriate sailing experience and qualifications for the boat they wish to use. On signing up, members gain access to an exclusive RYA (Royal Yachting Association) Training Centre – FlexiSail Training.
It is also possible to join FlexiSail as a crew member and be available to help on the boats under the command of fully qualified sailing members, the temporary boat 'skippers'. This is not only for less experienced sailors but for anyone who is unable to make the full commitment of a FlexiSail boat share – even some sailing instructors are signed up to FlexiCrew.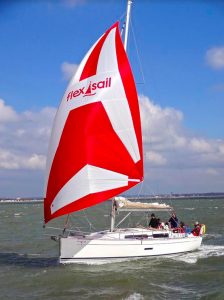 Consequently, the main advantages for boat owners when they place their boat in the FlexiSail Ownership Programme are:
a guaranteed income
their boat will be professionally managed and maintained
the hassle, worry and costs of ownership are offset
there are adequate safeguards and controls in place to protect their asset
In keeping with the growth of the rest of the global crowd economy, the key to the development and success of FlexiSail's membership sailing model is the advancement of technology. Their online systems are designed for members to autonomously manage their own bookings, further engendering that sense of ownership.
FlexiSail's iCalendar booking system gives people the greatest amount of flexibility. Bookings can be made up to 12 months in advance and amended or cancelled at the touch of a button. All members are entitled to a certain amount of time throughout the year, dependent on the level of membership they buy into, and this time is guaranteed, the system knows this and over-booking cannot occur.
Standard charter companies rely on labour intensive check on and check off procedures. This increases costs and also means a third party has to be present. This not only restricts flexibility of embarking and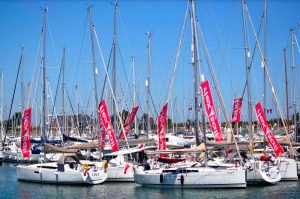 disembarking times, but also takes away the feeling that it is 'your' yacht. FlexiSail has a comprehensive online system called the iBosun, which allows each member to take care of all of this without any restrictions. A simple form, the iBosun is completed on arrival and departure, and any issues reported are emailed directly to the FlexiSail management and maintenance teams to be dealt with in a timely and competent fashion.
FlexiSail currently provides access to 18 boats for 175 boat 'skipper' members plus 25 crew members. Their annual turnover is in the region of £700,000
A comment from members Kevin and Laura Palmer who sail on the yacht Estel
Parents Kevin and Laura were looking for an affordable way to sail and involve the whole family when they came across FlexiSail. Kevin was the only one with some sailing experience, and they were cautious of whether the children would enjoy it. Hannah, Adam and Sophie have now all joined in with the adventures and the whole family have gained their internationally recognised Competent Crew qualifications for beginners, with Kevin passing the more advanced Day Skipper. This has been particularly good for the children's self esteem.
Initially Sophie was not quite so keen, but following a Mediterranean flotilla trip in 2016 – which the Palmers all agree was "the best family holiday ever!" – they have booked to go again in 2017.
Also for Hannah, the sailing has helped with the rebuilding of her confidence and recovery following a serious back operation, and she is aiming to gain her own Day Skipper qualification this year. The family and their friends have thoroughly enjoyed sailing together on the yacht Estel on the south coast, as well as participating in many social events organised by FlexiSail.
"FlexiSail is a very friendly, helpful company which has always tried to be accommodating and flexible. We would have no hesitation in recommending them. FlexiSail is a great and affordable way to get on the water."
Kevin Palmer
Insight from boat owners Len and Alison Snelling
Senior citizens Len and Alison had been long-term members of FlexiSail and had immensely enjoyed their time sailing on their chosen yacht, making the urge to own their own boat even stronger. Following Len's retirement they decided the time was right, and through their years of membership they not only knew intimately how the FlexiSail programme worked but had also had opportunities to look around the fleet to see which size and type of boat would suit them best.
Settling eventually on a Dufour 335, they purchased Squibble in late 2015. With Alison still working, they don't immediately have as much time as they would otherwise like to make the use of their new pride and joy, and were comfortable with FlexiSail Ownership working perfectly for them.
In a few years time when Alison can hang up her work hat for good, they will have a beautiful boat to occupy their summers. Until then some fortunate FlexiSail members can also enjoy sailing her while FlexiSail's Fleet Manager does all the hard work for the Snellings and FlexiSail pays them a year round income, including the berthing and other running costs.
"Since joining FlexiSail we have had a great time developing our sailing skills and enjoying super socials with like-minded people. All the team at FlexiSail are professional, passionate, knowledgeable and it is a pleasure to be an Owner Member with them managing our lovely boat."
Alison Snelling
Are there any sailors or cruiser boat owners out there who have some experience of other crowd economy-based organisations in the world of recreational boating? Please share them with us.