Spread throughout the four full days of speaker sessions and panel discussions at the Crowdsourcing Week Europe 2016 conference in Brussels November 21-25 there were a number of sessions dedicated to crowdfunding. Here is a summary of them.


Fredrik Barkenhammar of House of One told us on the first day of conference about his crowdfunding project to raise money for something truly unique – building a mosque, a church and a synagogue under one roof in central Berlin. This will be a multi-denominational house of prayer and interdisciplinary learning, bringing together people of different faiths to share experiences and get to know each other through dialogue. Even people with no religious focus are welcome.
He is running open-ended crowdfunding asking for a €10 contribution for each brick – and the project will cost €43.5m. That's a lot of bricks! His project is a stand alone, it isn't hosted on a crowdfunding platform, there is no cut-off date, and the project keeps all donations. In these respects I guess it's more like JustGiving than what we usually categorise as crowdfunding, though in simple terms he is asking the crowd to fund the project.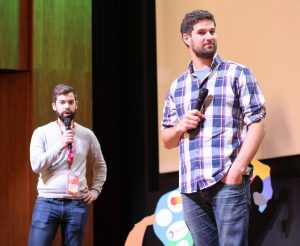 Sebastian Morvan and Olivier de Brauwere started the Brussels Beer Project (a brewery) in 2012 to shake-up Belgium's conservative brewing sector. Through a number of rounds of donations-for-rewards crowdfunding via the Beer For Life platform they have received support from almost 2,000 crowdfunders.  The formula is simple: each crowdfunder receives 12 beers, every year for the rest of their life, in exchange for €160. Watch the video here. Thanks to that support, they were able to start their venture in 2013, fund their brewery in 2015, and after the last round ended on 31 January 2016 they were able to recruit more talent and invest in more equipment.
Their website says: "Not only the financial support but also the positive energy we received from this beautiful community has been overwhelming and will bring us even further. We don't have the means of Big Industrials – so the enthusiasm and word of mouth permitted us to take on this adventure and look into the future."
They continue to involve their crowdfunders with pop-up beers, one every two weeks, at their open evenings (Thursday to Saturday) at the brewery. Based on this crowdsourced feedback they decide which ones to go ahead with on a commercial basis. One that got the thumbs up from the crowd was a beer made with soda bread. This had the added benefit of recirculating 10 tonnes of unsold soda bread that would have otherwise been thrown away.  They are also asking their crowd to propose beers for them to brew. They have so far received 150 suggestions and the winner will be able to go to the brewery and be involved in making it.
The first day also included a panel discussion titled "Are VCs Getting Disrupted by Crowdfunding?" It wasn't much of a contentious debate, as Bill Morrow, CEO of angel-led investment platform Angels Den made the points that there is no reason to compare venture capitalists and crowdfunding since they operate within distinctly different funding levels. Most businesses using crowdfunding are looking for far less than VCs would consider as a minimum investment.
On the second day of the conference the economist and entrepreneur Walter Vassallo, co-founder of internet company MC Shareable in Monaco, gave a talk under the heading Crowdfunding for Sustainable Entrepreneurship and Innovation. One of his key points was that crowdfunding is so much more than simply getting funded. An effective crowdfunding project also increases awareness among wider stakeholders: project proponents; project investors; policymakers, regulators and the related research community.
A new book he has edited pulls together contributions from different authors to try and identify key factors that influence crowdfunding success, and create a validation tool that can assess the viability of crowdfunding projects before they run. The average success rate on Kickstarter is 37%, he said, so there is clearly room for improvement. Copies can be ordered here. A full copy will set you back $205, though individual chapters are available at $37.50.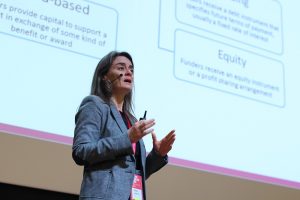 The third day of the conference focused on energy and sustainability issues. The energy market shift towards decentralisation and renewable sources dramatically lowers the industry entry cost for new, small-scale producers. However, investment to fund new energy initiatives and bring them to fruition can often be an issue, and Dr Chiara Candelise of Ecomill – an equity crowdfunding platform in Italy – told us about Smart Financing and Empowerment: Crowdfunding in Energy. Her global study of energy crowdfunding shows that 80% of the money raised has come from loans and equity. For homeowners unable to switch to a renewable or a more sustainable energy supply, crowdfunding renewable energy projects is a further way the crowd can stimulate this market and show their support for alternatives to the established major energy producers.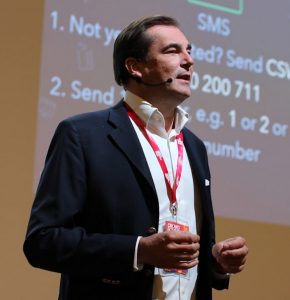 Entrepreneurs always face funding issues. Cedrick Donck, business angel and co-founder of the Virtuology Academy told the conference on the final day that angel investment and crowdsourcing are increasingly popular routes. Bringing an angel investor onboard has benefits of access to their experience and contacts as well as their money. Crowdfunding could be used to raise further money on top of an angel investment, or maybe use crowdfunding on its own if for some reason you don't require an experienced mentor.
He echoed previous speaker comments when he said positive by-products of crowdfunding include: increased visibility as effective crowdfunding is also very good marketing; you gain access to the personal networks of all the investors; and it raises your credibility to be able to say you raised money from the crowd. Downsides are that you may have been able to raise more money than the business is really worth as early investors may lack experience. This could present problems if further fundraising is needed later and the value is scaled down. And finally, you may lose some competitive advantage because you will have had to put your business strategy in to the public domain.