Some fundamental obstacles prevent most big companies adopting methods or business models that are more sustainable. C Corporation company directors have their hands tied by a legal requirement to maximise shareholder value. Stock markets appear to believe shareholder value is entwined with relentless growth targets, and everyone chasing growth in a world of finite resources is not sustainable. Though since 2007, an alternative B Corporation structure allows businesses to also incorporate social and environmental impact factors alongside financial returns in their articles of association (articles of incorporation in North America). These articles set out a company's constitution and the responsibilities of its directors. Both B and C Corps are realising that crowdsourcing initiatives through open innovation and prize challenges for sustainability can boost their social, environmental and reputational returns.
Under B Corp articles, the purpose of a for-profit company is able to be more than making money for shareholders. Nevertheless, it has to make enough money to remain solvent and accomplish its sustainable social and environmental aims. Some call it eco-capitalism.
A shift of emphasis has been accelerated by the global pandemic that has so far taken over one million lives. Personal losses have influenced collective mindsets and priorities. Sustainability is higher on the agenda for individuals, businesses and governments alike. The UK government, for example, has brought forward its carbon emissions reduction target from 2050 to 2035. The U.S. Biden Administration has earmarked $100 billion to advance clean energy on the electric grid. China is transitioning from high-carbon industries.
There are mixed views on the roles and nature of technology. Humans are tool makers, and today's technology is the latest round of what might have started with making a stick in to a spear.  Technology itself is neither good nor bad. Some call it bad as AI and robots are perceived as going to cause unemployment. Yet technology has given us life preserving Covid vaccines. Varied outcomes depend on how people choose to use technology. Friction exists between technology being used with humanity or in purely data-led ways (to maximise profit). B Corps structures allow more space for humanity.
Here are examples of major businesses crowdsourcing innovation and using prize challenges for sustainability purposes.
Housing: Fannie Mae's "Sustainable Communities Innovation Challenge"
Fannie Mae, The Federal National Mortgage Association, is a United States government-sponsored enterprise providing mortgage loans for home purchases. It worked with prize challenge platform HeroX to generate innovative ideas to provide stable and affordable housing for low-income households within sustainable communities. The lack of affordable housing in US cities leaves hundreds of thousands of families homeless and millions more in a permanent financial crisis. Access to stable housing in enduring communities provides these families with greater life-prospects, including education and economic advancement.
In a three phase challenge, the best innovations in Phases 1 and 2 were rewarded with research and design support (up to $250,000), idea development (up to $500,000), and scaling (up to $1.5m). At the conclusion of Phase 3 in 2019, five projects were selected for support through a total fund of $10million. These winning projects submitted ideas based on:
       

increasing housing supply through an integrated education program

       

developing valuable skills in green construction and geospatial technology

       

expanding access to financial literacy training to facilitate resilient homeownership

       

exploring ways to stabilize housing for homeless students

       

expanding affordable housing and early childhood education.
Construction: The Next Coalition's "Construction Safety Challenge"
Developed with the BrightIdea idea management platform, The Next Coalition brought together a group of construction industry companies to develop working methods to keep workers safe from Covid infection. They launched their challenge in May 2020 through BrightIdea to encourage input from companies and startups with emerging technology solutions that could be quickly deployed to address current and future problems, both on-site and in the office. By working with industry leaders, solution providers would be able to accelerate their solutions into the market.
Improved safety measures could be part of a permanent "next normal," rather than temporary ones forced by COVID on the construction industry. Through crowdsourcing safety ideas from companies, startups, and other innovators with construction industry expertise, the consortium would be able to more quickly identify and apply nuanced and efficient solutions to the very unique problems that face them and the construction sector as a whole.
By September 2020 there had been 84 submissions from 78 companies and startups. Ideas included wearable technology for contact tracing and social distancing; digital pre-screening of workers; AI applied to jobsite photos to make automated safety observations on work at height; and smart video monitoring for health and safety including social distancing, and face mask and gloves compliance. Five solutions were taken forward to a pilot stage that could have a permanent impact on sector behaviours.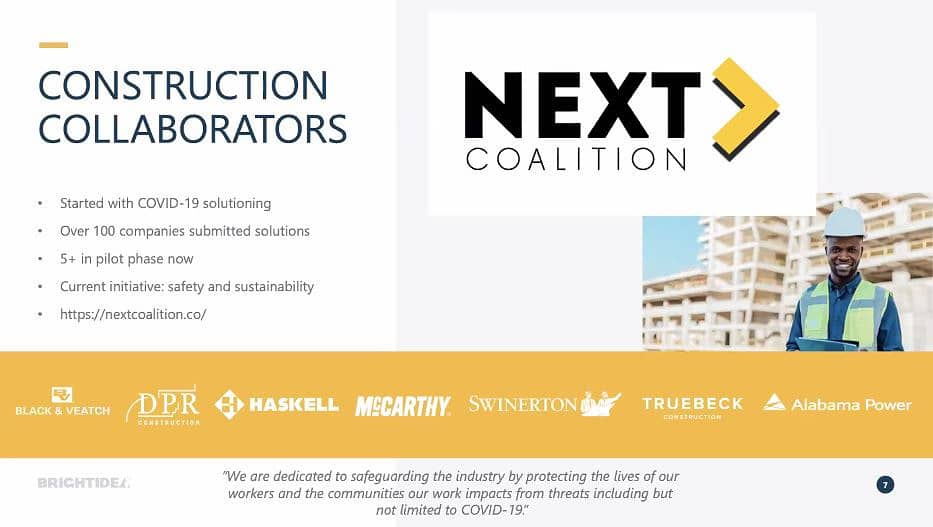 Government: Innovate UK, "Future Cities Mission"
Innovate UK is an innovation agency that operates with, though at arm's length from, the UK Government. Their task for the open innovation platform 100%Open was to identify how UK tech start-ups in the advanced urban services sector could build the networks and know-how to develop business in India.
The platform co-designed and facilitated the Connected Cities India mission. They crowdsourced suitable mission participants and a coaching team prepared them for pitching in an Indian business culture. Their network also provided a local in-mission representative to identify potential local partners and oversee the programme.
Mission participants successfully connected with relevant local companies and the majority of them identified specific opportunities, encouraged by the prospect of meeting the UK Prime Minister in Delhi. New partnerships were kick-started, both with local customers and between mission participants themselves. 100%Open was subsequently engaged in Future Cities Missions to Singapore, Malaysia and China.
Transport:  Ford Motors, Mobilizing New York
"Mobilize New York" is part of Ford's global City of Tomorrow programme. It is conceived around an innovation competition that seeks ideas from residents, entrepreneurs and visitors to various cities; in New York's case it was to reduce overcrowding and enable greater access. A social listening study conducted by the open innovation platform 100%Open provided rich insight to help create a detailed challenge design. They recruited and facilitated an online crowd, and 1,200 innovators generated almost 100 ideas between them.  
An engineering company selected expert reviewers and judges. Successful idea submissions ranged from an app that tracked and rewarded users for making 'smarter' transit choices, to the installation of charging stations throughout the city for users of mobility devices. Twenty semi-finalists were invited to a prototyping workshop and given mentoring, before ten finalists pitched their ideas at a Mobilize New York Grand Final event staged at the FordHub in New York City in May 2017. The winning teams shared $30,000 (US) of prize challenge for sustainability money, and conversations began with mentors from Ford and transport partners in New York about implementing several of the finalists' solutions. At least two submissions were implemented, including electric wheelchair charging points on the subway.
The challenge positioned Ford as transforming from a car maker to a 21st century transport company. It also gave them direct access to future pioneers of transport systems and  infrastructure.
Finance:  UBS, "The Future of Finance Prize Challenge"
Since 2015 an annual UBS Future of Finance Challenge has been open to start-ups and established, growing companies that believe they can change the way finance works and how banks meet their clients' needs. In 2019 the challenge was delivered in collaboration with Deloitte and the open innovation platform 100%Open.
The platform's brief was to generate disruptive ideas, technologies and partners that can transform the world of financial services. How to assess the prospects of many more B Corp companies, and how to best help them succeed, are among developments investment banks need to learn to manage. 100%Open ran launch and judging events, created social media and PR communications and fashioned a Discover™ platform to accept applications for four separate challenges. Entries were open to start-ups and small-to-medium sized companies, with an annual turnover lower than US$200m and that had received less than US$200m in total investment.
Details are available on 40 finalists from over 400 participants in 52 countries. Rewards for the finalists included cash prizes and acceleration opportunities worth over $150,000, plus dedicated coaching and mentoring from UBS experts and partners. Three winners of this prize challenge for sustainability were selected by regional judging panels in New York, Singapore and Zurich for further support and acceleration.
Energy: GE's "Ecomagination Prize Challenge"
Since 2010, GE has run an annual Ecomagination Challenge, working with open innovation platform BrightIdea and with a total project prize money of $200 million funded by a number of venture capital firms. Their prize challenges for sustainability programme is an integral part of GE's commitment to accelerate development of the next generation power grid and global energy transformation through open collaboration.
In July 2020, GE launched its latest round "Ecomagination Challenge: Powering the Grid." The key criteria were ideas that could contribute to creating a smarter, cleaner, more efficient electric grid and represent the entrepreneurial spirit of the Challenge. By November, an independent panel of judges including GE executives and leading academics and technologists had selected five winners from 4,000 ideas. Each winner received $100,000 to further develop their ideas.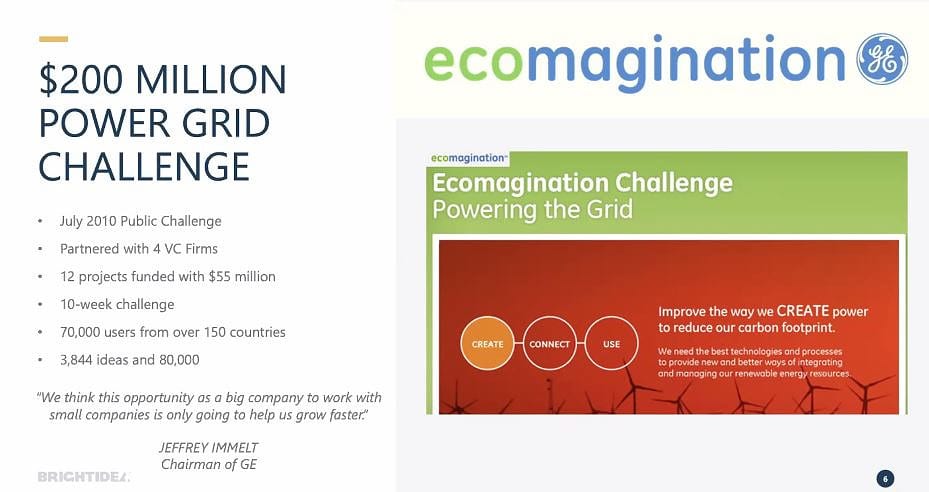 In 2021, the US Biden Administration set aside $100 billion to advance clean energy input to the country's electric grid.