Can open innovation stimulate critical improvements and breakthroughs that will provide direct benefits to the world? In recent years, many organizations have turned to open innovation to solve their toughest challenges and address their R&D needs.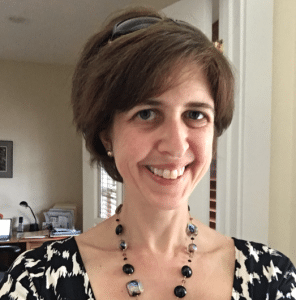 The use of crowdsourcing to identify new ideas or to focus on complex situations is not only embraced by small startups and businesses but increasingly by well-known global organizations who are happy to admit that they don't always know all the answers.
In fact, NASA is one of the organizations leading the way with this forward-thinking crowdsourced innovation. In this Q&A Amy Kaminski, Program Executive For Prizes & Challenges at NASA, explains both the opportunities and challenges of using open innovation methods such as challenges, prize competitions and crowdsourcing to find solutions to tough research problems and to accelerate innovation within the space agency.
Where did the idea to begin crowdsourcing come from, from the top of NASA or a several rungs down? If it started somewhere other than at top level was there any resistance, perhaps linked to feelings of somehow losing an element of control?
Amy: Crowdsourcing has become a tool for innovation at NASA in an organic fashion. No single office, organization, or individual at NASA can claim to have started its use within the space agency. NASA program managers and public outreach specialists as well as NASA-funded researchers across each of our locations and fields of interest have independently "discovered" crowdsourcing to address their R&D and outreach needs.
The greatest challenge the use of crowdsourcing methods at NASA has endured is in their relative newness and lack of familiarity within most of the agency. Crowdsourcing involves opening up the R&D participant base, which introduces uncertainty even while opening new and exciting possibilities. So it takes some discussion and sharing of success stories to convince people within NASA why they should take a chance and spend some of their precious, limited resources trying a new way to meet their goals.
It's not uncommon for people in commercial organisations to feel that commanding large budgets is a status symbol. Given the challenges/competitions can result in solutions that cost a fraction of what they might previously have done, do some people feel the process a threat as it reduces their perceived importance?
Amy: I haven't ever heard of this being an issue at NASA. R&D resources within NASA are limited and closely monitored by program managers to ensure they are spent wisely.  Achieving goals as efficiently as possible is looked upon favorably!  Several NASA citizen science projects and prize competitions have demonstrated the value of crowdsourcing to meet this end.
How important/valuable is it that the competition process appears to produce solutions not only cheaper but faster than would have been previously expected?
Amy: The importance of cost savings and speed of arriving at a solution or research achievement depends on the desires of the crowdsourcing project owner.  In some ideation challenges, solutions are solicited for technology concepts that will then take years until they are ultimately implemented.  The goal of some citizen science projects is to extend or expand a researcher's "team" to speed up the ability to analyze huge volumes of data.
Three of the finalists in the current Space Robotics Challenge are non-US, from Japan, Spain and Canada. Are the state security agencies and any other stakeholders all ok with the idea of NASA projects potentially being awarded to non-US entrants?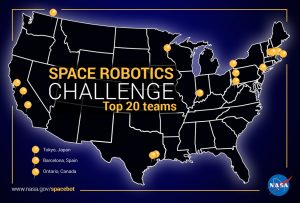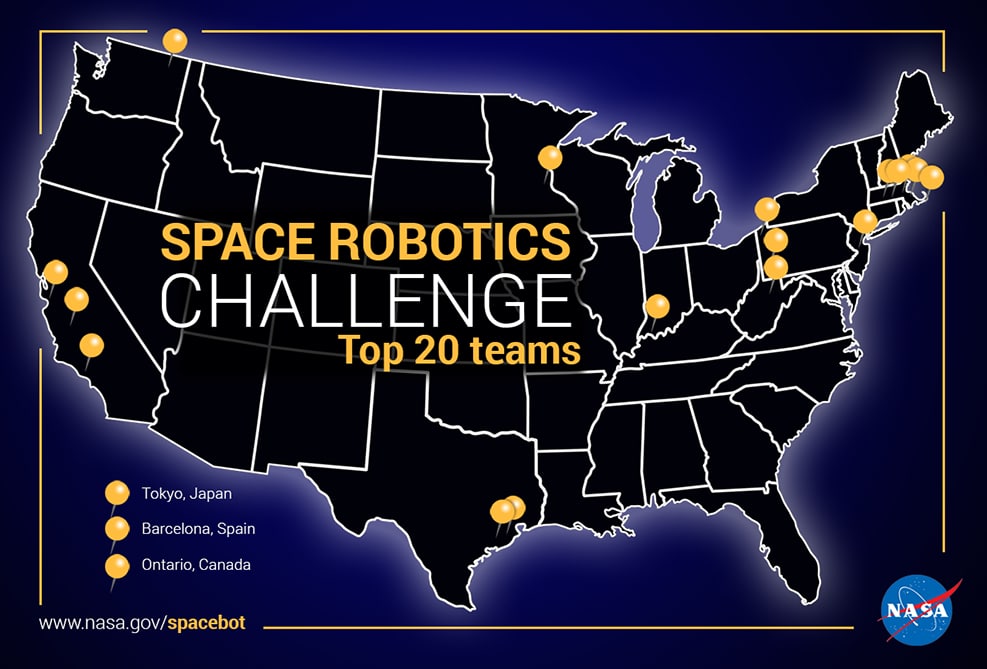 Amy: Non-US citizens are permitted to participate and be recognized as winners but are not eligible to receive any cash awards from NASA.  In order to be eligible to win a NASA prize, a team must be comprised of at least 51% citizens or permanent residents of the United States.  In order to be eligible to win a NASA prize, individual entities participating must be incorporated in and maintain a primary place of business in the United States.
Join us at our next Crowdsourcing Week Summit D.C. in Washington this June 15th to discover more about the latest open innovation initiatives at NASA and to connect with leading crowdsourcing practitioners such as Amy Kaminski. Click for more event details and ticket registration. We hope to see you there.
Image credits: NASA