Crowdtesting is a method of gathering feedback and testing products or services by utilizing a large group of testers, often referred to as a "crowd." These testers can be sourced from a variety of sources such as online communities, marketplaces, or through social media. Crowdtesting can accelerate innovation by providing a diverse group of testers, cost-effectiveness, and speeding up the development process.
Diversity is one of the key benefits of crowdtesting. It is able to provide a large and diverse group of testers, which can result in a wider range of perspectives and insights than those delivered by an in-house team. This can be especially valuable for companies looking to create products or services that cater to a diverse customer base.
Another benefit of crowdtesting is its cost-effectiveness. Traditional testing methods such as hiring in-house testers or contracting with a testing firm can be expensive. Crowd testing allows companies to gather feedback and test their products on a large scale without incurring these costs.
Crowdtesting innovation can also speed up the product development process by allowing companies to identify and fix usability issues early on. This can help prevent delays and costly rework down the line.
It is not a replacement for professional in-house QA testing. In-house teams have a clear understanding of the product and the company's values and goals. But sometimes, it becomes difficult and inefficient for them to test the product on all devices and operating systems available within a required timeframe.
Major examples in recent years
In the past few years there have been several examples of major companies crowdtesting innovation to accelerate product development.
Microsoft's Release Preview Channel is where testers can "preview fixes and certain key features, plus get optional access to the next version of Windows before it's generally available to the world."  It is a community of millions of Windows' biggest fans who perhaps feel a bit flattered to get the chance to preview Windows features. While previewing Windows, Insiders can provide feedback and engage directly with Microsoft engineers to help shape the future of Windows.
Another example is Uber, which used crowdtesting back in 2018 to gather feedback on its new Driver App design. The company utilized a large group of testers to identify usability issues and gather insights on how to improve the app. More than 400 drivers and delivery partners in seven cities around the world took part in a unique Beta programme to help Uber design and test a new Driver App. They collaborated with Uber designers and engineers to provide new ideas, share feedback and help report bugs. Over the course of 16 weeks, they reported over 2,600 bugs by sharing screenshots with Uber employees through various channels, including social apps. Uber employees also joined drivers and delivery partners as they took trips and made deliveries, to experience the new app being used in real time situations.
Google also uses crowd testing for new Google Maps features by utilising targeted sub-groups among their customers to gather feedback on the new feature and identify bugs. Google Maps is currently testing a sidebar on the web that provides convenient access to recently viewed places. It allows users to quickly go back to a place without having to search and sift through previous results. At the moment, this sidebar is not widely rolled out and only appears on some signed-in accounts.
Crowdtesting can also be used in a business-to-business role, as explained in another Crowdsourcing Week article.
Sourcing specialist crowdtesting support
There are also many startups, and any other businesses, that use crowdtesting as a key part of their development process, even though they may not have ready access to a sizeable customer database. Several third-party crowdtesting platforms can step in as intermediaries.

For instance, Testbirds provides a global crowdtesting service to digital product owners. Their network of over a million testers using more than 1.5 million devices can provide swift results and unbiased feedback. Classification by 65 criteria means that testers can be selected to closely match virtually any company's customer and user base. A global community of testers means testing can be carried out 24/7.
This method of crowdtesting innovation provides results and insights from use in the real world, outside of lab tests, using an ever-growing range of devices, web browsers, and OS. Whether it's for testing a new product or continuous monitoring in a post-launch period, Testbirds, and its peers, allow clients to stop guessing if their product meets their users' expectations and start making decisions based on facts. Here is a Testbirds case study on globally crowdtesting a chatbot for cars.
There is also a range of crowdtesting tools available for organisations to start their own efforts."Ease of Use" and "Quality of Support" are the two most frequently cited factors that positively impact user satisfaction for crowdtesting products.
For the crowdsourced testers, crowdtesting provides added income opportunities to be paid to use new and sometimes pre-launch websites and apps. Requirements include:
A desktop device with OS, or a mobile phone.

Stable internet connection.

A device with a webcam and microphone.

Good communication skills.

Ability to quickly fill out surveys after product tests.
Crowdtesting tangible products
Crowdtesting does not have to be global, or online. Here's an example of it operating in-person and on a local basis.
Brussels Beer Project is a Belgian craft brewery, with "the crowd" at its heart. In the earliest days after it launched in 2015 it ran a crowdfunding campaign offering future deliveries of discounted, and sometimes even free beer to pre-paying early supporters. This provided the startup with some cashflow and built a community of supporters and long-term customers. The brewery crowdsources left-over stock from bakeries in Brussels at the end of each day to brew their bread-based brand (bread already has yeast in it, a necessary requirement of the brewing process). This helped establish eco-credentials.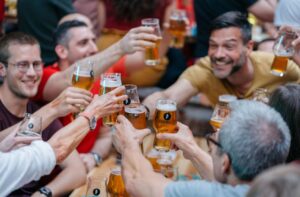 Early supporters were soon invited to the brewery for drinks at the end of each week, and they were a good crowdtesting source of feedback on which new beer types and flavours should be developed on a commercial basis. Early quantities of the beers that don't make the grade for commercial production can sometimes fulfill the free beer deliveries to the early crowdfunding backers. Crowdfunding, crowdsourcing, crowdtesting – the Brussels Beer Project ticks all the boxes.
In summary, these examples show that crowdtesting is a versatile process utilised by companies ranging from global tech giants to a local craft brewery.  Specialists such as Testbirds can help businesses of all sizes get the best from crowdtesting innovation through gathering feedback on products or services, identifying usability issues and uncovering new features or functionalities.