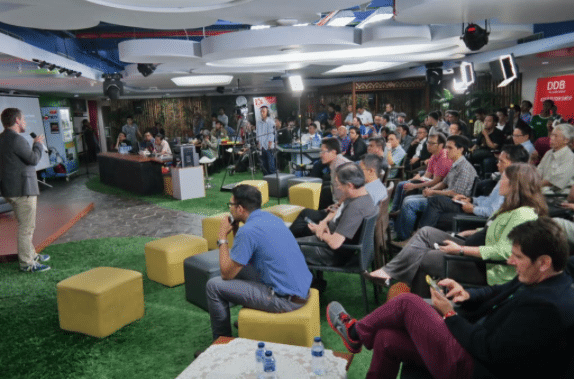 This week's CSW Summit Jakarta was a great success with a packed audience that soaked in very relevant topics on crowdsourcing and crowdfunding.  Jakarta is the first of a 4-city tour on the road to Crowdsourcing Week Global 2015, the largest global meet on the crowd economy, taking place April 20-24 in Singapore this year.
The event, hosted by Startup Lokal was a productive one, with Epi Ludvik Nekaj, the founder of Crowdsourcing Week, presenting the 5 P's of the crowd economy + why they matter to your business. The second speaker of the evening, Dennis List, Co-Founder of Rocki, shared his experience conducting two extremely successful crowdfunding campaigns: $1 Million – Kickstarter for Omate Smartwatch; $220,000 – Kickstarter of ROCKI. A big THANK YOU to Ollie and her @StartupLokal team for making #CSWJakarta a great success. Take a peek at some of the highlights from the meet. 
The event was livestreamed and a video on the meet up will be posted soon here. So do check back!
Amazing crowd at @StartupLokal meetup at @ddbaccelerator as part of #CSWJakarta @CrowdWeek pic.twitter.com/FBKRz9eeq6

— Ollie Salsabeela.com (@salsabeela) February 25, 2015
Tonight at #CSWJakarta, @MyRocki Cofounder @dennislist will share his experiences in conducting 2 highly successful #crowdfunding campaigns.

— Crowdsourcing Week (@CrowdWeek) February 25, 2015

Meanwhile, our CEO & Founder @LPlus will discuss the fundamentals and current trends in #crowdsourcing and #crowdeconomy. #CSWJakarta

— Crowdsourcing Week (@CrowdWeek) February 25, 2015
Waiting for #CSWJakarta. Keen to learn about the crowd here in this awesome market. @CrowdWeek @Crowdonomic @ddbaccelerator @StartupLokal

— Leo (@Leo_Shimada) February 25, 2015
Startup Meetup v.51 we provide live streaming pic.twitter.com/7lnL7AggOZ

— Indigo Accelerator (@ddbaccelerator) February 25, 2015
"@salsabeela: Amazing crowd at @StartupLokal meetup at @ddbaccelerator as part of #CSWJakarta @CrowdWeek pic.twitter.com/vYFSbGYoNV"

— ochelosye (@ochelosye) February 26, 2015

Dennis List presents how crowdsourcing drives community-supported innovation; with an interesting example: @myrocki. pic.twitter.com/Z7FD0HKFKF

— Koen ? (@kuncoro) February 25, 2015
"U market thru social media. Then sell on the #crowdfunding platform" @dennislist @CrowdWeek @LPlus #CSWJakarta pic.twitter.com/XO6kvR77PZ

— Leo (@Leo_Shimada) February 25, 2015
"The finance industry will be disrupted by the crowd" @LPlus @CrowdWeek @Crowdonomic #CSWJakarta

— Leo (@Leo_Shimada) February 25, 2015
"U market thru social media. Then sell on the #crowdfunding platform" @dennislist @CrowdWeek @LPlus #CSWJakarta pic.twitter.com/XO6kvR77PZ

— Leo (@Leo_Shimada) February 25, 2015
"Traditional 4Ps replaced with the Crowd Economy 5Ps" @LPlus @CrowdWeek @ddbaccelerator @Crowdonomic @StartupLokal pic.twitter.com/YyvPuYLln9

— Leo (@Leo_Shimada) February 25, 2015

"Traditional 4Ps replaced with the Crowd Economy 5Ps" @LPlus @CrowdWeek @ddbaccelerator @Crowdonomic @StartupLokal pic.twitter.com/YyvPuYLln9

— Leo (@Leo_Shimada) February 25, 2015

Next Stop. Venice! Are you joining at CSW Summit Venice, March 5 &6? Join the conversation using #CSWVenice

—–

Photo Credit: Ollie/Salsabeela