We often use the phrase "the power of the crowd," many people do. In a world of heightened concern over sustainable energy sources and carbon reduction, some startup enterprises are making the phrase a literal reality. They are harnessing power generated or physically contributed by the actions crowds of people and converting it to clean energy. It's not a moment too soon. In a February 28 2022 report, the Intergovernmental Panel on Climate Change (IPCC) warned that efforts to adapt communities for the challenges of a warming world should be speeded up. Every opportunity needs to be developed, including kinetic energy generated by footsteps, and viable ones implemented at pace.
Sources of crowd energy
Several sources are being considered or experimented with.
Bangladesh is a developing country with a large population that faces daily difficulties due to power shortages .An academic paper by an engineering lecturer at a Bangladesh university proposed a water-based system which would generate electrical power through a prototype consisting of a pipe, nozzle, unidirectional valve, water reservoir, turbine, and DC motor. Whenever footsteps exerted pressure on a reservoir, water would flow through a nozzle into a turbine and generate electricity. This energy could be stored in batteries.
Another technology is kinetic flooring, which uses angled tiles that move slightly under foot pressure. The movement of each tile can generate a miniscule charge. Or tiles could flexible underfoot and feel much like astroturf, or walking in a children's play area. Either way, they leverage the scientific principle of piezoelectricity to translate the energy of a footfall into electrical energy. A large area covered in tiles, in a high footfall location, can generate an appreciable amount of power. Dance floors, entertainment arenas and shopping malls are a prime consideration.
In preparation for the media focus that would descend on Glasgow for the COP26 conference, a dance club also planned to install a BODYHEAT system. As the name suggests, it captures body heat from dancers to create renewable energy. Air conditioning will transfer the indoor heat to boreholes in the premises' garden where it can be stored as if in a battery, and it could be used at a later date to meet power needs. Unfortunately the club missed its deadline, though it will come in to operation later in 2022. The BBC news service reported it will save approximately 70 tonnes of carbon emissions per year. 
Perhaps energy creation from body heat could be developed to work in gyms and fitness centres? Higher activity levels that generate more power could be incentivised with perks such as credit in the cafe, access to exclusive merchandise, or a place on a "leader board." In London, UK, the high summer temperatures in the underground train system certainly identify a source of heat to convert to storable energy.
Key players in the sector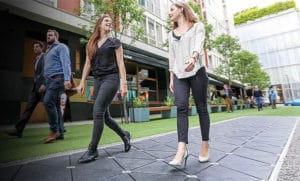 The acknowledged world leader is a UK company, Pavegen. In his university student years, its founder, Laurence Kemball-Cook, was often in the crowd at a busy London train terminus. He realised that all the scurrying around by commuters was in fact an opportunity to capture freely supplied physical energy, through the floor, and transform it to a storable, deliverable source of electrical energy. He founded Pavegen in 2009 and beyond generating sustainable clean energy, the system connects to users' smartphones via Bluetooth mesh. This enables companies to reward users for contributing their steps, and in return it generates permission-based access to their data and can ultimately create recurring revenues.
A student launching a company to develop breakthrough technology was always going to be a tough call. He turned to the financial power of the crowd, and in 2015 ran his first round of equity crowdfunding. A second round in 2019 raised over £2.4m. Equity crowdfunding fills a company investment gap between more than can be raised from friends and family and less than what's required to interest VCs. There have also been a number of institutional investments.
Significant institutional investment has come from the Middle East and India. Pavegen's latest model, the V3, won the 2017 Smart Cities Interactive Innovation award at South by Southwest, which is an annual conglomeration of parallel film, interactive media, and music festivals and conferences. South by Southwest's 2022 edition starts this week.
However, Dutch company Energy Floors was working on their first ideas a little earlier in 2006, and in 2008 opened the world's first sustainable dance club to let partygoers experience their energy-generating dance floor at Club Watt in Rotterdam. It was described at the time as an ecological dance club with flooring tiles that harness the ecstatic movements of dancers, converting kinetic energy to actual electricity.
After starting with its Sustainable Dance Floor, which are lines of floor tiles manufactured in Rotterdam that can be installed by venues to capture kinetic energy, it went on to develop a wider use Smart Energy Floor in 2018. However, their Walker system, as they call it, appears based more on standard solar energy technology. In daylight, walkable panels absorb solar energy. At night the floor space comes alive with programmed LED light. The Walker is perfectly suitable for Smart City applications of crowd control, smart lighting, signposting directions and 'sound scaping.' 
Across both their footstep and solar panel technology, Energy Floors also offers smartphone connectivity opportunities that provide commercial opportunities for data capture by the facility installers and/or sponsors.
Other uses of crowd-generated energy
Mercedes Benz installed kinetic energy floors at the 2021 US Open tennis tournament that it sponsored. The key aim was to highlight its development work in the electric vehicle sector. The company also made a $1 donation per footstep to The National Energy Education Development Project (NEED) to help bring sustainability resources to schools through curriculum and customizable programs. Participants were also encouraged to take part in a virtual reality tennis game powered by the kinetic floor. 
Coldplay are taking kinetic flooring technology with them on their forthcoming world tour, which they said they would not contemplate unless they could achieve a 50% carbon emission reduction compared to their last one. Portable kinetic floors will be installed in the concert venues, along with some exercise bikes where willing users can also donate their effort to generate clean power.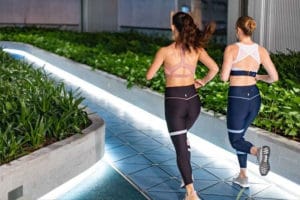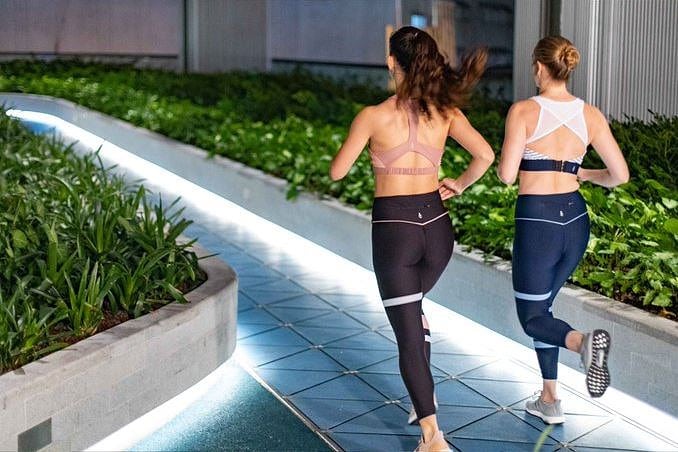 Further uses of kinetic flooring include energy-generating floor space at mainline train stations, shopping malls, airports, concert halls, even an indoor running track in a Hong Kong tower block. A live data screen presents each runner with real-time energy and footstep levels generated from their time spent on the tiles
Any energy generated on-site, wherever it is, reduces the amount required from the central grid, and thus increases the mainstream supply available to other users. If the technology can be installed at scale, the benefits of such decentralisation spread far wider than the establishments and locations that actually produce the clean power.
Is the kinetic energy technology scaleable?
Electricity-producing dance floors and walkways in a few shopping malls and concert venues aren't really going to have much of an impact on the problems the world currently faces, even if the night clubs play music all night long!
Can it become more than a crowd-involving marketing gimmick to attract media attention by providing organisations with a "virtue signalling" opportunity?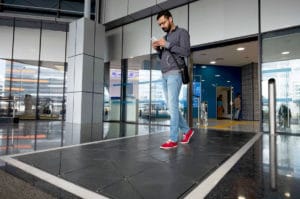 The first reported permanent walkway installation was at the entrance to Intel India's 44 acre R&D campus in Bangalore, India, housing 3,500 employees. Its 7.7 square metre entrance walkway can produce up to 4 joules of energy or up to 7 watts of continuous power with every kinetic energy-making footstep that walks on it. It powers a bright LED lighting display at the entrance of the building, with another small display board monitoring footfall and the energy generated. It was expected to meet 40% of energy requirements and reduce the facility's carbon footprint by 37%. Covid lockdowns disrupted pedestrian footfall and the campus's occupancy level. We wait to see if formal findings will be published, and where the technology will be used next as a permanent part of built environment infrastructure rather than on a temporary event-focused basis.
Like a lot of innovations it could come down to the early adoption rate, the pace of reaching economies of scale to produce the equipment at industrial levels, and equipment lifespan. The technology has been proven to work in limited and controlled circumstances. How long will the floor tiles last in scenarios where they are used permanently and long-term? 
Investment by utility companies and local authorities would provide means to scale the kinetic energy technology's benefits, to commit to at least more meaningful investigations than the findings from tennis tournaments, shopping malls and airport experiments. Though there are regulations as to how they can spend their budgets, and developing other companies' commercial possibilities is unlikely to be acceptable. As the IPCC stated, the time is now. We look to see who is going to be bold.