Here is a snapshot of how various forms of crowdfunding are being used around the world to help tackle the impact of the coronavirus pandemic.
Donations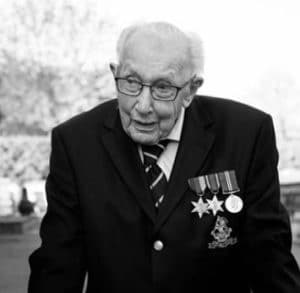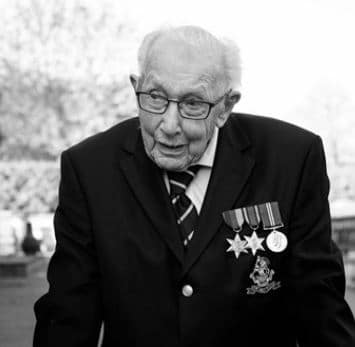 There is phenomenal UK public support for Special Forces veteran Captain Tom Moore, who is 99. He is walking with the aid of a support frame to complete laps of his garden every day until his 100th birthday on April 30. He is raising money for NHS (National Health Service) Charities Together. By April 23 the total he had raised topped £28m.
#GivingTuesdayNow will take place on 5 May to drive global philanthropic action among individuals and businesses in support of first responders, non-profits, and community organisations supporting those affected by the global pandemic. The first stage is for Giving Tuesday to ask people to organise fundraising events, and the second stage is asking people to support them.
There is a project asking for donations to Avi Schiffmann, a high school student near Seattle in Washington State, USA. He put his studies aside to create a website that aggregates coronavirus infection rate data per country, and it's a better one than some national governments have been able to manage.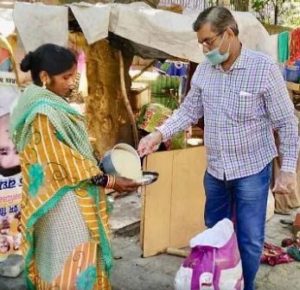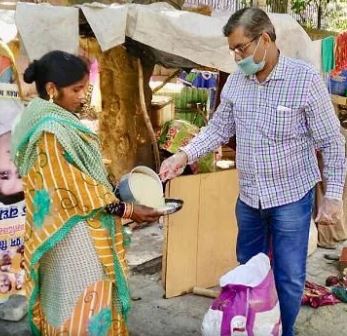 At times of crisis many people look to iconic public figures to set an example. In India the women's hockey team players, currently in lockdown at Sports Authority of India (SAI) Bengaluru, have started an online fitness challenge which will double up to help people stay in shape and generate funds for Covid-19 relief work. 
Hospital doctors in London and south east England received celebrity support after starting a  project to raise money to buy hospital workers PPE (personal protection equipment) to supplement the insufficient amounts being provided by the UK government. It hit the news after two donations totalling £275,000 by the X-Men actor James McAvoy. A recognised lead backer is always very valuable to give crowdfunding projects initial momentum to help them go viral.
In a similar vein, BONEVET is asking for help to increase its 3D printing capacities for the production of face shield masks to protect medical workers in Kosovo. 
A 28-year-old family-run food business in South Africa is looking to crowdfunding to keep its retail chain afloat and maintain about 600 jobs. Though without offering any rewards or incentives to people to bail them out, the project is failing to gain any momentum to raise money. Perhaps, compared to many other donations projects, this one has too much personal benefit for the project leaders. It shows success is not guaranteed.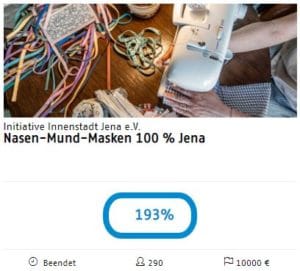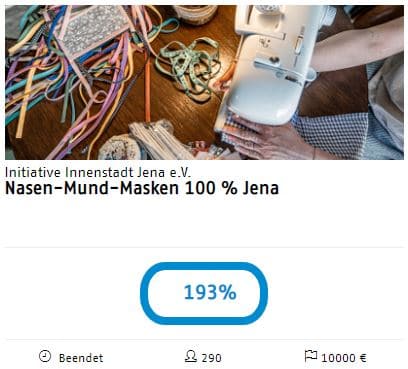 In Germany a national crowdfunding platform is hosting free projects for local businesses which also receive support through links from the website home page of each business's local authority. There are already a few initial successes: Innenstadt Jena has collected almost $21,600 (€20,000) to sew protective masks for health and nursing staff or volunteers, and then make them available free of charge. 
Rewards-for-donations
Many cash-strapped businesses, particularly food and drinks businesses that have temporarily had to close down, or their usual stockists have had to close down, are offering incentives to their customers to raise funds to see them through to the end of lockdown. A common tactic is "if you can donate £50 we'll send you vouchers for £75." Of course there are no guarantees that all the businesses will survive to honour the vouchers.
An example of a craft beer brewery that used this approach is Fierce Beer in Aberdeen, Scotland. It smashed its £75,000 minimum funding target within five hours, and called a halt when they reached £155,280 on its first and only day of crowdfunding.
On a full city-wide basis, the Mayor of London, Sadiq Khan, has launched the "Pay It Forward London" crowdfunding initiative aimed at supporting small and medium-sized businesses across a variety of sectors, including the particularly hard-hit hospitality market. It provides a structure within which Londoners can help their favourite local businesses survive by paying in advance for products or services which will be delivered once businesses return to at least near-normal operation. 32,000 Londoners have so far given their support to 81 businesses.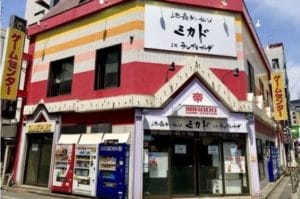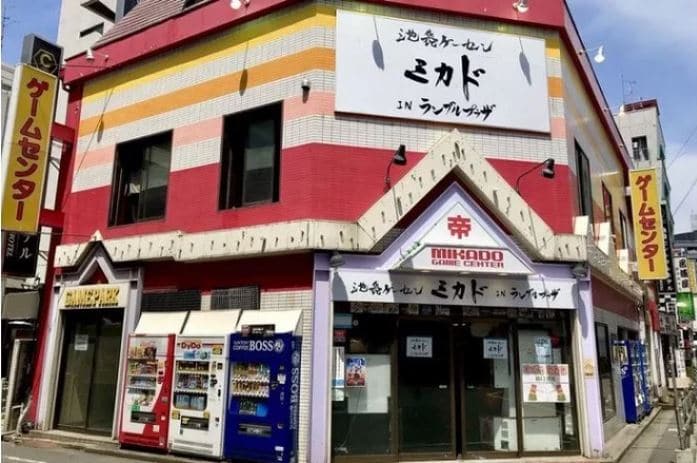 Fans banded together in Japan to help save Mikado, one of the purest shrines to old-school video gaming left in the country. Rewards at the lower end include messages of thanks, in both written and personalized video form, and at the 5,000-yen mark (about US$46) Mikado starts offering free plays of specific games at the arcade, and discounts. 
An Indiegogo crowdfunding project raised funds to develop a test procedure that will detect COVID-19 in people not showing any symptoms. The project closed at 89% of target after receiving over $1,750,000 in off-platform commitments (good crowdfunding is good marketing!). Rewards included tickets to attend a film premier in New York city.
P2P Lending
Loans from any source are less attractive to many struggling businesses as it commits them to repayment amounts and dates despite the insecurity of not knowing how fast and to what degree they will recover in the post-pandemic period. Overall deal flow on lending platforms has recently and rapidly declined by over 50%, according to research by the European Crowdfunding Network.
On March 17, Wisefund, a P2P loans platform headquartered in the Baltic state Estonia, announced it will provide an option to get financial support via crowdfunding loans, especially for small businesses across Europe that have seen a reduction in revenue and are experiencing related restrictions due to the pandemic.
At the same time, some other P2P lenders across Europe such as Grupeer in Latvia and Monethera in Estonia have been allowed to pull down their shutters. Both have blamed the state of emergency among European Union member states and how difficult it is to recover debts.
In the UK the Government has set up access to loans with preferential interest rates to help businesses remain solvent, and they are underwriting the loans to 80% of the amounts borrowed. Traditional lenders had trouble processing the high volume of applications fast enough to meet demand, and Funding Circle is the first P2P lender to receive accreditation as part of widening the scheme.
Equity Crowdfunding
The lack of equity crowdfunding projects to report on demonstrates the longer time scale involved to spot a market need, found a business, assemble a senior management team, formulate a business plan, and create a viable equity crowdfunding project as a means to finance a startup business.
Overall, the coronavirus pandemic has hit investor confidence. In the UK, equity crowdfunding generated £500m worth of capital funding into companies last year.  Since the coronavirus outbreak started, that rate of investment has fallen by 75%.
Main image: Get The Word Out! Coronavirus Comics Project
What has been your own crowdfunding experience during the pandemic, either as a fundraiser or a project backer?