It is very reassuring to small-stake equity crowdfunding investors to believe that the terms of their deals are the same terms as those offered to large investors, with no discrimination against 'the small guys'. However, the latest round of 'in-house' fundraising by Crowdcube, the UK's largest equity crowdfunding platform, has blown the lid off that basic tenet. Institutional investors have invested on better-terms than were available to thousands of individuals that the platform relies on for its fundraising clients to achieve success.
Equity crowdfunding in the digital era began after the 2008 financial crash. Startup entrepreneurs were starved of cash when banks reduced their lending levels, and individuals with disposable incomes sought better returns than the run-of-the-mill retail investment opportunities that were available. It coincided with the launch of the smartphone that has transformed behaviour in many spheres of activity through mass digital connectivity.
The UK's Sunday Times, the country's biggest quality newspaper by circulation and readership, recently reported that Crowdcube (which is also active in other European countries and operating in partnership with US equity crowdfunding platform SeedInvest) finished its own round of £8.5m fundraising in November 2018. That much was common knowledge; the newspaper's revelation was that institutional investors including Balderton Capital, Drapers Esprit and the commercial growth arm of the television broadcaster Channel 4 enjoy better protection than retail investors. If Crowdcube is ever sold for under £19m the individual backers will receive nothing, while the big guys will still recoup some of their investment even if Crowdcube collapses.
Why is this important? After all, in most markets bigger customers are able to negotiate better terms. Well, it undermines what many retail investors perceive as a basic concept of equity crowdfunding as the oft-quoted "democratisation of finance," with the same terms of risk and reward offered to all investors, big or small. It isn't obligatory, but it has been reassuring and had given equity crowdfunding a unique position (in most instances) in business fundraising.
Online comments in response to the article include: "I don't believe the difference in terms was made clear to the crowd albeit I'm sure it was hidden away somewhere out of clear sight." "It does not have to be this way. Crowdcube's model is wrong." "The platforms and the regulators cannot simply hide behind 'caveat emptor.'"
The market interface between entrepreneurs and investors is provided by a range of online equity crowdfunding platforms, and Crowdcube and its nearest rival Seedrs have a dominant combined UK market share of over 80%.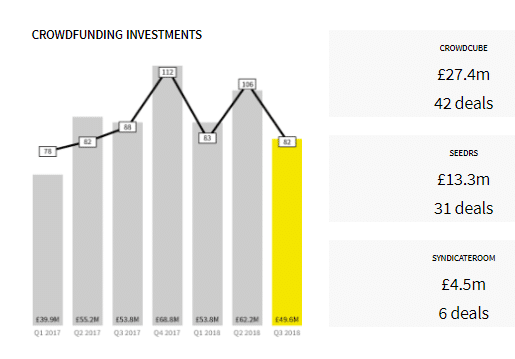 Seedrs say on their site: "at Seedrs we believe that the smallest investors should have the same rights as even the largest investors and that is why only A shares, with full voting rights, are offered to all investors."
Andrew Adcock, CMO at Crowd For Angels told us: "Preferential terms for investments aren't uncommon, however, parties are treated equally in a Crowd for Angels round. Furthermore, we are not fans of different types of share class as we expect all parties including the company to be treated fairly 'Pari Pasu' [on an equal footing]."
A spokesperson for Crowdcube said: "The information about share classes was shown clearly and transparently in our pitch. Fundraisings on Crowdcube's platform are all different and we always encourage investors to consider all the information available. The involvement of venture capital firms in fundraising rounds has benefits for all investors – often providing significant funds to help grow a company, along with experienced advice and useful connections, while also underlining the credibility of the business."
It has been vital for the platforms to cultivate an aura of trust. On behalf of their investors they conduct initial due diligence to verify the information an entrepreneur gives in their pitch is accurate, that company directors don't have undisclosed skeletons in their cupboards, and claims of any protected intellectual property are valid.
While individual retail investors should still conduct their own due diligence, it has become a widely used practice to follow moves by big investors in the knowledge that they would have done so, and thus saved everyone else the effort. Though if there are different offer terms for retail and institutional investors the process will become either more time consuming or riskier, maybe both, for the small guys.
With Crowdcube's market leadership, could growing uncertainty about the terms offered by crowdfunding projects they host dampen the whole market, even though other platforms do not discriminate between retail and institutional investors? It's not what Crowdcube's fundraising clients would want, and given Crowdcube is losing money at a reported pre-tax rate of £4.7m based on £3.8m revenue in the last year it's a possible outcome they would not want either. They might just have shot everyone in the foot.