On November 27th, 99designs announced the launch of a localized French website (99design.fr) and presented its Country Manager for France, Siham Belouadheh. Siham works closely with Eva Missling, 99designs' General Manager of Europe, and will be supporting French-speaking customers and designers. I recently had the chance to interview her in Paris, where we met around a cup of coffee.
Hello Siham, could you briefly present yourself? What is your background?
Sure! My name is Siham, I previously worked in Berlin for several communication agencies and in Paris for a global actor in the field on education. I've discovered crowdsourcing because I was following this emerging trend and the way it developed, and when I realized that it was much more than a fad but a fundamental trend, I started looking for a job in the field.
I am now Marketing Manager France for 99designs, which is "Responsable Marketing France" in French. This encompasses a lot of things as my role is to manage the marketing and communication efforts on 99designs in France. I am the only person within the company to speak French, so I represent 99designs in trade fairs and networking events here. I also deal with online advertising, with press relations… everything related to communication in French language, and take care of customer service.
"There is a constant need for support, especially for new clients"
We have some returning clients who know the platform very well as they used the English version, but for new clients who have questions about the process, the contests or the costs, I am there to pick up the phone. In the long term, the objective is to have a bigger team dedicated to customer service, but for now I'm handling this. I've been working for 99designs, the world's leading platform for graphic design that gathers more than 190,000 individuals, for 2 months now.
Is that how you present 99designs?
Yes. I tell them that 99designs is a platform that links designers with skills in web design, logo design, app design and much more, to entrepreneurs, start-ups and other small companies that are looking for these skills. Let's admit that you are looking for a Christmas greeting card, that you don't know a designer and that you have a limited budget, you can come on the 99designs platform, put a brief online and get your greeting card within a week.
Why did 99designs choose to enter the French market? When has this decision been taken, and based on what criteria?
It started with the round of funding that 99designs closed in April 2011, raising $35 million from Accell Partners, that was primarily secured to develop the company internationally. The United States are still 99designs' primary market, but the objective was to also have offices abroad, with people supporting clients and handling marketing activities on local markets. The biggest European market being Germany, in August 2012, 99designs acquired 12designer, which was one of the leading platforms in Europe. Beside having more than 25,000 registered designers, the company also had a platform and a team that was crowdsourcing in 5 languages: English, German, French, Italian, and Spanish.
After the acquisition, we launched the German version of 99designs in September, and the French version in November this year. We consider France to be the second-biggest market in Europe, the creative potential is huge and there is a widespread use of the internet, so we decided to launch the French website right after the German site. Another positive sign is that there are numerous other crowdsourcing companies such as Textmaster, Hypios, eYeka or Creads which are already succeeding, and this is encouraging for us to start in France.
When you approach companies, do they know 99designs, which is a recognized name in the field of crowdsourcing? Does the name help, or is it as new to them as an anonymous website?
Interestingly, no one ever asked me "What is 99designs anyway?" I'm always impressed by the notoriety of the brand. But I would like to clarify that I don't actively solicit companies to sell them our services. My role is to be the French representative of 99designs, to get the name noticed in events, to coordinate marketing and to answer customers, but not to knock on doors and sell our service. That's how 99designs grew, and we believe in word-of-mouth marketing rather than aggressive push strategies.
We want satisfied clients to talk about 99designs to their friends and networks, and that's the basis of our marketing efforts. Before even launching 99designs in French, we already had over 1,200 contests launched from France, in English! So beyond the audience of early adopters who know crowdsourcing and read about it in English, we see a huge potential of French-speaking individuals and companies to use 99designs.
Have you been in touch with some French competitors here?
Yes, we have been, and we still are, in contact with other actors in the field of crowdsourcing. We want to have good relationships with them as we only see benefits to that. Everyone has its own market, its own positioning, its distinctive offer and platform, and we want this complementarity to allow crowdsourcing in general to grow as a practice. As a company, we now have roots in Melbourne, San Francisco and Berlin, which are three cities in which there are many start-ups, and interactions are very beneficial to their development, so we don't see competition as a negative aspect.
I would love to meet more companies, like Textmaster, in order to have their feeling of the market here. It would be interesting to have their point of view and learn about their experience, and I will have plenty of opportunities to do that in the future. Maybe during Crowdsourcing Week in Singapore?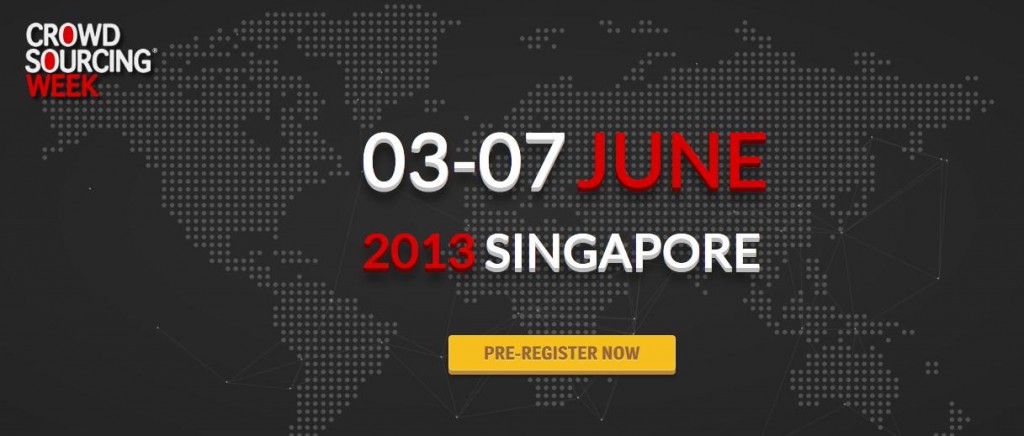 Why not! A different yet related question: How does 99designs position itself compared to existing crowdsourcing offerings like Creads, Graphiste.com or Wilogo?
As I said, we position ourselves as a platform that links clients to designers, the link being the contest. The client is totally autonomous as he will define the criteria, write the brief, provide feedback, pick the winner etc. Of course, we can help if needed or if the client chooses the "Gold" option were we provide additional services, but the vision is to provide a platform that facilitates as much transactions as possible. We want to bridge companies that don't have access to designers, to designers who want to develop their client portfolio, both nationally and internationally.
"We almost consider ourselves as a dating website"
If a client is happy with a design that he purchased through 99designs, he will continue to work with the designer outside of the 99designs platform, and that's a success for us! We are there to make the connection, and to offer valuable tools such as billing, additional functionalities for agencies etc. But our keyword is really linking designers to companies, and companies to designers.
So you position yourself similarly to Wilogo, a logo crowdsourcing platform, but differently to Creads, which also has agency services?
99designs is much more elaborated, as we already run 180,000 contests and have spent years of development time to bring the right features to run their contests with fun and efficiency.
We don't offer only logo design, we also offer web design, application design, mugs, flyers, postcards… a lot of things, actually everything that constitutes a support to corporate design. Today, for example, the fastest growing category on 99designs is that of mobile application design, which is growing very fast. Logo and web design are still our biggest categories, but mobile applications are taking an increasing part of the overall activity.
And compared to a company like Creads, who calls itself "the participatory agency" (L'agence Participative, in French) we don't consider ourselves as an agency; we are a platform. Everything is transparent, the prices are available for anyone to see, people can browse our designer list… we're an open website that delivers online services, but not an agency.
As Marketing Manager who is responsible for launching 99designs in France, what are your objectives? Can you tell us more about that?
Sure, there are objectives, mostly two. Since we aim to connect designers and companies, the biggest part of our job is to attract these two audiences to 99designs. Hence, my objectives are to grow our customer base, on the one side, but also to grow the creative crowd, on the other. My role is to get companies to post creative briefs in French on 99designs, and the French designers to participate in French. We are convinced that there are a lot of designers waiting to prove their talent and to get in contact with clients both in France and abroad; and we are there to facilitate these interactions through 99designs.
Have you received some comments and feedback from the users? How do they see the availability of 99designs in French, and your presence as a support person?
Sure. We have received positive feedback from those who already used 99designs in English, and who are very happy to be able to use it in French now. I received lots of congratulations and encouragements from them, which this is very nice and motivating. They also appreciate the fact that they can get in touch with someone at the Paris hours, because before they often had to wait for the afternoon hours to call our team in San Francisco.
From new clients, who are attracted by the French website and interested in using crowdsourcing, I get more questions about the way 99designs works. Since they have never used the English platform, they come to me with questions like "How does it work?" "Can I get a quotation?" "How do I launch a contest?" "How to write a brief?" and so on… Having never used 99design before, they have very practical questions and are happy to have someone in French to answer them.
"Getting a new visual identity is a significant investment, and people like to have a contact in France to help them find a designer"
My last question is about the French market compared to the others. Are you having a different approach to get into France that into other markets?
First, there is no doubt that every market is unique, and that you have to adapt to it, even in Europe. Germany, for example, is a big market, especially with its vibrant start-up scene. There are a lot of early adopters and talking about crowdsourcing is very easy, people know what it is and what it can be used for. In France, you sometimes hesitate to bring up the word, not only because it sounds strange but also because it is difficult to find a translation for it. You really need to have a pedagogical approach, explaining clearly what crowdsourcing is and how it can be used.
Another thing is that, like the UK, France is a relatively traditional country in terms of business. People are not used to see fundamentally new practices arrive so fast, and again we need to be clear about what we do. I often explain that we are not villains, that we don't want to replace anyone, but that we are here to extend the market. 99designs is meant to bring graphic design to a broader set of people, we create opportunities for both designers and companies, and this needs to be explained clearly.
Countries like Spain and Italy are economically less performing, and therefore it is more difficult to get traction on the client side. On the creatives' side, however, the potential is tremendous. Spanish or Italian designers are already very active participants on 99designs and they have a huge creative talent. Again, what we would like to achieve is to offer an innovative, affordable and efficient crowdsourcing solution to connect these people.
Thank you very much, Siham, for your time and your insightful answers. We wish you the best for the future… and we might see you at Crowdsourcing Week!