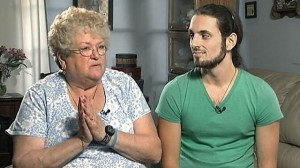 So what has not been said or covered by the media when it comes to Max Sidorov. Some call him a saint, others call Max a hero but Karen Klein just calls Sidorov — "a nice guy." Personally, as a father and son, I would just like to shake his hand and buy him a beer or two.
"It reinforced my belief that there are so many people, so many good, kind hearted, genuine people out there in the world, and it just inspired me.  I want to keep doing this, keep doing good towards other people."
Max explained that he was bullied and felt Karen's pain. Sidorov needed to do something — so he created the Indiegogo Campaign; which now stands at $676,714 and there are still 19 days left in the Campaign. To be honest with you I have never seen the video nor do I think I ever will.
My wife Jessie Nuez told me about the terrible story. My heart broke for Klein — and that was more than enough for me.
Through the combined efforts of platforms such as Youtube, Reddit and Indiegogo — Sidorov was able to build a massive social "call to action."
We have been witness to how the combination social media and crowdsourcing can move the social needle. The history of social media is peppered with such events — from the 2008 Presidential Election, to the first tweet from Space, to SOPA and now to helping Karen Klein.
So thank-you Max. Thank-you very much. And if you are ever in NYC just ping me and I will buy you that beer or two.