What is a Smart City?
Smart cities use crowdsourced data for better analysis of behaviours and efficient resource management in urban areas. The term 'smart cities' refers to comprehensive connectivity in a built environment. It includes IoT technology-enhanced equipment both in the home and in the workplace connected to and communicating with each other, and also connected to product suppliers and utility providers, plus personal and commercial transport connected to the traffic infrastructure. However, smart city mobility and other smart cities' technology is itself increasingly under threat from hacks, and cybersecurity systems have to be able to handle the fast growing number of entry points. Given this risk, a high level of citizen engagement is required to maintain overall positivity. We've taken a look at some of the smart cities of the world.
Why are Smart Cities Important?
The keyword is sustainability. Today, 55% of the world's population live in cities. By 2050, it is estimated that it will be 66% of what will be a bigger total population, adding a further  2.5 billion city dwellers. Enough cities cannot be built or extended fast enough to cope. The rush to build and build means that the second most used liquid in the world after water is concrete, which gives off high levels of carbon emissions as it sets. The global construction industry accounted for 38% of the world's greenhouse gases in 2019, according to the United Nations Environment Programme.
This means what we already have must be used more efficiently, and this covers energy, water, food, transport, and medical resources. Furthermore, for smart cities to maintain citizen engagement and be embraced by the public at large, governments must be perceived as being fair to everyone, without creating a class of dispossessed and disenfranchised citizens. Smart technologies have to be deployed in a way that protects civil liberties, and through systems that protect personal data and are secure from malevolent hacks.
Global Smart City Trends
The most advanced smart cities have now progressed beyond the foundation stones of hyperconnectivity and technology to collect, interpret and use big data, while maintaining citizen engagement. They are now also making sure they address more of the UN's Sustainable Development Goals. The Covid pandemic has put a spotlight on sustainability issues, social issues and health, and pushed them up the priority list. Global reaction to the pandemic has altered what citizens expect from smart city technology.
Two of the biggest threats to global sustainability are the pollutants attributable to mobility (transport) and the built environment (construction industry).
Mobility
A major focus of smart cities is improved traffic management. We have pulled together examples of smart city mobility and transport management that cover private vehicles, public transport, pedestrian welfare, cycling and car parking. Reductions in vehicle numbers, journey times, and the time spent driving round looking for a parking space will all impact on air pollution levels.
Milan is the second biggest city in Italy and has one of the highest car ownership rates in Europe. The city has committed to reduce both traffic flow and pollution levels through an ambitious urban planning scheme to reallocate 35km of streets from cars to cycling and walking. The Vianova data platform will partner with almost twenty mobility operators (including Cityscoot, Voi, Lime, Dott, Share Now, Ubeeqo and Enjoy) and the city's  environment and mobility agency (AMAT) to analyse, supervise and enhance the integration and usage of shared mobility services – e-scooters, bikes, mopeds and cars. This collaborative approach will accelerate the creation of cleaner, safer and more efficient streets for people to move, walk and cycle around.
Moscow faced a transport crisis in 2011: its roads were full, causing some of the world's worst gridlock. City authorities developed a plan in which its strategies for traffic construction projects and improved transit capacity would rely on data and an intelligent transport system. At the same time, there were major changes to the city's parking policies and heavy investment to modernize its subway and bus service.
More than 2,000 traffic lights, 3,500 traffic sensors, and 2,000 closed circuit television cameras are digitally connected to a Traffic Management Center, which shares the information in real time with commuters to reduce traffic and facilitate the use of public transport. The net result of implementing a smart city mobility programme is that despite an extra million cars on Moscow's roads since 2010, average speeds have risen by 12%, there are 64% fewer parking violations and use of the subway has risen by a third.
Cycling enhances smart city mobility by reducing total vehicle traffic, easing both road congestion and air pollution. The provision of designated cycle-only routes also encourages citizens to be personally fitter, which further reduces strains on a city's medical service providers. Crowdsourcing is commonly used to check where residents would most like cycle routes provided. Through engaging with a wider community of stakeholders in early stages of any collaborative, co-creation project of this nature it is also possible to reduce some of the inevitable friction that occurs when motorists believe their "rights" are being reduced or infringed upon. In a previous blog we covered examples from Copenhagen in Denmark, Kuala Lumpur in Malaysia and Denver, Colorado.
Another factor that can reduce the amount of space given over to parking cars in a smart city is intelligent parking spaces that let motorists know when they are available. Parking sensor solutions are based on a simple concept: each individual parking space can be equipped with a sensor that knows whether a space is free or occupied. This information can be relayed to anyone in the vicinity who is looking for somewhere to park. Freed up space in city centres can be put to other uses, such as providing green areas for people to congregate, relax or exercise: everyone can benefit from a smart parking space solution.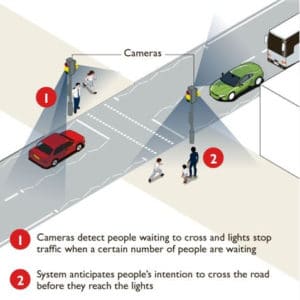 A UK firm, Now Wireless, has pioneered a traffic light with a built-in camera to see what's happening with traffic flow and the number and types of people waiting to cross a road. Coupled with AI, the traffic light can operate remotely. It does not stop traffic if there are no pedestrians nearby, and it can keep the signal on red longer if a person approached the crossing slowly, for example. The information gathered by AI can also be provided to traffic managers for them to monitor pedestrian numbers and the use of particular crossing points, and help planning to improve smart city mobility.
A growing number of mobility platforms deliver smart city transport options to people who live elsewhere. Apps for car sharing, planning trips on public transport, and even finding a parking spot in a private driveway are all available. Beyond personal advantages, each car that remains in use rather than parked up, or isn't driven to a city centre in the first place, reduces the need for so many city centre parking spaces.
Built Environment
Returning to Moscow, city authorities have launched an experiment aimed at creating a smart construction site. A practical stage will include employee supervision  systems, digital passports for builders, video surveillance systems and progress tracking by drones, and digital control of the disposal of construction and demolition waste. The aims are to improve productivity and personal safety, and reduce negative impacts of the construction industry on other Moscow citizens. 
Crumbling pavements and sidewalks don't sound at all like tech topics to improve smart city mobility, though AI has proved useful to Philadelphia's efforts to improve the quality of its streets and resolve one of its citizens' top complaints. It partnered with a startup that provides a low-cost imaging device that takes images every half second, 30 feet wide, and uses AI and visual machine learning to assess the quality of the pavements. The project covered 1,200 miles of pavement in three months and led to the development of a five-year pavement strategy. 
Even something as mundane as fixing pavements contributes to better social equity, improved personal wellbeing among nearby residents, and encourages greater citizen engagement. The startup partner is now training its AI to map manhole locations and street signs. These efforts will contribute to Philadelphia's city-wide mission to record zero road deaths by 2025.
In the UK, Cloud Cycle is a materials management tool using on-truck IoT devices managed by AI. Construction sites frequently over-order their concrete to be certain of getting enough delivered at the right times. Surplus quantities are a common though expensive occurrence, and whether it is used in a construction project or dumped in a landfill somewhere it still gives off carbon dioxide as it sets. Cloud Cycle is an app that can quickly find a market for surplus concrete so that it goes to good use. 
Smart Solutions in an Established City
Sydney is home to a fifth of Australians, it has seven of Australia's ten most popular attractions, a thriving Central Business District, and is regarded as the country's face to the world. The city's appeal to new residents remains constant, though for decades the centralized utilities and, in some parts, limited public transport have made it harder and harder to expand further. The city's accommodation supply is about 130,000 homes short of meeting demand. New solutions are needed for recognised challenges that are growing. The pandemic highlighted a new addition to the challenges – the extent of digital exclusion.
Sydney was one of the first city councils to establish an online hub to ensure public consultation is supported by digital engagement. The Sydney Your Say platform encourages citizens to participate and contribute to decision-making in city planning, wellbeing, culture, the arts and urban strategy. At the same time, The University of Technology Sydney (UTS) works at the frontline of smart city planning to harness Internet of Things (IoT) technology and assist local councils in creating more liveable communities. They are particularly addressing issues including road congestion, medical welfare and remote working. The combined effect will be to enable planners, developers and policy-makers to make better informed decisions.
Opportunities in a Brand New Smart City
Indonesia's capital city, Jakarta, is sinking. So it is building a new one! The initial budget estimate for the construction of the new capital city, on the island of Borneo, was $32.3 billion. The figure is still being adjusted based on analysis of the "Master Plan document for the State Capital." The vision is for a new, clean smart city, with the newest technology, featuring an abundance of artificial intelligence, and filled with electric vehicles, modern monorails, and drone taxis. 
The 632,580-acre site is four times the size of Jakarta, though with 75% given over to green space. Target completion date remains 2024, despite work failing to commence in 2020 due to the Covid pandemic. 
Smart City Security Must Be Total
Digital security of data collection, analysis, storage and implementation will remain a fundamental necessity for smart cities to operate with the consensus and confidence of all stakeholders. Looking at the UK's ambitious plans to build more sustainable cities that run on smart, connected technologies, Adrian Crawley, EMEA region VP of crowdsourced IT security firm Synack, commented that such growth will vastly expand the opportunity of threats. In a future where mobility programmes for transport and traffic management rely on smart sensors and other internet-connected devices, powered by apps, reliant on links to traffic lights, emission sensors and electric car charging stations, every piece of infrastructure could come under attack.
More than 40 US municipalities were victims of cyberattacks in 2019. Baltimore was a notable casualty from a hack that shut down most of the city's servers and some government applications. Through declining to pay a Bitcoin ransom that represented about $80,000, the hack cost the city an estimated $18m in direct costs and revenue shortfalls.
The Center for Long Term Cybersecurity at the University of California at Berkeley found that the greatest smart city security risks were posed by emergency alerts, street video surveillance, and smart traffic signals. City authorities need robust security plans, with an appropriate budget, to protect the integrity of their systems and the welfare of their citizens.
How about your own smart city experiences? Maybe as well as benefiting from some of the advantages, you work for a smart city authority or one of its tech providers. What insights can you share with us?