NFTs are unique and indivisible digital assets, making them ideal for representing one-of-a-kind items such as art, music, and collectibles. Whilst each NFT is unique, an NFT can also verify part-ownership of an item or asset. Company stocks and shares, and real estate, will be among the many things that get turned into and become traded through non-fungible tokens. Plus expensive assets such as luxury cars and yachts, art, exclusive watches, fine wines and even racehorses can be crowdfunded. Any item can be broken down to offer multiple NFTs that each represent a fraction of the whole item. The ways this makes NFTs ideal for crowdfunding deserves a deeper look. 
Fractional ownership
NFT crowdfunding thus provides a new way for investors and collectors to access part-ownership of items that would normally be beyond their means. Fractional ownership lowers the barriers to marketplace entry, and it makes a new consumer audience available for asset owners and dealers to target. These assets can include equity in a startup business, as well as tangible items already mentioned.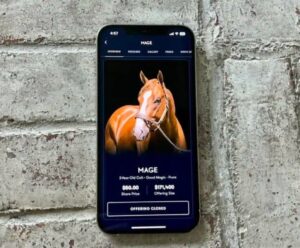 To digress for a moment because it does not yet trade in NFTs, but it shows the potential, the Commonwealth alternative investment app in the US allows investors to buy shares and back an athlete's career, from just $50 a share. This extends to livestock. The racehorse that won the 2023 Kentucky Derby was financed in part by an equity crowdfunding offer on Commonwealth. Around 400 investors had purchased $171,400 of equity in the horse. 
A number of other platforms are already providing investment opportunities through NFTs and crowdfunding, and they include the following.
US platform Fractional allows users to invest in high-value assets by fractionalising them into ERC-20 tokens, represented as NFTs on the Ethereum blockchain. Users can buy and trade these NFTs, enabling them to own portions of high-end artwork, collectibles, luxury goods, and other assets.

Winechain is an NFT platform specializing in fine and prestige wine D2C sales. It enables some of the world's top winemakers to connect directly with a global community of wine lovers and investors. In 2022 the platform raised €6 million of startup backing from some of the best known names in fine wine circles.

 

The UK's Maecenas platform allows investors to buy and sell fractional shares of fine art. Multimillion-dollar artworks are tokenized into "asset tokens". Each asset token represents a share of the beneficial interest in the underlying artwork and can be traded instantly on a global exchange. All asset tokens representing a share of an artwork are secure blockchain tokens, compliant with the Ethereum ERC20 standard.

European real estate investment platforms that utilize blockchain and NFTs to enable fractional ownership include BrickMark Group in Switzerland.
Many real estate tokens will be considered a security, and must therefore conform to security law. However, the existing laws and regulations relating to securities cannot always be easily applied to this new type of security, and reform will likely be necessary. Updating or reforming the current laws and regulations to include these new forms of securities is crucial and will give investors clarity and security in their investments.
NFTs provide other benefits including liquidity, more accessible cross-border investment opportunities, transparency and security, and exclusive "extras."
Liquidity
NFTs enable investors to trade their undisputed proven equity ownership stakes on secondary markets. As an example, in April 2023 the art auction house Sotheby's announced it is expanding its non-fungible token art offerings through the release of a specially curated, peer-to-peer secondary marketplace.
Cross-border accessibility
NFTs are based on blockchain technology and offer a decentralized and cross-border investment environment. Investors from anywhere in the world can make equity investments if shares are packaged as NFTs, subject to the regulations that may apply to each individual investment platform.
Investing through crypto, the standard (though not exclusive) currency of NFT trading, also speeds up transactions and can avoid fiat currency exchange fees.
Security and transparency
Every transaction related to an NFT is recorded on the blockchain, creating a transparent and auditable trail of ownership to mitigate fraud and ensure that investors can verify the authenticity and provenance of the startups (or alternative assets) they are investing in.
In the case of real estate, since the NFTs exist on the blockchain, the use of an NFT as a legal title will reduce the existence of title fraud because they are immutable. It will also increase efficiency in the transfer of ownership as the NFTs can contain more information relating to the property that will be of interest to an investor. The information can be provided in real time.
NFT crowdfunding advances investor engagement
Let's begin here with a mention of JumpStart, a decentralized NFT crowdfunding platform launched in the U.S. in January 2023 by SideKick Finance. JumpStart is a Web3, blockchain-based NFT crowdfunding platform deployed across multiple Ethereum Virtual Machine (EVM) networks, including ETH, BSC, CRO and POLYGON. It claims to provide an "efficient, scalable, and highly interoperable crowdfunding platform that supports various use cases from gaming, art, music, charity, and more." 
Each step of the crowdfunding process, from providing financial documents and fundraising pledges going to an escrow account, through to successful completion and eventual fund disbursal – is verifiable and traceable since it's on blockchain. Projects can also create NFTs to match tiered contribution levels and provide backers with added rewards. When the NFTs are traded on secondary markets, smart contracts automatically pay royalties to the NFT creator.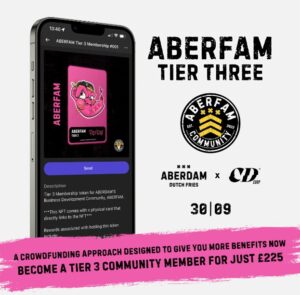 The first example of this use of NFTs and equity crowdfunding in the UK was in 2022, when a Scottish fast food chain called Aberdam (because its first outlet was based in Aberdeen and it provides Dutch street food as served in Amsterdam) offered NFTs to its equity crowdfunding backers. They made 820 Aberfam founder memberships available in three price tiers, and each one included an official NFT based on an original, individual piece of artwork. As well as the possibility that the artwork NFTS could become collectibles in their own right, NFT owners qualify for automatic savings on all food and drink orders. Such added benefits are designed to encourage retail investors to back a crowdfunding project.
Smart contracts
A further use of smart contracts embedded in NFTs is that they can control the flow of payments. For example, the full investment value raised for a startup business or a real estate construction project can be released in stages from an escrow account on the basis of reaching KPIs and other milestones. If a startup or real estate project fails to make progress as planned, whether due to fraudulent activities or poor decision-making, the project may be automatically halted by freezing further payments. Investors may then stand to get back at least some of their money, rather than lose the full amount. Seedon is an example of how NFTs and crowdfunding can be improved on a Web3 platform.
"Boldest Blockchain and NFTs" is one of over 30 categories in the fifth edition of the international BOLD Awards. This award recognizes significant contributions to the advancement of blockchain and NFTs distributed ledger technology and its applications. Consideration will be given to offering increased understanding, accessibility, efficiency and adoption of blockchain and NFTs by tapping into wider audiences and driving adoption.
Submissions can be made at any time, updated as often as required before 31st December 2023, and one submission can be entered in up to three categories. The fee to submit an entry will grow each month, so enter now. The award ceremony will be in Venice, Italy, in March 2024.