We've seen the mantra "by the people, for the people" many times and now a Philippine presidential aspirant initiated a unique take on crowdfunding to support his campaign. His initiative is also embedded with a mechanism to protect his votes in the upcoming 2016 presidential election.
Known for his cussing and brusqueness in speech, Rodrigo "Rody" Roa Duterte, also dubbed as "Digong," has charmed the Filipino citizens because of his political track record and also his legacy in Davao City. As Rappler puts it, "Davao is the world's largest city, and Duterte's leadership helped transform it from the chaos of the 1980's – a safe haven for criminals and rebels – to what residents now proclaim as an oasis of peace today."
During his "decisive yet indecisiveness" months, whether he will file his COC (Certificate of Candidacy) for president or not, his daughter, Sara was one of the instrumental figures that time amidst the speculations. She pushed him to file his COC at the last hours of the deadline. Her words, though they somewhat implied a flare of arrogance in my opinion (as if Filipino citizens owe them favor if her father runs), also justified how the family had lived in austere lifestyle despite more than two decades of public service.
Will crowdfunding and ingenuity usher Duterte to the presidential seat?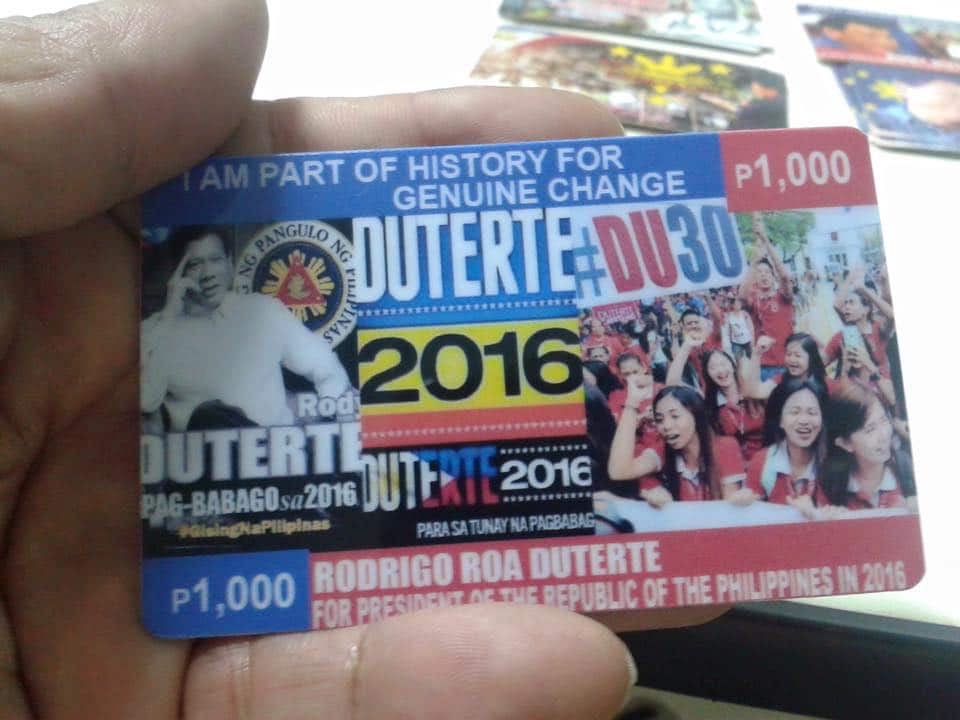 Sara wrote: "Tandaan ninyo ang araw na ito, wala kaming pera, wala kaming makinarya (Remember this day, we don't have money, we don't have the machinery)," Inquirer reported, hashtagging the groups pushing her father to run. Well, who cares if they don't have the money? Filipinos are fed up with corruption, perhaps Duterte's "dictatorial federalism" will be the key to Philippine's progress?
Will crowdfunding and ingenuity pave the way for progress? The Duterte camp created "Inspirational cards" to fund his campaign. Davao Breaking News writes, "The "inspirational cards" are actually scratch cards, which are primarily contribution cards that Duterte supporters buy in various denominations as a form of support to the campaign." The denominations range from P25 ($0.50) to P500,000 ($10,500).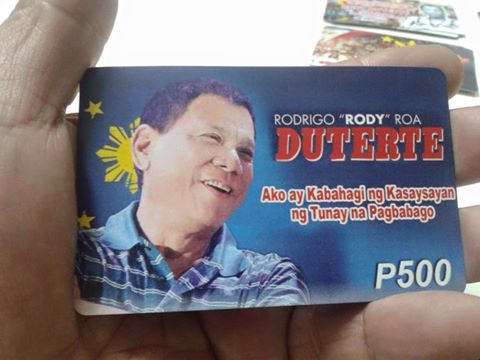 Supporters can contribute to his campaign by scratching the card to show the PIN numbers at the back then they will send along (by texting) with their names and addresses via SMS getaway to register their contribution(s) to the system. That's the crowdfunding part, but what makes this initiative ingenious is that the contributions are traceable since there will be a robust database in the system to find out where the funds came from and creates transparency because they will be acknowledged by the campaign management.
Davao Breaking News writes, "Aside from the fund raising aspect, the inspirational cards could also serve as a deterrent for possible cheating in the PCOS machines." And because they have a record of the number of people who contributed, it is easier to compare Commission on Elections' votes versus the number of card holders who supported him. "Hence if there is a wide difference between the results of PCOS against the number of voter-contributor who voted in each precinct, cheating has likely disfavored their candidate, and the legal team can immediately file a protest."
In case Duterte wins, this will be the first time in Philippine history for a president who, in pure democracy and transparency, is supported and funded by the people and for the people. As Inquirer reported, top four presidential candidates have already spent P1.6 billion ($34 million USD) on TV advertisements in 2015.
Unless there will be a malfunction or downtime in their system, the election results are rather predictable and as always, a foul play is anything but a norm in Philippine politics.
What do you think of their initiative?
It is fascinating that crowdfunding transcends business, technology, and economics – and its potential and principles are spawning to politics and governments as well. Join me at Crowdsourcing Week Global 2016 in London for rapid fire sessions and discussions on how crowdsourcing and crowdfunding are being used in these areas.
[Photo credit: Davao Breaking News]