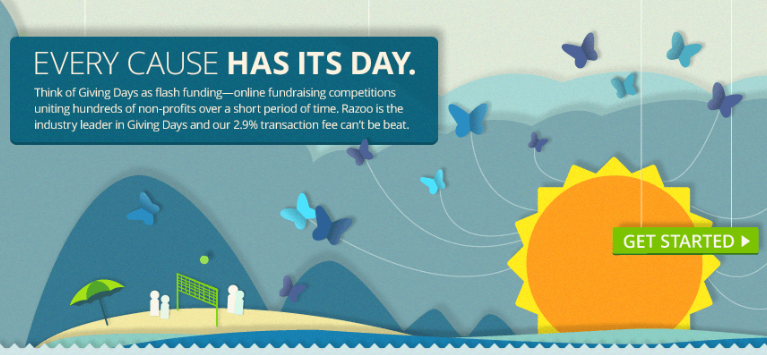 Razoo, the fastest growing crowdfunding platform for causes, announces its first-ever week of giving – a week of five of Razoo's "Giving Days".  Giving Days are powerful 24-hour online fundraising competitions that unite communities around causes.
"Apart from being a necessary economic shot in the arm for local nonprofits, Giving Days are long-term capacity builders for nonprofits and will bring in new donors – especially millennials and other digital savvy donors," said Lesley Mansford, CEO of Razoo.  "Razoo makes it easy and fun for donors to give by gamifiying the whole giving experience."
For the first time Razoo will be employing data visualization to visually display real-time giving.  Data visualization is quickly becoming an important tool for businesses to communicate ideas and information clearly and effectively.  To see Razoo's live real-time giving, click here on November 15th.  To see a past example of data visualization, go to Razoo's YouTube page at youtube.com/razoo giving; it shows what $14 million dollars in 24 hours looks like visually.
"Razoo's deep integration with social networks makes it easy for donors to share among their friends and turn every donation into a social donation," added Mansford.  "In addition to bringing a new source for funding for nonprofits, social fundraising is more efficient and can drive more engagement with donors."
The 5 Giving Days and their organizations include:
1)     Nov. 13th – Give BIG Riverside
Give BIG Riverside will help raise money for nonprofits that serve Riverside and San Bernardino Counties
2)      Nov. 14th – Big Give
16 Maryland Community Colleges will raise money for higher education in their state
3)     Nov. 15th – Give To the Max Day: GiveMN
GiveMN will encourage Minnesotans to give to their nonprofits and public schools
4)     Nov. 15th – Give Big Lexington
The Lexington Community Foundation in Lexington, Nebraska will organize this day of giving to support local nonprofits
5)     Nov. 16th – LivePC , GivePC
The Park City Foundation will help raise money for nonprofits in Park City, Utah
Razoo is the industry leader in Giving Day competitions, bringing in more donors and donations than any other system.  Razoo has organized a total of 22 Giving Days, with 14 of them occurring this year.  Three of Razoo's Giving Days raised more than $10 million dollars.
About Razoo
Razoo is a venture funded social enterprise committed to transforming people's lives through meaningful giving. Its online platform facilitates crowdsourced fundraising for individuals and nonprofits. Razoo is also the leader in community giving days, whose platform has enabled the raising of millions of dollars for local communities around the country. With offices in San Francisco and Washington, DC, Razoo is seed funded by the Legatum Group.  The name Razoo is of Australian and New Zealand origin. It refers to a coin of little value: when combined, these small contributions make a huge difference.
For more information on Razoo, go to www.razoo.com, follow them on Twitter at @Razoo, or like them on Facebook at www.facebook.com/razoogiving
via press release/Razoo