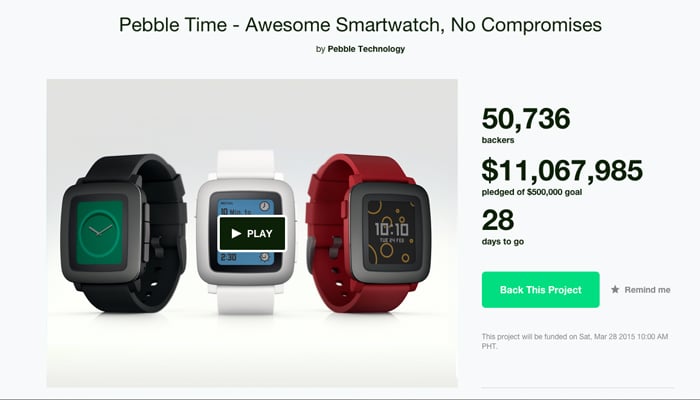 Wow! We're already on the 58th day of 2015 and as we count the days ahead, news on crowdsourcing keep on churning day by day. We sure hope you've already made up your mind with the viral topic on the color of this dress that has shaken the crowd on the Internet. As part of our weekly digest, here's a list of interesting news that caught our attention this week on crowdsourcing, crowdfunding, corporation innovation, smart cities, medical research, and more.
Pebble's Record-Breaking Crowdfunding
Pebble broke a Kickstarter record in two days with the new Pebble Time, a color e-paper smartwatch that can last up to 7 days with a new timeline interface. With more than 50,700 backers as of this writing, the campaign has already accumulated more than $11,000,000 pledges, surpassing the $500,000 target. Want one for yourself? Here's the official Kickstarter campaign page…
Unilever To Leverage On Crowdsourcing 'Tenfolds'
Big brands are banking on crowdsourcing to generate new ideas. Unilever is one the giants serious enough for this quest after rolling out its new crowdsourcing hub dubbed Unilever Foundry that can 'multiply ideas-generation "tenfold" by 2020 and "harness capabilities," UK-based Marketing Magazine reports. This is a platform for innovators, creatives, inventors, and designers for collaboration, co-creation, and open innovation. Read more on how Unilever Foundry works…
Crowdsourcing Helps in Solving Medical Mysteries
And we're not talking about crystal balls or sci-fi diseases here—CrowdMed's crowdsourcing website that helps patients to find out these mysterious diseases is shaping the healthcare industry with its team of medical detectives as frontrunners for solving undiagnosed conditions. CEO, Jared Heyman says the site has 70% success rate and though it won't replace a personal visit to the doctor's office, the company aims to explore medical mysteries that can benefit patients, doctors, medical professionals and researchers. Here's the whole story…
Detective Pulled Out After Turning to Crowdfunding to Pay DNA Test
William Carter, a detective of Indianapolis Metropolitan Police Department was hooked on a cracking the unsolved case of Carmen Hope Van Huss who was raped and murdered more than two decades ago. He turned to crowdfunding to acquire funds for another DNA test and ask for donations—32 people donated and most of them never knew Van Huss, USA Today reports. Carter received more than $1,200, though he only needs $996. However, he was pulled off the case. Read the whole story and find out why…
Dubai into Open Innovation
Is the most populous city in the Middle East ready for open innovation? The Roads and Transport Authority (RTA) of Dubai turns to open innovation by forming a committee to map the innovation strategy, Maktoob Yahoo News reports. An innovation lab will be opened for research and development, the study of materials and technologies such as heat-resistant asphalt, rail vibration sensors and other industrial related researches.
Crowdsourcing Week Jumpstarts its First 4-City Tour in Indonesia
To jumpstart the road to CSW Global 2015 in Singapore, Crowdsourcing Week partnered with Startup Lokal for CSW Summit Jakarta. The attendees were soaked in relevant topics on crowdsourcing and crowdfunding as Epi Ludvik Nekaj presented the 5P's of the crowd economy while Dennis List co-founder of ROCKI shared his experience and success stories on crowdfunding. A live-streamed video will be posted soon read more of the story here… Next stop? CSW Venice 2015! And we hope to see you there!
Image via Kickstarter (screenshot)
What else caught your eye this week? Came across some breaking news or a good thought piece?