The LinkedIn profile of billionaire entrepreneur Naveen Jain lists 10 active roles. He is driven to solve the world's biggest challenges through innovation, and is the founder of several successful companies including Moon Express, Viome, Bluedot, TalentWise, Intelius and InfoSpace. To him, a 'moonshot' means any undertaking that is inherently difficult, unproven and risky, but also carries the potential to change the world and move mankind toward a better future. We are very excited that Naveen will be talking on stage with Crowdsourcing Week's CEO at our global conference in Washington D.C. running 24-28 October 2018.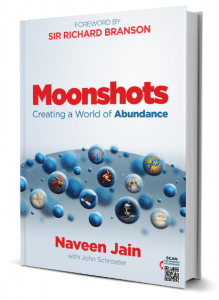 To explore and understand more of Naveen Jain's drive and insights we can't offer better advice than refer you to his first book, Moonshots: Creating a World of Abundance, which is available on bookstands from 23 October 2018, the day before the start of our CSW Global 2018 conference in Washington D.C.
The book reveals remarkable insights from Jain's "super entrepreneur" mindset that incites him to create an exciting and abundant future, and shares his personal journey and how he's applied these powerful concepts to the Moon Express enterprise.
Given our conference's focus on innovation in the space frontier – among other themes – Moon Express is a good place to start to talk more about Naveen's enterprises. Moon Express is the only company in the world to have the permission to leave Earth orbit and land on the moon with the goal to harvest planetary resources and to develop infrastructure to make humanity a multi-planetary society. This U.S. Government approval, granted on 20 July 2016 as a signatory to the UN's Outer Space Treaty, is a unique factor that sets Moon Express apart from its competitors.
At the heart of Moon Express is the sentiment that the Moon represents a further continent to those on Earth, with a landmass the combined size of North and South America. In 2009 NASA verified the presence of vast quantities of water, which not only supports life but can also be used as rocket fuel through isolating its constituents of hydrogen and oxygen. So as well as providing vast mineral resources at or near the surface that can benefit mankind after billions of years of asteroid bombardment, the Moon can also become a fueling station for travel further in to the solar system.
The MX marque of robotic spacecraft systems will collapse the cost of accessing the Moon, introduce a new commercial purpose for government missions, democratize lunar research and exploration, and re-set the norms for commercial space transportation and exploration beyond Earth's orbit. Their third expedition is scheduled to bring back the first samples of lunar dust and rocks for 40 years and share them; providing scientists with a new source of lunar materials for research, and making quantities of them available for commercial purposes and to collectors.
That's the talk, what about anything concrete? A multi-mission launch contract signed in October 2015 with Rocket Lab USA allows for up to five launches, and Moon Express occupies Launch Complexes 17 & 18 at Cape Canaveral Air Force Station, adjacent to the Kennedy Space Center on Florida's Space Coast. On 1 October 2018 the CEO Bob Richards announced $12.5M of new funding that puts Moon Express on track to launch the Lunar Scout MX-1 expedition in July 2020. Keep up with their developments on Twitter.
Viome is Naveen's wellness technology startup focused on disrupting healthcare with the goal of "making illness elective." It becomes each person's own choice to be ill or not, because they claim they can make it avoidable. Viome identifies microbial biomarkers that are predictive of chronic diseases, and applies artificial intelligence and machine learning to aggregate the information they gather to compare the biomes of healthy vs. unhealthy individuals.
Every person is biochemically unique, and the microbes in your gut produce thousands of chemicals (called metabolites) that affect your overall wellness. After Viome analyses a stool sample  they know how to adjust each individual's microbial imbalance through personalized nutritional recommendations.
They provide tailored diet and lifestyle recommendations that enable a rebalancing of the gut microbiome inside the body for the goal of better digestive health, longevity, skin quality, brain function, and any other physiological parameter correlated to the host of bacteria living in our guts. Anyone can fine-tune the function of their gut microbiome to minimize production of harmful metabolites and maximize the production of beneficial ones.
The results include more energy and illness resistance, and can give early warnings of conditions synonymous with the possible onset of chronic diseases such as diabetes, obesity and Alzheimer's that develop over a long period of time. The first test and set of recommendations is the start of an on-going process of monthly re-tests to monitor further changes as each person's system responds in its unique way to the new diet and lifestyle.
Though Viome hasn't gained universal acclaim. Cynical doubters see the continued monitoring as simply a means to enlist the gullible for the sake of the company's profit, which ignores the fact that body systems do change and early signs of disease do develop over time.
In July 2018 the company raised a further $5.5M and tripled its employee count since July 2017 to 125. This brings the total funding raised so far to $26.5M.
And so the overall scope of Naveen's book Moonshots is wider than just space exploration. We live in a world where anything is possible, with access to technology that is evolving at an exponential rate. Exponential technologies in the hands of imaginative entrepreneurs can lead us out of a world driven by scarcity and into an economy of abundance. And anyone and everyone, including you and me, can play a vital role in creating this better future.
The place to be to learn even more about the application of crowdsourcing models to deliver an economy of abundance is at our CSW Global 2018 conference running 24-28 October, where Naveen Jain will be on stage. The two main conference days are 25 and 26 October. Here are links to a full agenda and the remaining tickets.