Sometimes I work with freelancers. No, that's not true. I turn to freelancers almost every day: I ride Lyft and order food from Uber-Eats. When I go on a vacation I use Airbnb; when I shop I visit Etsy.com. Sometimes I ask for creative and marketing assistance on Fiverr and Upwork. I'm a great champion of the crowd-work Gig Economy.
Crowd work is a form of employment in which crowdsourcers use an online platform to outsource tasks to members of a particular community. At the high end of the scale is creative labor that requires professional knowledge, skill, and decision-making, such as software development, video production, audio editing, content writing, and graphic design. At the low end is microwork, in which complex projects are broken down into extremely small tasks, such as entering data, tagging images, transcribing scanned text, and checking product ratings.  
There are 2,300 online crowdsourcing platforms operating globally, including Amazon Mechanical Turk, Top Coder, and Upwork (all American), Freelancer.com (Australian), and Twago (German). A 2016 study by the McKinsey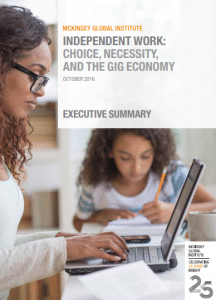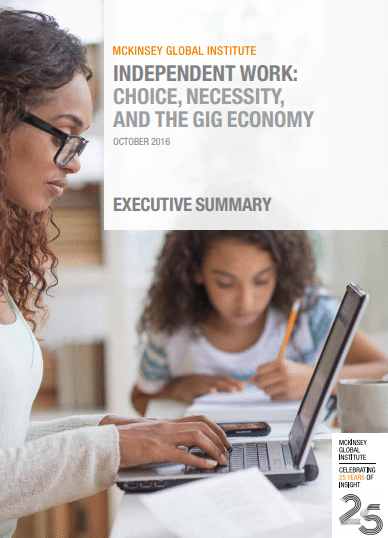 Global Institute reveals that "up to 162 million people in Europe and the United States – or 20 to 30 percent of the working-age population – engage in some form of independent work." The total collective annual earnings of U.S. gig workers stand at $1.4 trillion, according to the PYMNTS Gig Economy Index. The U.S. Government Accountability Office estimates that as many as 30 percent of workers now have contingent jobs, and the World Bank argues that by 2020 crowd work will reach a turnover of $25 billion.
For many who work in the gig economy, this flexible structure gives them the freedom to work whenever they choose. Students, older workers, and parents looking after kids do so to supplement other sources of income, but the reality for most "self-employed contractors" is insecure work, and no employment rights worth speaking of. No wonder a recent ruling from the California Supreme Court makes it more difficult to classify people as independent contractors instead of employees. The decision comes amid increasing pressure to revise how gig workers are paid, which promises to shape how the companies operating in that world conduct business.
But these are not the only challenges gig economy workers face: a recent survey from Tipalti, an accounting software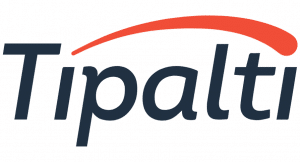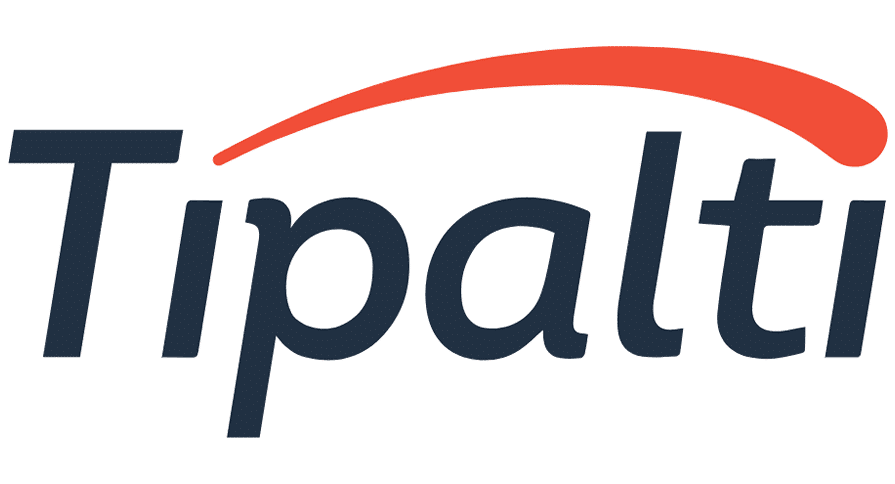 FinTech business, found that "poor freelancer payments processing has significant implications on [workers'] loyalty to an online marketplace." Nearly 74 percent of respondents to the survey would "leave a marketplace because of payment issues." The turnover is undoubtedly significant, as 29 percent of respondents reported instances of not being paid for their gig work, and 27 percent reported instances of late payments.
When companies only offer a single method of payment, they make things difficult for gig workers. Someone with an established bank account may be frustrated that they have to deal with money transfer delays and fees from PayPal. A worker in a foreign country might lose money converting USD into their country's currency in addition to the hassle. Direct deposits can be problematic for the large number of people in the world who are unbanked and are now becoming more involved in gig economy. By offering multiple payment options to gig workers, businesses and marketplaces make it easier for them to accept work. Knowing they can get paid in a way that meets their needs can be an incentive to gig workers to stick around.
On-demand workers now want to be paid through proprietary apps that can issue payment in a variety of forms, including direct deposit and e-payments. PaymentsSource reports that a growing number of workers are being compensated through prepaid cards. When combined with mobile apps and jobs, these card programs enable instant payment upon completion of the task. Uber has started a pilot program in San Francisco that allows drivers to instantly cash out earnings at an ATM through a mobile bank account.
There are other innovative solutions as well: Tipali's payment solutions "address the difficulties associated with making mass global payments" through a cloud-based solution that facilitates punctual and accurate cross-border payments from its clients to their gig economy freelancers in their own currency.
The workplace twenty years ago was a very different place from what it is today. It is difficult to assess how the gig economy in general, and payment for these workers in particular, will look in the future. But the time is ripe for another evolution in the ways people work and get paid for it.
Tipalti is a Premier Partner of our CSW Global 2018 conference in Washington D.C running October 24-28, and their CMO Rob Israch is speaking on "4 Payment Must Haves for the Global Crowd."  Tickets are available right now with some time sensitive offers for Team Passes and Full Access tickets.