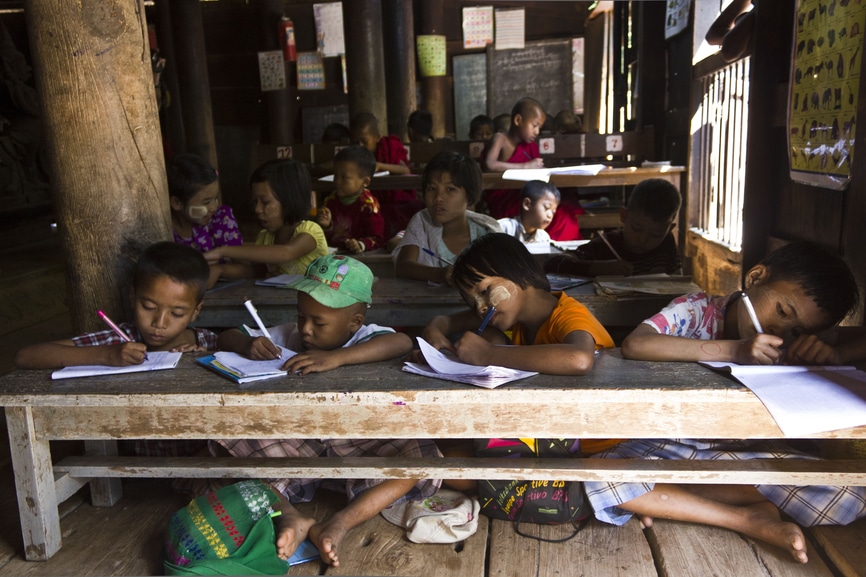 The burgeoning e-learning industry in Asia is expected to hit $12 billion by 2018 according to New Ambient Insight Report. Labeled as the second-highest (next to North America) self-paced e-learning market, countries such as Myanmar (50.2%), Thailand (43.7%) and Malaysia (42.3%) have the highest growth rate. As technology evolves, it facilitates the improvement of one of the key pillars of our society: education. What do policymakers and entrepreneurs see in this booming sector? What is the future of education?
Self-paced e-learning is a 21st century learning method. While the typical classroom set-up remains indispensable in as much as a curriculum functions as the backbone of the universities, its delivery is flexible and accessible through the Internet via mobile devices, PCs, laptops, and tablets. The platforms and channels vary on how student and teachers interact; instructions and lessons are disseminated through a virtual environment, archived information, or a mixture of both.
These five catalysts of growth, I believe, are changing the Asian education landscape.
1. Deployment of National Broadband Education Networks
America's e-rate program has been studied and emulated in different countries in pursuit of connecting the unconnected to the Internet. In Asia, South Korea ranks among its counterparts (and the rest of the world) for having the fastest broadband connection in its schools. It's also examining the role of technology in education and just recently, its project on establishment of electronic education network for a state university was completed. Meanwhile, the Department of Science and Technology's Information and Communications Technology Office (DOST-ICTO) in the Philippines recently announced its "Free Wi-Fi Internet Access in Public Places" project that will be available in public schools, parks, libraries, and among others before the end of 2015.
2. Government's Initiative on (State and) Education Policies
Japan, Hong Kong, India, Indonesia, Singapore, Malaysia, Taiwan, Lebanon, and Thailand are also rallying the vision of 'connected cities,' which also shape their government education policies such as e-Japan broadband policy where highly specialized education can be accessed at home. And if the Singaporean government heeds the call for more support for stay-at-home moms of People's Action Party (PAP) Women's Wing, e-learning options will be available and prevalent to enhance their skills through the SkillsFuture campaign.
3. Schools Adopt New Technologies
Emulating South Korea's efforts in deploying technologies, neighboring regions are also pursuing new technologies and including online courses and tools in the curriculum. According to South China Morning Post, Students at the Open University in Hong Kong can now access online teaching materials for free. On the other hand, primary school lessons are also presented in video clips and Math and English exercises are made available on online forums. Indonesian students at Universitas Gadjah Mad are using cloud-based enterprise-grade productivity and communication services run by Microsoft in the updated e-campus portal. Taiwan's OCAC (Overseas Community Affairs Council) has its own e-learning portal for Chinese education through the "huayuworld" (www.huayuworld.org), which provides "online e-books, teaching plans, and teaching resources as well as download services."
4. Digitization of Content
Tracing the roots of Open University's initiative on free online materials, The Education Bureau launched the E-textbooks Market Development Scheme in 2012 to subsidize the non-profit organizations to create e-textbooks as economical alternatives for students. In self-paced e-learning, native and web apps are available across mobile platforms—iOS, Android, Windows Phone and among others—which can be downloaded for free or in premium prices (and still cheaper compared to the actual classes). Language e-learning front liners such as Duolingo, RosettaStone, and LingQ, as well as other e-learning platforms like Linda, Udemy, Coursera and free online preparatory tests of IELTS and TOEFL are readily available in just a few clicks.
5. Enrollment in Online Higher Education
Global Industry Analysis (GIA) releases a comprehensive report, showing the rise of student enrollment, which drives the growth of education services market; it is expected to reach $1.4 trillion dollar by 2020. Top universities are integrating new software and hardware upgrade in their e-learning systems to facilitate learning methods, whether in a classroom, virtual environment or a combination of both. In India, online schools have been economic solutions for students who can't afford to attend the traditional college according to ICEF Monitor and the programs are expected to be valued at a whopping $1 billion in revenue by 2020.
The Future of Education: New Ways and Thinking for Collaboration
Linear learning in classrooms remain indispensable, but the government, policymakers, and educators can't overlook the technological resources available to supplement the traditional methods for the new generation of learners—computer literacy is now a requisite to compete, and also to equip these students, soon-to-be professionals, and entrepreneurs as globalization connects the developed and emerging countries.
But what about the unreached people groups and indigenous communities that the Internet can't reach? What about the new ways to teach children for them to learn enthusiastically beyond the 1,2,3 and ABCs? This is where the $15 million global learning competition of XPRIZE can become a starting point for innovators in the field of education.
This project invites innovators to create scalable technologies to empower children them to take control of their learning. Matt Keller described the result of the ongoing crowdsourced competition to The Washington Post, "The sky is the limit here. We expect to see a number of novel ways to customize individual learning, including solutions related to artificial intelligence, gamification and many others areas." Aside from that, XPRIZE is also inspiring and motivating young people to participate in the competitions and create unique opportunities for global impact the "XPRIZE style."
Autonomy, Interaction and Collaboration
In the future, I believe the watchwords in education (and e-learning) are autonomy (self-education) + interaction and collaboration. Think of the new generation of Zuckerbergs, Jobs, Gates, Karp (of Tumblr) and other entrepreneurs and innovators to come out from these watchwords. In fact, these people were college drop-outs, yet were able to make it to the top in pursuit of their passion. Virgin's CEO Richard Branson said in his interview with Bloomberg that entrepreneurs don't necessarily need school; he shares how he approached educate in the real world to build his business despite his battle with dyslexia.
However, I also find these external factors such as poverty, corruption, incumbent regulations, injustices, culture and mindset, and lack of understanding of what new technologies can contribute as deterrents for emerging countries to adopt them and educating policymakers is a must to facilitate the process.
Your thoughts?
Image credit via Deposit Photos