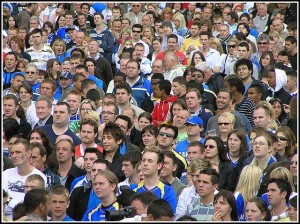 I first spoke with Andy in early May and he was educating me on open innovation. And on June 5th, NineSigma launched the first open innovation social media destination, NineSights. I was very curious about NineSights so I decided to reach out to Zynga to learn a bit more about NineSights.
Here is our interview:
RN: So how does NineSights help solution seekers connect with online resources?
AZ: Solution seekers can post a need on NineSights or locate experts and get answers to their needs by communicating with other solution seekers and providers. They can also search the technology offers on the site to see whether there are offers that address their needs. For those who are new to open innovation, there are helpful resources with information on best practices and tips on how to be successful in collaborating with external innovation partners.
RN: What is the process of vetting providers before they become part of the NineSights community?
AZ: It is a top priority of ours to maintain a high-quality community that enables solution seekers and providers to interact in a way that drives business value for both parties. We have a team of people that vets each provider and seeker who joins the site by verifying their information to ensure they can contribute to the site and add value. The quality control process extends well beyond vetting users, though. We have established a concierge service where we will walk a user through the site to help optimize their experience and make them as productive as possible on the site.
Additionally, the community is moderated by NineSigma team members who are skilled topic experts and facilitators. Each NineSigma team member is able to clarify solution seeker needs and recruit the best solution providers for the needs.
RN: What types of companies are using NineSights to find solutions?
AZ: Utilizing the principles of social media, NineSights is a diverse innovation community that welcomes organizations of all sizes and from all sectors including industry, academia and the public sector. One of the advantages of the community is that a solution seeker can also be a provider and post technologies and solutions that are "for sale". Seekers on the site are large companies that are leaders in their industry as well as smaller companies with technology portfolios that are looking for solutions to advance their product development.
RN: Do you see solutions seekers collaborating more with experts outside of their industry? Why or why not?
AZ: We find that companies are very open to collaborating with others outside their industry but typically don't know where to start or how to access those external resources. Once a company has made the decision to go 'outside their four walls', the logical next step is to look beyond their industry for ideas and solutions that are being successfully applied elsewhere. An innovation intermediary like NineSigma can help a company articulate their need in a way that it will relate to innovators in other industries who might have a potential solution.
RN: What is next for NineSights?
AZ: NineSights is a streamlined innovation environment where there are no barriers between industries, size of company or technical disciplines; where innovators can have direct conversations with one another and explore new collaboration opportunities. We will soon introduce virtual collaboration spaces on the site, and we will offer trending reports for those seekers and providers interested in monitoring activity in specific technology areas.
As the community continues to expand, we foresee that more and more companies will turn to NineSights as a means to augment their own corporate innovation portals and tap into a broader pool of solution providers. With regards to what else is next for the site, we will keep listening to our users and add new functionality to enhance their experience and value derived from being a member of NineSights.
—-
Oddly enough I was interviewing Francois Petavy, CEO of eYeka. And one of my questions to him was about innovation and how the crowd has flipped the traditional model. You see the crowd has given companies a tool that allows them to distill multiple ideas and execute them rapidly. And NineSights seems to have infused that tool by creating a channel that fosters massive collaboration.
Call To Action
What are your thoughts on NineSights? Do you think an environment that is built to foster innovation can be a tool for your business ideas?
—-