This is our theme for Crowdsourcing Week in 2020:  BOLD // Crowd 2.0 powered by AI and Machine Learning. It's where crowdsourcing takes a major transformative step rather than a series of incremental ones. At the same time as recognizing crowdsourcing as a business discipline is at an infant stage on a steep learning curve in terms of widespread recognition of its uses and benefits, those of us close to its centre are truly excited about its future prospects. They will come faster than many anticipate, so let's prepare!
I believe the world-changing destiny of crowdsourcing is to multiply the numbers of people involved from the millions (Quora, as an example, claims 300 million monthly users either posting or answering questions) to the billions. The scope and scale of what can be achieved will be transformed from solutions to niche-market or specific focus questions and challenges to mass adoption by governments, related agencies and providers of mass goods and services. Mass civic and consumer participation will bring about real-time democracy and intellectual evolution at a scale never before seen or even imagined. And mass participation will in turn confer mass acceptance.
What makes me so certain?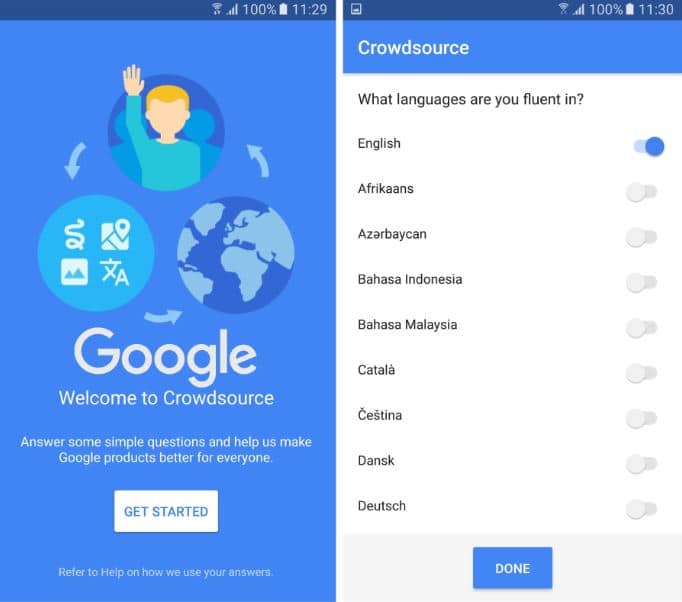 Google. Or more specifically, Google Crowdsource. Since August 2016 Google has asked and encouraged its 1.7 billion worldwide users, who represent 87.5% of all mobile search traffic, to help improve the quality of services such as Google Maps, Google Translate, and others, so that everybody in the world can benefit. It leverages a sense of community goodwill to others rather than offering a more tangible reward.
This is many people's first exposure to crowdsourcing. Google's video explains how they will build better products for everyone through machine learning that identifies patterns to learn specific skills, patterns waiting to be discovered within a mass of data submitted for free by Google users.   
Machine learning-based AI has an insatiable appetite for data. The more it has, and from a wider diversity of sources, the better decisions it can reach and the better solutions it can provide. Hence the importance of Google Crowdsource's access to so many people.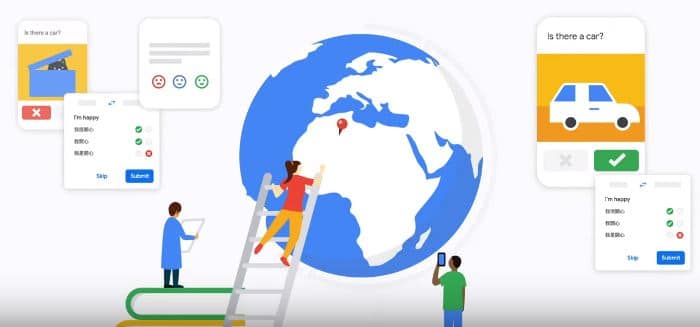 An AI market research firm found nearly 80% of time sent on AI projects involves collecting, cleaning and labelling data. It's little wonder that many machine learning companies offload data tasks to third-party crowdsourcing platforms who recruit volunteers willing to lend a hand, people who often enjoy the description of being a "citizen scientist."
Where does this take us?
Much of the most influential innovation these days is the creation of new business methods and models rather than breakthrough technologies. Let me give a couple of examples. Autonomous vehicles are going to be breakthrough technology; creating Uber-like mass private transport systems, or providing a mass accommodation Airbnb service before owning a single hotel room, were breakthrough business models. 
What do they have in common?
The power of the crowd. These examples of first generation crowd-based business models, Crowd 1.0, are based on direct C2C contact between providers and users, decentralizing processes where to a high degree they can run themselves. User and provider feedback becomes a self-regulating means for grading all participants in the transactions and maintaining the integrity of the model. Smartphone technology was a catalyst.
So what increasingly powers the models?
Artificial intelligence built through machine learning. As machine learning and AI accelerate, I expect the innovation of new Crowd 2.0 business models to accelerate as crowds become not only the users but in-part the business model creators as well, increasingly using 5G technology.
Because while machine learning is collating, cleaning, labelling and spotting mass data trends and patterns, humans are freed from these tasks to innovate, to think beyond restrictive parameters of algorithms, and display our innate and cognitive creativity. Perhaps the ultimate aim should be to combine artificial intelligence with human intelligence to create Super Intelligence. 

Planning innovation
Innovation is not confined to only "Eureka" moments. Innovation Management is a blend of art and science to cultivate new, better and disruptive concepts and products. Beyond crowds providing data, part of the Innovation Management process can harness the creativity of the crowd to source new ideas in areas that are ripe for transformation, putting crowdsourcing front and centre as an integral part of a new business development strategy.
We all recognise the pace of change gets ever faster and faster, and mass crowdsourcing driven by AI and machine learning is coming. Let's be BOLD, and audaciously and with self-assurance be ready for when crowdsourcing will involve a greater mass of humanity. There are over two billion people who have not yet been heard, who knows what they will be able to teach the rest of us when they have a voice? Let's Power Breakthroughs Together! Let's #beBOLD!