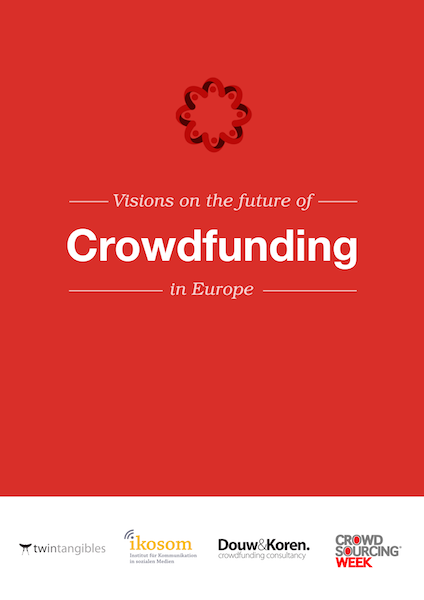 The European crowdfunding market is an exciting place to be in. Crowdfunding as a new way to finance business, creative or social goals is revolutionizing the way businesses, artists or even the government thinks about financing.
With this new opportunity, comes a huge overload of data – hundreds of crowdfunding platforms to navigate through. Payment structure, legalities are all topics that need a lot of answers and there in no one place to look.Crowdsourcing Week and our partners in Europe are tackling this challenge head on. With a unique tie-up with European crowdfunding platforms, we hope to organize a wealth of useful information on the state of crowdfunding in Europe.
Daniela Castrataro from Twintangibles (Co-Organizers of the first Crowdfuture-Conference in Rome and Co-Founder of the Italian Crowdfunding Network), Gijsbert Koren from Douw&Koren (Dutch Crowdfunding Expert and Organizer of the Amsterdam-Crowdfunding-Conference), Karsten Wenzlaff from ikosom (German Crowdfunding Expert and Organizer of the Berlin-Crowdfunding-Conference) and our own Epirot Ludvik Nekaj are publishing a valuable reference book that will help organize crowdfunding developments across Europe.
Key Features of the Publication:
It will offer an overview of crowdfunding platforms in Europe, including businessmodels, legal structures and success stories.
The document will provide the participants at Crowdfunding Events in Berlin, Amsterdam, Singapore and others with insights into the European crowdfunding market.
It will provide researchers, politicians, bankers, investors and government officials an overview of the impact of crowdfunding in Europe, now and in the future.
The publication will also provide relevant insights into platforms and contact information for key personnel for further business development and networking. It also aims to serve as a business directory featuring the who's-who in European crowdfunding.
How Will the Publication be Developed:
All crowdfunding platforms are invited to fill out a brief survey to gather market data.
The market data gathered will illustrate the state of the European crowdfunding landscape, highlight salient data points and initiate a discussion about future trends and developments in Crowdfunding and Crowdinvesting.
Each platform that submits the survey will receive a free 1/2 page mention in the publication.
Platforms can buy additional coverage in the publication by supporting the publication through the crowdfunding feature through €250 or €500 contributions. With the paid feature, platforms can submit case studies, contact information and other relevant marketing information.
The publication will include thoughts by leading crowdfunding experts and speakers from the conferences in Berlin, Amsterdam and Singapore.
In addition, the publication can be supported through crowdfunding (appropriately!) through target audiences who will greatly benefit from it – researchers, politicians, bankers, investors and government officials.
Support the crowdfunding campaign>>> Here