When I set up my marketing business I sketched out a rough idea for a company logo and wondered what to do next. I'd heard of an online design service where I could search for someone to complete the task for me at a starting price of $5. It seemed silly not to give it a try, though I didn't realize when I started the process that I was actually "crowdsourcing a design solution from a global online community of freelance designers." Five years on, I'm reviewing a copy of the first global study of the freelance design industry, a 46-page report based on the findings from sampling 10,000 practitioners in 42 countries.
"Design Without Borders: The Future of Freelancing" is a report produced by 99designs, who have offices in California, Australia and Germany. It shows the freelance design sector is thriving, and the primary motivation for most of the designers to work freelance is the creative freedom and personal flexibility they enjoy. Only 5% said it was out of necessity.
It makes creative work more accessible
Creative industries have historically flourished in major metropolitan areas such as New York, London and San Francisco. They were magnets that drew in the talent, but not all the talent wanted to be there. 76% of freelance designers now live in smaller cities, towns, villages and rural areas.
The difference, of course, is due to the internet and technology. Designers work electronically and can do so from anywhere with access to the web. Online platforms that provide a market interface between clients and designers are the major source of work (57%), with the report adding that 11% of designers' clients are found through social media.
Freelance designers – and their solutions – are more diverse
The end of geographical ghettoization of design talent has opened the sector to a wider range of people from more diverse backgrounds regarding ethnicity, religion, gender identity, location, physical appearance or state of mind. And this contributes to a wider range of perspectives: clients get to choose from a wider range of design solutions.
"Our industry is made better by opening itself up to more voices and more diversity," 99designs' CEO Patrick Llewellyn explains. "We look forward to a world where creativity meets possibility and design is truly global."
Freelance designers are global citizens
40% freelance designers have agency experience, though the research found that 52% of the under 30 year olds who'd had agency jobs quit them within two years.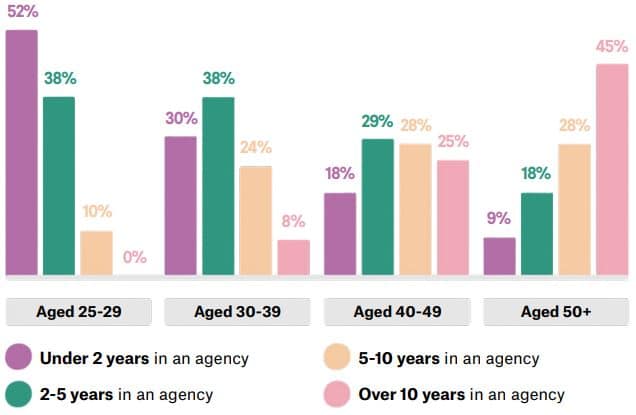 Perhaps they believed they had enough experience to fund some travel and join the other digital nomads in the gig economy. 43% of freelance designers have lived and worked abroad, and between 6% and 7% in every age bracket have done so in 10 or more countries.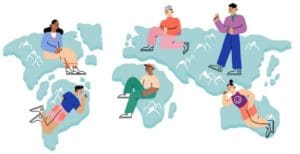 Though freelance design work is also a means for those living in less developed countries and economies to gain work experience, build up a portfolio of work they would never be able to do through working for local clients, and use it to springboard personal success. 85% of freelance designers work for clients outside their own time zone.
Driven to succeed
The idea of upskilling and accelerating work experience is a strong theme. Just 15% believe formal training is crucial to succeed. 74% claim to have gained skills and insights from YouTube tutorials, and at the time the research was conducted 60% were actively teaching themselves new skills, mainly online. Many have a firm end-game in mind through setting up their own agency.
99designs
99designs has grown from a small online forum in 2008 to a global creative platform that makes it easy for designer and clients to work together. Their worldwide community of talented designers is a go-to solution for businesses, agencies and individuals to access creative solutions. Their COO Pamela Webber was a speaker at our recent CSW Global 2019 conference in San Francisco in October.