The Virtual Crowd Summit attendees on September 17 heard insights covering Collective Consciousness from a true collection of global experts.  This article recaps the key issues the speakers covered regarding the benefits, demands and procedures of pulling together sometimes thousands of contributors for co-creation, open innovation and prize challenge projects.
Crowdsourcing is all about harnessing the collective power and intellect of crowds. These days it's done online, though for thousands of years vast crowds were physically assembled for the creation of iconic structural achievements including the Pyramids of Egypt, the Great Wall of China and the Panama Canal.
Today, people can remain in their own physical space, connecting online to help resolve other people's knowledge-related issues. However, even though humans are naturally innovators, we have to beware of urges to vegetate rather than innovate. The South Korean phenomenon Gangnam Style has apparently accounted for 200 million viewing hours – enough man hours to have completed twenty Empire State Buildings!
A factor that hinders acceptance of crowdsourcing as a solution to an organization's challenges is the difficulty for many leaders and decision-makers to let go their tight grip on the levers of power. Most decisions are made based on a cost comparison and risk assessment of known alternatives, referring to examples of what has happened in the past.
Some liken it to trying to drive while looking only in the rearview mirror, whereas crowdsourcing provides a range of new solutions, perhaps totally untried, using technology or techniques that are new to those seeking the solutions. It can take many people beyond their comfort zone, and make them nervous. So why should they do it?
Steve Rader, NASA's Deputy Director for the Center of Excellence for Collaborative Innovation, reminded us the attritional impact of an ever increasing pace of change means that even very successful companies are more likely to last around only 20 years these days rather than the 60 or so that came to be expected. 
With technology being developed in every business sector it's more and more difficult for companies to keep up to date. Employees show a natural tendency to rely on technology they are familiar with, and an average employer personal development spend of $1,000 per employee p.a. is not enough to keep them up to date. These are reasons why even an organisation like NASA – one that literally does employ rocket scientists – turns regularly to the wealth of open talent and expertise that can be tapped in to through prize challenges.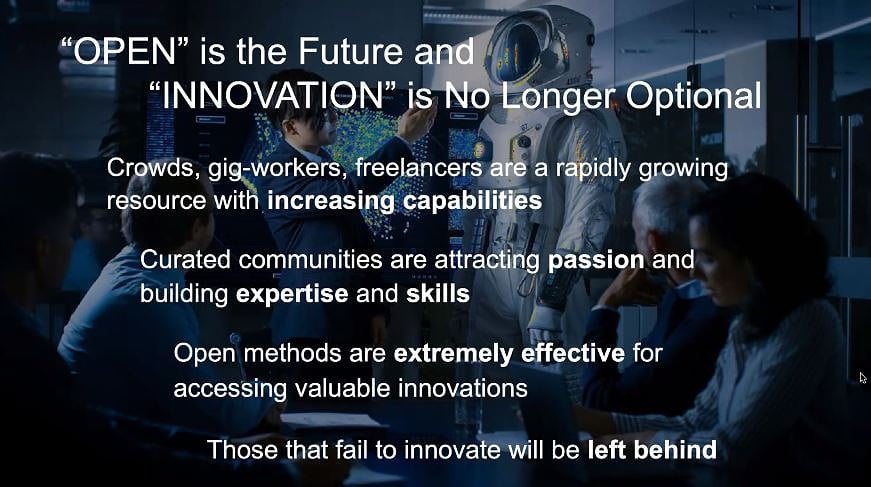 Kal Sahota of prize challenge platform HeroX echoed these sentiments. The internet has accelerated the frequency of disruptive ideas being adopted, and it will only speed up. No organisation's single team of people is big enough to compete.
Her vision of a future of work is that boardrooms will have to open their doors increasingly to receive open crowd input, then close them again for their in-house teams to work on a range of new developments sourced from the crowd.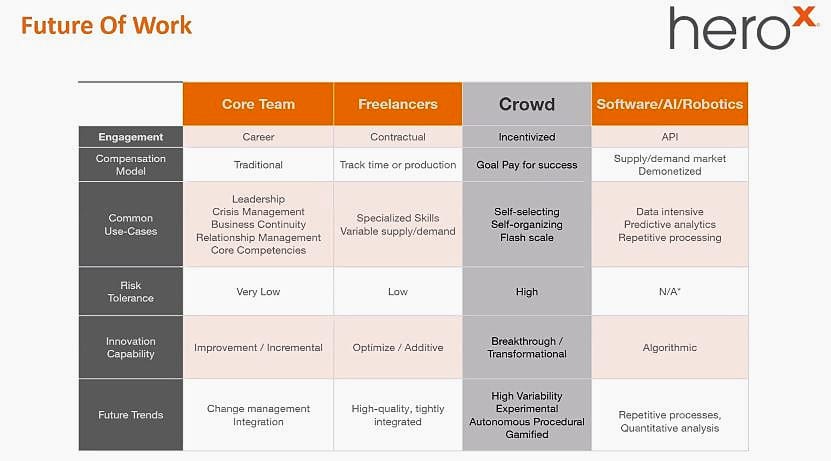 Louis Rosenberg, CEO of Unanimous AI, took this further with his explanation of using collective wisdom from a crowd combined with generating a consensus – swarming. This technique does more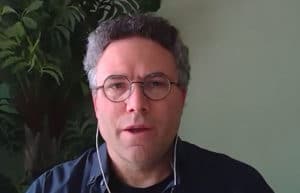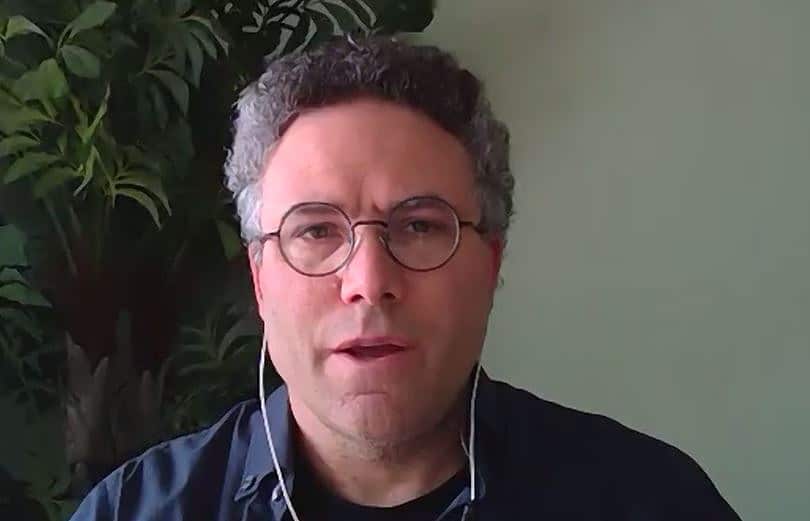 than simply aggregate data and input from groups of people. Through tracking responses when everyone in a group addresses an issue at the same time, it's possible to see the development of a group consensus in real time. Group members will alter their initial opinions in response to the strength and directions of other varied opinions shared within the group.
We see the collective behavior of swarms in the animal world, and Unanimous AI's business and academic case studies show that swarm behavior improves human solutions to issues including Wall Street financial investments, medical diagnostic assessments, and even cockpit design of combat aircraft at Boeing.
Another exemplary user of crowdsourcing is the World Wildlife Fund's 'Earth Hour' initiative. Bonnie Chia, Head of Brand at WWF International took us through how Earth Hour began in Sydney, Australia, in 2007, as a crowdsourcing moment to get everyone to dim their lights for an hour.
Coverage of the international annual event is a great way to introduce the topic of sustainability to people all year round, and encourage them to think about the future and the solutions that are needed. It reassures everyone they are not alone, and are part of a global movement based around citizen science.
Everything spins off having a massive, newsworthy event where WWF owns that one hour a year. WWF makes pre-event content available for activists to access from an open source and create their own media messages. Initially, WWF were not keen on this approach, believing they needed to protect their "brand values."  In time, it became apparent that more people bothered to involve themselves if they were able to make personal decisions over the messages they contributed to the overall media presence. Less central control by WWF, a lighter grip on the levers of power, resulted in a bigger and better outcome.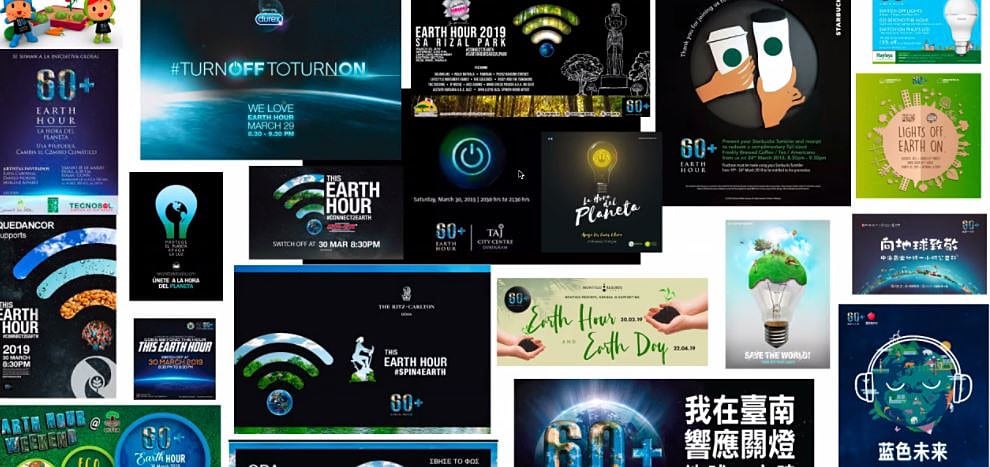 Citizen science applied to sustainability is a popular crowdsourcing theme. Aurelie Wen, CEO APAC at open innovation platform Agorize, confirmed that just over half of their open challenges relate to sustainability. Many of them have targeted some of humanity's most pressing problems, as set out in the UN's seventeen Sustainable Development Goals.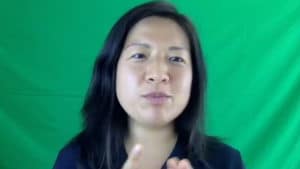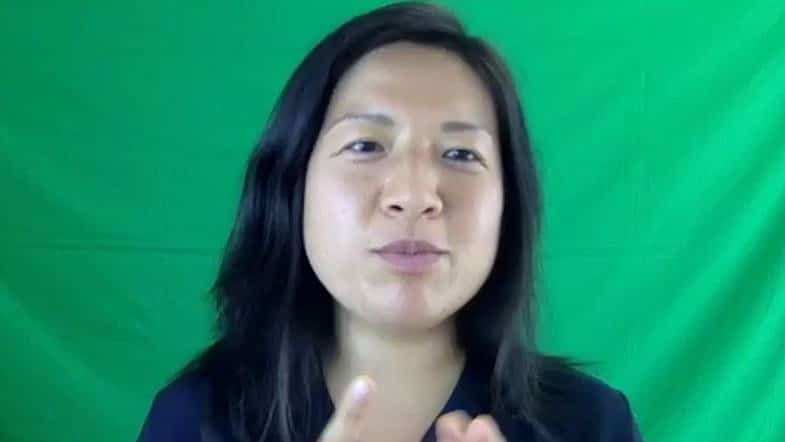 The number and enthusiasm of citizen scientists to involve themselves is, Aurelie believes, a sign of people's frustration with governments who are slow to act, or appear to not make the best decisions: "More governments should be prepared to take tough decisions to make their electorate's lives easier, not easy decisions that make lives tougher."
Yet even at Agorize, some of their clients fear being unable to control the narrative of change. A tight control of the crowdsourcing process results in solutions offered within controlled parameters. Real innovation comes from little control, and a brave client who is prepared to rely on their cleverness and flexibility to assess a broad variety of response and identify the nuggets.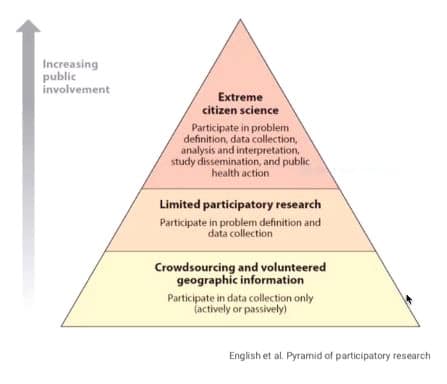 As CMO of account payables automation provider Tipalti, Rob Israch has seen the impact of clients embracing a crowd-based business model.  Crowdsourcing has opened up access for them to skills on a scale that would never be possible in a traditional business.
These clients include Skillshare, a marketplace for video instruction in creative arts and skills; and Flytographer, a Canadian platform that allows people to book a professional photographer at their destination point on journeys they want to particularly remember.
Accurate, on time payments in a multitude of cross-border currencies, from users and to providers, need to be handled as professionally as a paint palette or a camera for such platforms to maintain their leading edge status.
Online group research conducted in June 2020 by Synthetron, based in Belgium, demonstrated that the disruption to normal life caused by Covid-19 lockdowns has resulted in sudden and big shifts in the values and culture of many organizations.  Synthetron's CEO Joanne Celens explained these organizations are now in unchartered territory. They not only need new information, but a new set of metrics against which to make decisions.
These new standards are summarised by the acronym HEROIC – where C stands for the recurring theme of courage to let go of command and control, and prepare for not being prepared. The research methodology and findings can be downloaded from their site, and there is a follow-up event in November for anyone who wants to take part.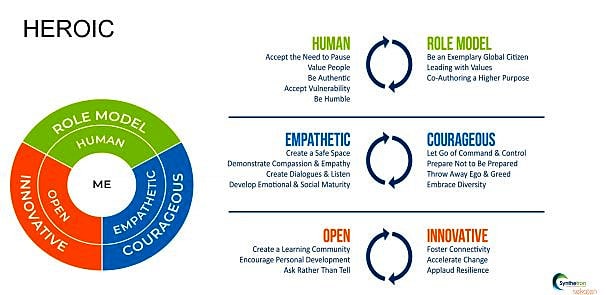 To close, many wonder whether AI could be a replacement, and to what degree. However, it is essential to understand the difference between human and machine intelligence, and develop hybrid-intelligence interfaces that optimally exploit the best of both worlds, said Janet Rafner, Director of Learning at ScienceAtHome, Aarhus University in Denmark.
How much data would be required and could neural modelling predict crowd behavior accurately, whether it's what to buy or who to vote for? Many of the learnings in this field are owned by the major digital FAANGs companies. Independent researchers are growing their knowledge from a series of Skill Lab games and hope to restore some non-proprietary balance to democratize access to such data.
Watch this space – in a few weeks we will release a recording of the event for registered attendees to see each presentation once again in full.