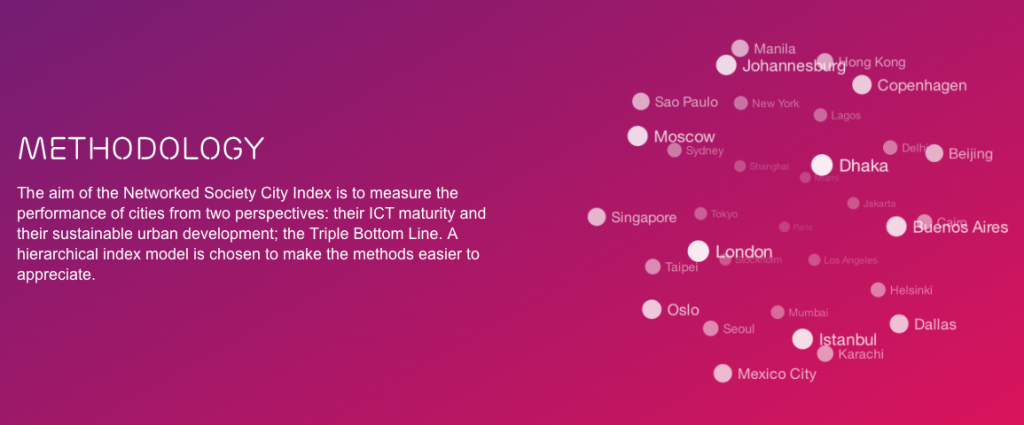 Ericsson has launched a crowdsourcing component to its Networked Society City Index. Its aim is to measure the performance of cities from two perspectives: their information and communications tech maturity and their sustainable urban development; the Triple Bottom Line (TBL).
A hierarchical index model is chosen to make the methods easier to appreciate. The index is trying to link the complex connections between information and communications technology and the triple bottom line of economic (productivity and competitiveness), social (education, healthcare and crime rates) and environmental (climate change, resource use and pollution) prosperity at the city level to compare and document the progress smart cities around the world are making.
The rational behind the project is based on the "analysis of 120 scientific, case-studies and business reports forms the foundation for the identified TBL progress linkage to ICT. It is clear that ICT has become more evident in everyday urban life. ICT spurs economic development; it is positively correlated with GDP growth, and therefore affects quality of life with improved wellness, education and inclusion."
A smart corporate move by Ericsson, the launch of this City Index tool, per Ericsson has, "..triggered lots of valuable and relevant discussions primarily with city and government stakeholders, and the comparison tool should spark further conversations."
The website already lists diverse case studies from Lagos to Sydney that show a whole range of successful initiatives taken that involve the use of ICT to improve various aspects of society, the economy and the environment and invites interested people to submit their own case studies.