Crowdsourcing is a great way to generate novel ideas and has been adopted by corporations and governments around the world. But crowdsourcing has the potential to change the world – to solve some of humanity's most pressing challenges by tapping into ideas generated by scores of people.
This was the seed of the Google Lunar XPRIZE (GLXP). Forty years ago, humans left the Moon, and never returned – until Google and XPRIZE decided that now is the time to make a comeback. This time, as the only private mission to the moon.
There are good reasons to revisit the Moon:
The Moon has an unexplored potential for energy and resources, such as precious minerals, industrial metals, and even substances such as Helium-3 that could be mined and used on Earth for fusion as part of the future of clean energy. Such activities could open up a new lunar economy, creating jobs and income.

The Moon could serve as an astronomical observatory, and even a launch pad for deep space missions, as it is almost entirely free from earthly constraints such as gravity or thick atmosphere, reducing the distortion of observed objects.

The Moon can teach us about Earth, since it preserves information about the composition of Earth at time of the Moon's formation.

In the event of a catastrophe on Earth, the Moon could serve as a refuge for humanity.
But there are also reasons why traveling to the Moon has progressed sluggishly, chief among them being the hostile environment. Solving the problems of sheer survival – including radiation, soft terrain, lunar regolith, the vacuum environment, extremes of temperature – all require heavy investments in technological solutions, which until recent years has been solely in the hands of governments.
Sounds challenging? That's where crowdsourcing and competitions come into play.
The GLXP competition had two objectives: First, to provide affordable access to the Moon, and give space entrepreneurs a legitimate platform to develop long-term business models around lunar transportation. Second, to inspire the next generation of scientists, engineers, space explorers, and adventurers to enter the STEM fields.
There was big money in it too, as the total prize purse for the competition was $30M: $20M was the grand prize, $2M for 2nd place prize, $5M in bonus prizes and $10M in additional milestone prizes. In all, $1M was awarded in bonus prizes (diversity prize) and $5.25M in milestone prizes.
In order to win, teams needed to create a lunar craft that could perform a soft-landing on the surface of the Moon (such as in the main image), move 500+ metres on or above the lunar surface along a deliberate path, transmit two "Mooncasts" (high definition video and photographs), and receive and transmit up to 100KB of data (e.g. QR code), all with a maximum of 10% of the total mission cost provided through government funding.
But the power lay in the crowd!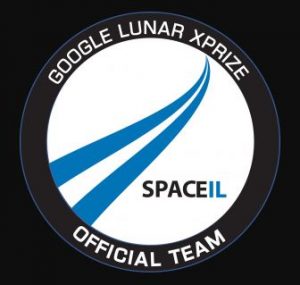 29 teams based in 16 countries, composed of scientists, engineers, tinkerers, and entrepreneurs, came together. Five of the teams reached the final stage: SPACEIL (Israel) with 30 paid members and 200+ volunteers, MOON EXPRESS (USA) with 30 staff, SYNERGY MOON (International) with 12 core members and 50+ supporting staff, TEAMINDUS (India) with 140 members, and HAKUTO (Japan) with 45 members.
Though there was early optimism about the future of space technology, the economic crash of 2008 caused many organization to freeze speculative investment. The teams – with no hardware or legitimacy as organizations themselves – needed to raise their own funds in the shadow of global economic pessimism. Some of them turned to crowdfunding and brought together supporters and participants from across the globe to push forward their ideas.
And yet, nobody won the competition. None of the five teams were able to launch and complete their missions to the Moon before the final deadline of March 31, 2018, and Google announced that they would no longer be the sponsor of the competition meaning that the prizes were discontinued.
Disappointing? Yes. Failure? Not quite. Despite the fact that no team achieved the original goal, the competition had a global impact, and boosted low cost travel to space initiatives.
The most significant impact has been in countries without established commercial space companies and major government space programs, such as India, Malaysia, Israel, and Hungary. Ripples were also felt in the US, however, where there were already active private space companies prior to GLXP: public sector space programs, such as NASA, JAXA, and ESA became customers of GLXP teams.
The competition also demonstrated the potential that lies within private space initiatives. An independent study conducted in 2014 by London Economics estimated that GLXP competitors could have access to US$1.9 billion worth of market opportunities over the next 10 years, and up to $6.3 billion over the next 25 years.
As well as the creation of businesses (some 260 new jobs were created by the competing teams), GLXP has created a pathway into the NewSpace industry for students and recent graduates. For example, alumni of the Penn State Lunar Lions project have gone on to work at Virgin Orbit, Ball Aerospace, SpaceX, Blue Origin, and Lockheed Martin. At least 15 businesses opened as a result of the competition, of which four companies intend to provide lunar services.
Most profoundly, the GLXP was the engine behind several groundbreaking technological developments, including miniaturization; rover/hopper technology with 3D printing; and spinoff technologies such as sensing/laser communications, unfolding solar panels, and image processing/navigation technologies for remote open pit mining and warehouse stacking. Team Astrobotic, for example, is now offering payload delivery services to the Moon starting at US$1.2 million per kilogram, 1/8th the cost per kilogram of putting the Apollo Lunar Module on the Moon ($10 million/kg). Other teams continue to work,  make impact and still plan to reach the Moon.
The key to all these accomplishments was the creation of a collaborative environment. Bringing together a community of engineers, scientists, and entrepreneurs through teams and summits, as well as collaborative online platforms, created the connections needed for people and companies to have a long-term impact on the economy – targeted by a prize. Finally, the Google Lunar XPRIZE teams to date have raised more than $300M, which shows the very reason why incentivized competitions work.
NB Our regular guest contributor Dr Shay Hershkovitz co-authored this article with his colleague Chanda Gonzales-Mowrer, GLXP Prize Lead, the XPRIZE Foundation.
With so much happening and at such a fast pace it can be tough to keep up with all that's happening in the world of crowdsourcing and the wider crowd economy.  So how about make a date to attend our CSW Global 2018 conference in Washington DC running though 24-28 October? There will be true industry-leader speakers and practitioners from around the world sharing their latest thoughts, observations and outcomes of their latest disruptive, decentralized, crowdsourcing activities. Ticket registration is open with some early-booker benefits, we hope to see you there.