This is a series of blog posts in relation to The Hyperloop of Innovation and Future of Work.
First we worked in fields, then factories, and now everywhere and anytime through devices connected to the internet. But what's next for the future of work? According to Jim Rogers, an American businessman, investor and financial commentator, "Some day farmers will be driving Lamborghinis, stockbrokers will be driving taxis and the smart stockbrokers will learn how to drive tractors".
The call to action for any career person is to hone your skills, get creative, and embrace change – especially in terms of how work is evolving through automation, robotics, and other evolving technologies that impact how humans interact with each other, the world, and technology itself.
Let's take a look at the current state of HR in relation to crowdsourcing. In today's environment a typical HR recruitment scenario involves job posts, candidate applications, review processes, interviews, etc.
The following figure shows how HR is being disrupted in three areas: Company need, Personal need, and Machine need: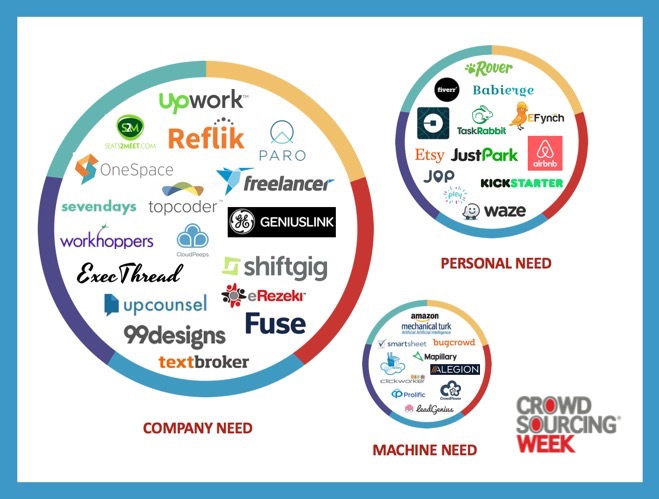 As per our recent blog post, many crowdsourcing platforms employ challenges which you can participate in as often as you like, as a way of engaging people. This exposes you to different problems at one point in time, and can help you enhance your adaptability and problem solving skills. As we've said many times, crowdsourcing is about passions, skills and tangible resources. Early this year, Women of NASA creator Maia Weinstock inspired a new generation with LEGO toys, and just last week her creation was sold out on Amazon. Keep in mind that Maia's background is in science journalism, and she is currently the deputy editor of MIT News.
What does this mean for the culture within your organization? It means that you're no longer looking only for improved learning, but also for mindset transformation of your employees in order to achieve full effectiveness within your organization. If we are talking about the future of work, we must also address questions of who will be your future employees, and what will their expectations be? According to GALLUP latest report on the State of the American Workplace, only one-third of U.S. employees are truly engaged in their work and workplace.
Most workers, many of whom are millennials, approach a role and a company with a highly defined set of expectations. They want their work to have meaning and purpose. Organizations have nowhere to hide. They have to adapt to the needs of the modern workforce, or they will find themselves struggling to attract and keep great employees and therefore customers.
Who are your future employees? What role does your leadership team play? How will each of the platforms shown above enhance your future work, and work within your organization and industry?
We'll be addressing these questions in detail, in our next blog post.