At the top of the Google organic search results for "crowdsourcing examples" are several blogs that feature the building bricks toy maker LEGO. It has not always been the successful company it is today. In October 2004, four years before the LEGO Ideas crowdsourcing initiative, the company was in deep trouble. It had lost its way and had no clear idea of who it was or what products it should offer. Read on to learn how LEGO found crowdsourcing opens corporate management and NPD (new product development) to insights and ideas from people who may lack business experience, but are keen brand supporters. 
A toxic combination of factors almost led LEGO to bankruptcy by 2004. They had tried to innovate in the face of changing market conditions, though suffered from unforeseen circumstances and unintended consequences. It is a situation many companies and business leaders find themselves in today due to the pace of new technology and the ongoing disruption in so many product and service sectors. What did LEGO do next that is worth following? How did they reinvent product innovation to achieve value growth? 
At the time, LEGO's three stage solution was fairly standard: reduce costs in 2004-5; raise margins in 2006-7; grow through inventing new ways to create value in 2008-9. The challenge of Phase Three was "How?"
How had LEGO reached its sorry state of affairs?
Within LEGO's overall malaise at the turn of the century there had been some success. A partnership in 1999 with Lucasfilm Ltd. resulted in a series of elaborate kits representing machines and characters from what would grow to be the Star Wars™ franchise. Initial sales success led to further tie-ins with Harry Potter movies, though led LEGO down a dangerous road. These sets involved the creation of specialized LEGO pieces to fulfil singular specific roles rather than a general all-round purpose. It impacted on the company's cost structure. Each new element had to have its own mould, production method and inventory. These added to LEGO's fixed costs, which expanded alongside the range of elements. The tie-in with movie making also meant that sales fell in the years when a film was not released.
During this time, other factors hit LEGO's performance:
Electronic games became more popular. 

Growth of online shopping led to consolidation among specialist toy retailers, reducing opportunities for anyone to see LEGO items off screen. 

Toy sales moved to supermarkets, where there was stiffer competition for shelf space. 

The manufacturing shift to Asia spawned cheaper, me-too products that became interchangeable with what had been the dominant leader in the toy brick sector.
Marketing's role in product innovation
LEGO had to answer some critical questions to determine the right route to take. "What makes us unique?" and "Why are we here?" If there is ever a quick answer to these questions, a company knows what it is doing. If not, then the brand is too vague, even to its corporate leaders, never mind customers.
Internal debate and customer focus groups concluded there were four core assets: 1) the instantly recognisable basic building brick; 2) the users' building system, which gives them scope to innovate; 3) an emotionally appealing and inter-generational brand; 4) a highly devoted LEGO community. This final asset enabled LEGO Ideas to become one of the best crowdsourcing examples in the corporate world.
Limitations of traditional R&D
In Phase Three of the company's turnaround, which was to create value through innovation, internal design teams were struggling with cost savings achieved by reducing the number of components available to them. 
In an example of closed innovation, the traditionally-structured LEGO Development Process (LDP) had also evolved into a rather cumbersome and bureaucratic mechanism. It involved different departments on a sequential, linear basis. Elaborate checklists had to be completed, and each person might understand the requirements differently. The siloed nature of the process prevented collaboration and iteration between design, engineering, manufacturing and marketing teams. For each ten new ideas, just one or two might make it through the process, and a new product could take a year and a half from idea stage to being on-the-shelf.
Understanding LEGO's unique blend of company assets would help answer the questions on how to improve and accelerate product development.
Crowdsourcing innovation through LEGO Ideas
LEGO Ideas did not become one of the top crowdsourcing examples as a result of a Eureka moment. In 1998 LEGO had launched Mindstorms to generate customer ideas for building robots powered by a computerized control-unit.
Later, the LEGO Factory allowed users to build their own designs online, price up the items required to actually make it, and order them in a single transaction if they wanted to go ahead. Other users could also buy the items needed to build those designs. However, this was regarded more as a loyalty-boosting Customer Service rather than a crowdsourced co-creation solution to new product development.
That finally arrived with LEGO Ideas which was introduced in 2008 as a collaboration with the Japanese company Cuusoo. In 2014 the platform moved from Cuusoo to Chaordix, a Canada-based software provider that links companies with their customers to inspire decentralised innovation.
LEGO Ideas enables site users to submit plans and a sample model that demonstrate the concept of a potential new LEGO set. These users sometimes apply specialist knowledge or ideas that no one inside the company possesses. When published on the site, each potential co-created product can be seen by LEGO's community of other users, and they can comment and ask questions during a review stage. This feedback may prompt some product enhancements. Product projects that are subsequently supported by at least 10,000 people are considered for production. Creators are thus incentivised to hone their marketing skills and encourage support from the community.
The candidate products must not infringe anyone else's intellectual property; must meet standards of decency related to alcohol, drugs, sex and religion; and cannot include post-World War Two violence. They must also be affordable to produce without too many unique pieces that require original moulding. If this is found to be the case then LEGO may contact the creator to find compromises.
Support levels are checked at a number of fixed dates through the year. By the first review date in 2021, 57 projects had achieved over 10,000 votes of support. This is an increase on the average number, which LEGO attributes to the time people had on their hands during pandemic lockdowns.
The rewards for set creators are both financial and reputational. When a design goes in to production, each creator receives ten copies of the final set, a 1% royalty of the product's net sales, and a credit in the set components as the LEGO Ideas set creator.
Its crowdsourced community is recognised as so important and valued that in 2021 LEGO held its first virtual conference. LEGO CON 2021 was a two hour event, and can be viewed in full.
Notable LEGO Ideas projects
The LEGO Ideas process provides opportunities for people and brands to raise awareness of a particular issue or product. A great example is Maia Weinstock, an American science writer and a LEGO enthusiast. She wanted to create female role models by drawing attention to women's participation in space flight at NASA. LEGO Ideas "seemed like a great way to pay tribute to five individuals who made key contributions to NASA history — and, by extension, to give kudos to all of the women who've helped make the U.S. space agency what it is today," Maia told us previously.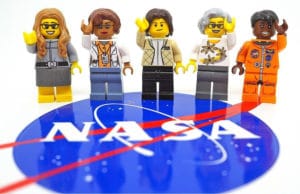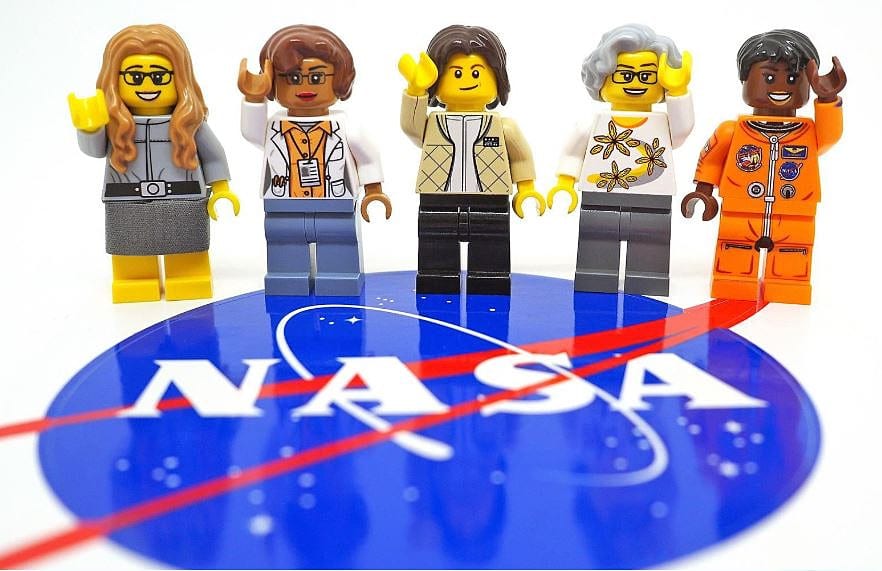 Her "Women of NASA"  project launched on LEGO Ideas in mid-July of 2016, timed to coincide with the anniversary of the first Apollo moon landing on July 20, 1969. Most LEGO Ideas projects take months, if not years, to achieve 10,000 supporters. "Women of NASA" got there in 15 days, and the set was approved for production. That makes Maia Weinstock one of LEGO Ideas' top co-creation and crowdsourcing examples.
Even without LEGO's direct involvement, using their building bricks can gain global coverage. Prominent Chinese contemporary artist and political activist Ai Weiwei had wanted to use LEGO bricks to portray and celebrate political dissidents who stood up for human rights and freedom of speech. It would be put on display in an art gallery in Melbourne, Australia. LEGO turned down his request for a bulk purchase of bricks, claiming they were unable to support political agendas. He turned to the crowd for support. People were asked to donate LEGO bricks by leaving them in a car parked in the city. The response was so overwhelming it led to a number of cars parked in various other cities around the world. This itself is a top crowdsourcing example. LEGO subsequently changed its policy when faced with the power of the crowd.
LEGO's recent financial performance
The LEGO Group first-half of 2021 financial results showed massive growth across all markets.
Consumer sales grew 36%, revenue was up 46% to DKK 23 bn (US$3.61 billion), operating profit doubled at +104%, and net profit was up 140%.
Despite these outstanding numbers, CEO Niels B. Christiansen expects growth to stabilise to more sustainable levels as people return to pre-pandemic spending patterns (and activities). Combined with LEGO's plans to accelerate re-investments into the future of the business, more normalised profit levels are expected moving forward.
Do you know of other top class crowdsourcing examples of co-creation or customer engagement you'd like to share with the Crowdsourcing Week community?