A fundamental tenet of the sharing economy is to use resources more efficiently. At a time when all of us as individuals are increasingly asked to consider our use of air travel, single-use plastic products, and turning down room temperatures, the construction industry remains a prolific contributor to waste and carbon emissions. Globally, this will become more of an issue as the population grows and people increasingly live in cities. An expanding built environment is a necessity, though many people want (demand) the sector to urgently adopt a circular economy model.
The linear economy issues
The current linear model is simplistically based on using finite raw materials to build structures with a limited life expectancy, and then demolish them and put the waste in a landfill site: "take-make-dispose." A circular economy model will reduce reliance on raw materials in the first place, and create a future built environment with an increasingly higher proportion of pre-used components capable of being repurposed rather than scrapped.
Transition from a linear to a circular economy
In the UK alone, construction waste accounts for around 120 million tonnes of waste a year, which is a staggering 60% of the country's annual 200m tonnes total, and 45% of its carbon emissions. The recent Futurebuild 2020 "Responding to the Emergency" event in London brought together organisations, manufacturers and professionals serving the built environment to showcase efforts to tackle these issues. This included sessions highlighting the importance of adopting circular economy models.
Product and marketplace improvements
Many new-generation products and marketplace interfaces are being created with reusability and/or improved efficiency as a key benefit. Emma McKenna of the London Waste and Recycling Board highlighted this selection:
Biohm aims to make our built environment healthier and more sustainable through the development of bio-based building materials that can be recycled in circular construction systems.
Adaptavate makes a breathable equivalent of plasterboard using crop waste, which is healthier in homes and offices, and will naturally compost at the end of their life.
Library Of Things is a source of household products available for short-term borrowing rather than everyone having to acquire their own individual items; think of DIY and gardening tools, and a/v or kitchen equipment such as a video projector or an ice cream maker. They've had two rounds of donations crowdfunding to raise an initial startup amount that the Mayor of London contributed to. Although still a local initiative in a suburb of London, their idea is spreading. Check out this one in Charleston, South Carolina.
Smile Plastics transforms plastic waste into unique decorative panels for the architecture and design industry.
Cloud Cycle is a materials management tool using on-truck IoT devices managed by AI that uses Machine Learning. Concrete is the second most used material on the planet, behind water. Surplus quantities of it are a common though expensive occurrence, and Cloud Cycle can quickly find a market for any excess volumes. 
Entire construction projects
Though to really impress players in the construction industry, perhaps it's better to look at entire building projects. The Resource Rows housing project with 92 homes on the outskirts of Copenhagen, Denmark, is the country's first residential development built largely from recycled construction materials. The founder of the architecture practice behind the design, Anders Lendager, describes the process as "harvesting" material from old buildings. This immediately and massively cuts carbon emissions from the construction process.
As examples, all floors are made from off-cuts and waste from a high-spec flooring company – timber that would otherwise have been incinerated. Up on the shared roof space, a series of residents' greenhouse-like huts, used for cultivating fruit and vegetables or just relaxing in – are made of recycled glass and window frames.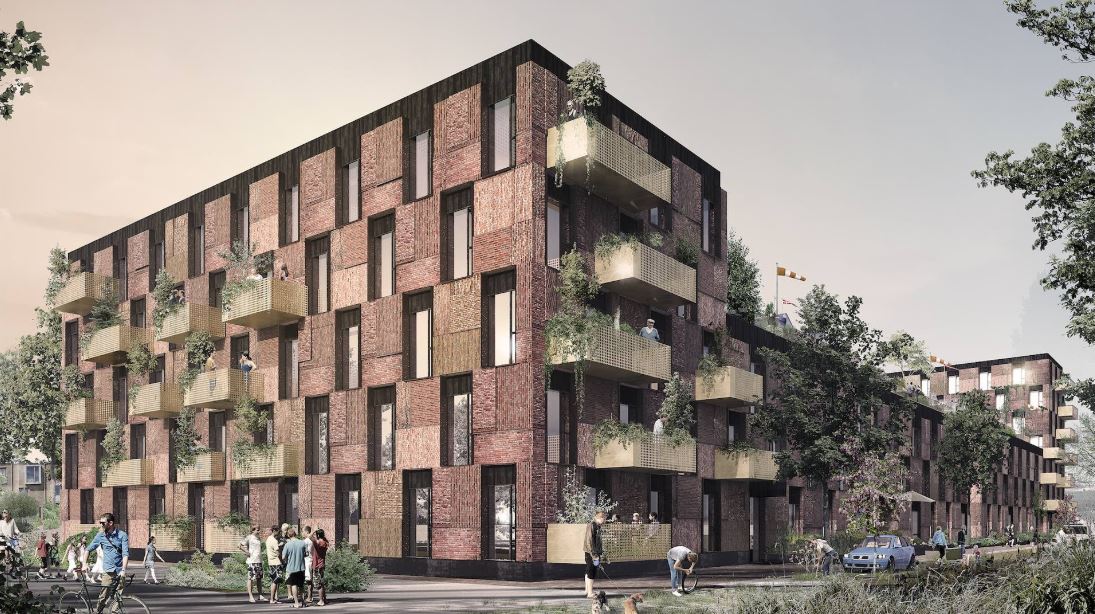 The change will be truly transformative
To move further from recycling to circular economy practices and techniques would mean making decisions between alternative materials and components at the start of the design and planning stage, rather than decide what can be re-used at the end of a building's life. This also includes considering a building's energy use and its carbon footprint during its lifetime.
Which could all mean higher upfront costs for developers to deliver benefits for building occupants and the construction of new structures maybe decades later. This is why the construction industry needs new, longer-term circular economy business models that are acceptable to property development clients, and which can be used by all construction-related professionals with confidence and a degree of uniformity. 
How might new circular economy business models come about?
It is important that the examples used to inspire the industry change from being the equivalent of an elitist-fashion catwalk to low cost and fast turnaround clothing available in high street stores, and the language used needs to be simple to follow.
It will require collaboration among rivals to pool information. Blockchain technology (a mystery to much of the construction sector, which remains strongly relationship-based and populated by family businesses) surely has a role to play to collect and then provide a universal source of information that is the same for everyone and cannot be compromised. This is a big ask for an industry sector that has proved to be particularly change resistant by lagging so far behind other industries in adopting digitisation. 
Building regulations could in time force the adoption of new standards, though a spirit of cooperation would be healthier than coercion.
Creating new standards of business models might require an expanded role for industry-related trade bodies. Last year the UK's Royal Institute of Chartered Surveyors published an article based on research findings from 105 interviews in five European cities. Many interviewees said they were willing to act, but that they wanted others to lead the way, particularly public-private partnerships responsible for major projects. In reality, almost everyone expressed a reason to wait for someone else to make the first move.
First-movers have to be risk takers. Will it have to be central governments, with projects shored up by taxpayer's money?